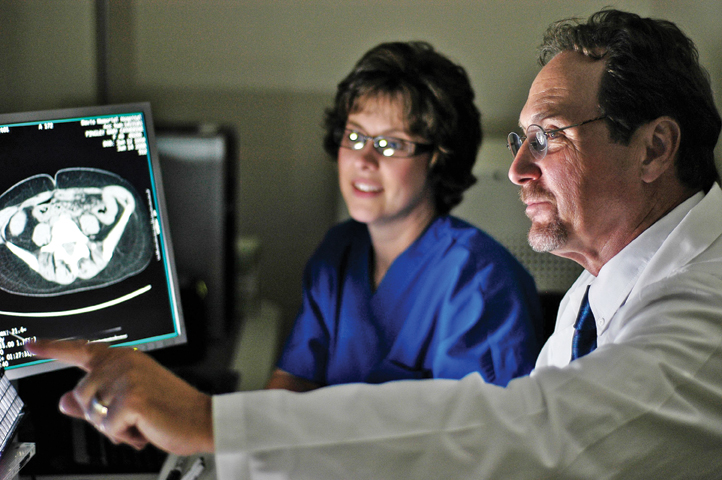 A streamlined workflow allows radiologists like Steven Barnett to reduce overall report turnaround times.
Located in north central West Virginia – an area hit particularly hard by the economic recession – Davis Health System is comprised of a 90-bed community hospital, critical access hospital, community outreach clinics and related facilities. This forward-thinking organization has made big strides in putting its patients first by investing in medical imaging information technology from McKesson. With an enterprisewide solution for radiology, cardiology and mammography, Davis Health System offers the imaging capabilities you would expect at a much larger hospital, coupled with the accelerated service patients want for themselves and their family members.
"Davis Health System has invested heavily in technology over the past 25 years. In fact, our organization was one of the first to install a Web-based picture archiving and communication system (PACS) in 2004," says Nina Virone, chief information officer. "But like the rest of the nation, the five-county community that we serve in north central West Virginia was feeling the financial impact of unemployment and changes to health insurance coverage. We began evaluating how to change the way we did business and to better prepare for the future. We quickly zeroed in on improving services."
Time for a Technology Change
Davis Health System had outgrown its first-generation PACS. Radiologists had begun pushing for a more robust PACS with advanced features, such as voice recognition, mammography and cardiology.
"A lot of rural communities don't offer digital mammography," explains Debra Dean, radiology manager at Davis Memorial Hospital, "but we wanted a PACS that could do that and so much more."
The group also had grown weary of the finger-pointing and roadblocks in service and support from its previous PACS vendor, Virone says. With nearly 500,000 images to be migrated and a tight implementation deadline, it needed a vendor with proven service to ensure a disruption-free conversion.
No Time to Lose
It chose to update its technology with McKesson's enterprise medical imaging solution, including the Horizon Medical Imaging PACS, the Horizon Medical Imaging Mammography Plus solution for digital mammography and Horizon Cardiology cardiovascular information system (now known as McKesson Cardiology).
"To keep other projects on track, such as a computerized physician order entry implementation, we requested that the medical imaging project be completed in a four-month time frame," Virone says. "With one McKesson project manager assigned to oversee the project and to work closely with our internal team, the entire data migration and installation (including an interface to the Nuance PowerScribe voice recognition system) was completed in three-and-a-half months."
The most critical studies were converted first so that physicians had that information most readily available. In all, nearly 500,000 images were migrated to the new system to become a part of the patient's medical record.
"McKesson achieved all that they said they would," remarks Bill Dempsy, technical supervisor at Davis Health System. "The interface team was easy to work with and offered great suggestions, and the textbook install was the smoothest I've ever seen."
Using McKesson's easy-to-use Web system Horizon Rad Station, staff physicians can now access the report and the image at the same time, from anywhere. Patients benefit because their images travel electronically wherever they go in the health system, eliminating the need to repeat the study and improving the physician's ability to quickly and accurately diagnose and treat the patient.
"Typically, organizations, especially small ones, are hesitant to undertake a PACS conversion," says Virone. "But when you partner with a vendor like McKesson, you can feel confident that the transition to the best and latest technology will be smooth and painless. Our outcomes are even better than we expected."
Report Turnaround Times Change, Too
Key to Davis Health Systems' successful conversion and user adoption was the service provided by McKesson. The knowledge and dedication of the McKesson implementation team resulted in extremely fast response times. The entire process implementation and data conversion process took approximately four months with nearly all the images fully converted within six months.
The streamlined workflow has enabled radiologists and cardiologists to reduce report turnaround time to referring physicians from 24 hours to a mere hour or two. In fact, most reports are completed, read and electronically signed off within 30 minutes.
"McKesson has put an enterprisewide imaging and information management solution in place not only for today, but also for the future," Virone says. "Just like any health system, business needs of our organization will change, but now our imaging IT solution positions us to meet those needs."

Case study supplied by McKesson