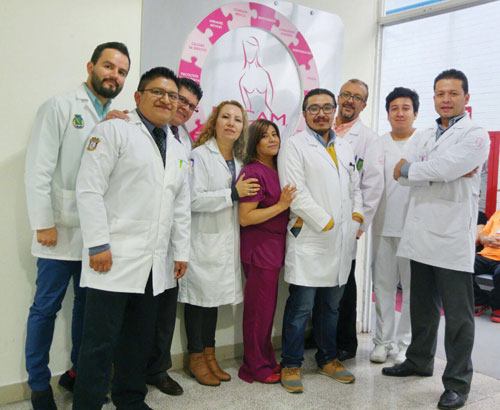 The Radiation Oncology Team of FUCAM.
Following the global trend, cancer rates in Mexico continue to rise — and breast cancer is now the number-one killer of Mexican women. Unfortunately, only around half of Mexican women have access to mammography screening, and one in four women are diagnosed at advanced stages of breast cancer. Extending screening is a critical first step to reducing breast cancer deaths. But with fewer than 250 radiation oncologists for its 100 million-plus population, high patient volume is a challenge for all Mexico cancer treatment facilities. 
First-of-its-Kind Breast Cancer Treatment Center
To address the growing public health threat posed by breast cancer, in 2008 the Mexican government helped launch a new non-profit institution dedicated exclusively to breast cancer treatment. The Fundacion de Cancer de Mama (FUCAM), in Mexico City, is the first of its kind in both Mexico and throughout Latin America. FUCAM gives particular focus to reaching those most vulnerable and marginalized populations of women in Mexico, providing screening, diagnosis and a wide range of treatments for breast cancer, as well as promoting public education about the importance of early detection. 
FUCAM's six mobile units connect with women around the country, providing screening and referring women to its central operations for treatment. This drives a huge daily patient volume at FUCAM. The center provides around 100 medical consultations, 70 mammograms, 75 breast ultrasounds, 40 surgeries and nearly 50 radiation therapy treatments every day.
Complex Cases Create Need for New Precision Treatment Solution
Because of the high percentage of late-stage diagnoses, one in five treatment cases at FUCAM are highly complex, including bilateral breast cancer and palliative cases where patients have lesions in the central nervous system, spine, pelvis and other complicated areas. "Because of this complexity, we obviously have the need for a precise system that allows us to do very detailed planning," said Judith Huerta Bahena, M.D., head of radiotherapy, Institute of Diseases of the Breast, FUCAM.
In 2014, FUCAM began looking to invest in new radiation therapy to deliver this precise treatment capability. "We needed high-quality technology that could deliver conventional radiation therapy in addition to extreme hypo-fractionation to address a variety of patient needs," said Huerta.
Top Priority: High-volume Efficiency
The ability to handle FUCAM's high patient volume was a top priority. "We are a reference center for breast cancer patients, receiving about 1,000 new cases per year, so it was critical that we select a versatile and efficient radiation therapy system that yielded lower treatment planning and treatment delivery times," said Huerta.
Patient Volume Ramps Up Quickly
FUCAM deployed the TomoTherapy System at the end of 2014. The institution immediately began leveraging the technology for treatment planning. "We were able to start treatment planning even before we had permits to begin treatment," said Huerta. This enabled quick ramp-up of treatment volume, as FUCAM went from treating 15 patients in its first week with the TomoTherapy System up to a full schedule of 40+ patients/day by just the third week.
FUCAM uses both the TomoHelical and TomoDirect delivery modes. Parameters established by FUCAM dosimetrists define maximum doses and help define which delivery mode is optimal per patient case. "If [we] can do it with TomoDirect, that will be our first option; if not, we will use TomoHelical," Huerta said.
As of March 2016, FUCAM was averaging treatment of 54 patients every day, and had already treated nearly 900 patients through the public system, in addition to private patients.
Efficient Planning Increases Patient Volume
The TomoTherapy System is improving clinical outcomes at FUCAM, driving patient volume. "The advantage that I see with the TomoTherapy System is that planning is very friendly, simple and fast compared to other systems," said Huerta. This faster planning complements the TomoTherapy System's highly efficient treatment delivery, enabling FUCAM to treat more patients in less time. Patient treatment slots at FUCAM are now just eight minutes long, with the simplest cases treated in half that time. The efficient planning and treatment delivery of the TomoTherapy System will enable FUCAM to treat nearly twice as many patients as it did before deploying the solution.
Comfortable Equipment Improves Patient Experience
The TomoTherapy System is also enhancing patient experiences at FUCAM. Huerta notes that patient positioning is easier and more comfortable with the new technology. Patients immediately recognize the comfort, and experience fewer issues with claustrophobia or other treatment anxieties. 
"Many patients still arrive with treatment anxieties, but once they see the equipment and how other patients come out of the treatment, they become excited, they get treated, and they are very satisfied," said Huerta. In fact, since deploying the TomoTherapy System, FUCAM has not had a single patient refuse treatment based on such anxieties. Patients from other facilities are now requesting treatment at FUCAM, as word of the TomoTherapy System has spread quickly within the patient community.
A Clear Business Impact — A Satisfied Customer
The clinical and business impact of the TomoTherapy System is unmistakable for FUCAM. Huerta was confident in the potential of the TomoTherapy System to increase patient volume, but said "we are actually doing better than what we planned for." Before installation, FUCAM was treating around 500 patients annually. The institution estimates that treatment volume will surpass 1,000 patients for 2015 — nearly doubling their previous volume and exceeding their initial goal by 50 percent.
Case study supplied by Accuray.
---
If you enjoy this content, please share it with a colleague