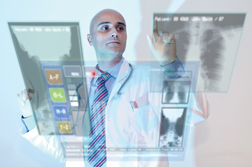 August 27, 2012 — Varian Medical Systems, a manufacturer of technology for the treatment of cancer with radiotherapy and radiosurgery, has launched Portuguese versions of its software systems for planning and managing radiotherapy treatments. Varian personnel worked with Brazilian cancer treatment specialists to translate its software products into Portuguese and also to adapt them so that they facilitate Brazilian treatment practices, in order to support the safe and effective use of radiotherapy in the country.
"We felt this was a very important step to take, in order to support Brazilian professionals who need to use radiotherapy technology but may not speak fluent English," said Kolleen Kennedy, president of Varian's Oncology Systems business.   
Radiotherapy is indicated for more than 60 percent of all cancer cases, including the most prevalent in the Brazilian population: prostate and lung cancer among men, and breast and cervical cancer among women. Modern radiotherapy requires development of a complex treatment plan, using software programs such as Varian's Eclipse (for treatment planning) and Aria (for managing all aspects of treatment).
Varian is also expanding its investment in radiotherapy training for Brazilian specialists. The company signed an agreement with Capes (Federal Agency of Support and Evaluation of Postgraduate Education) for investments in the Science Without Borders program, an initiative of the federal government to promote the consolidation, expansion and internationalization of science, technology and innovation through the exchange and the international mobility of students and researchers. In addition, through the Varian Foundation, it will provide financial resources for implementing an ongoing distance education program being created by the Brazilian Society of Radiotherapy (SBRT) to update professionals around the country. The SBRT will choose the faculty for this distance learning series. Classes will be transmitted through a virtual platform hosted on the site of SBRT.
"The goal of this online course is to bring knowledge of new technologies to professionals in areas that are remote from major centers, enabling them to make better treatment decisions in accordance with current technological capabilities. This will improve the level of radiotherapy expertise in the country and will have direct impact on patient access to more advanced treatments in these regions, effectively delivered by professionals with the proper skill levels," says Dr. Robson Ferrigno, president of SBRT.
Varian in Brazil
Varian has had a long and productive relationship with Brazil's cancer treatment community, having supplied the country's first linear accelerator to Hospital Oswaldo Cruz in 1971. 
Currently, Varian technology is deployed at many of Brazil's preeminent cancer treatment institutions including the National Cancer Institute (INCA) in Rio de Janeiro, Hospital Israelita Albert Einstein, Hospital AC Camargo and Hospital Sirio Libanes, in Sao Paulo.
The company currently has an office in Sao Paulo, with nearly 60 Brazilian employees.
For more information, visit www.varian.com
---
If you enjoy this content, please share it with a colleague