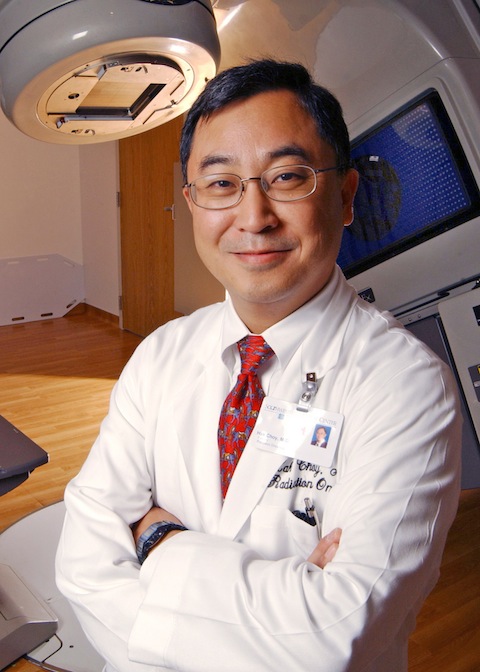 Hak Choy, M.D., is chairman of radiation oncology at UT Southwestern Medical Center.
July 20, 2012 — The University of Texas (UT) Southwestern Medical Center, seeking to broaden its array of radiation oncology treatments, potentially could play a key role in operating a proton therapy center for North Texas, currently being planned and funded by San Diego-based Advanced Particle Therapy (APT).
The plan, announced earlier in July, is subject to the approval of the UT System Board of Regents. Under the terms of a letter of intent, the proposed 100,000-square-foot center would be operated by UT Southwestern physicians and staff, but built and developed by APT. It would be the second such facility in the state and would feature at least four treatment vaults, as well as laboratory space for researchers.
Proton therapy offers a more precise and aggressive approach to destroying cancerous tumors than conventional X-ray radiation. It involves the use of a controlled beam of protons that can be deposited, because of their heavier mass, on a specific target with less collateral damage.
"This is an exciting development in our ability to offer patients in the region access to the best possible treatment options and provide a leadership role in how best to study and apply this technology," said Bruce Meyer, M.D., executive vice president for health system affairs at UT Southwestern.
There are many types of particles that can be used in radiation treatment, although only two – electrons and protons – are currently in wide clinical use. Pediatric patients and adults with brain, prostate, lung, and head and neck tumors may be among the first to benefit from the new technology.
"The precision of the proton beam allows for unprecedented focus and intensity in especially hard-to-reach places that tend to characterize head and neck cancers – and in pediatric cancers, where access can be anatomically much tighter," said Hak Choy, M.D., chairman of radiation oncology at UT Southwestern.
The heart of the new proton facility would be a particle accelerator capable of speeding up protons to a superfast velocity – roughly 112,000 miles per second or 60 percent the speed of light. Two types of machines – either a superconducting cyclotron or a synchrotron – can be used for this purpose. UT Southwestern officials would evaluate and select an accelerator early in the project's development.
APT has entered into an agreement to purchase land for the facility near the UT Southwestern campus, accessible to both physicians and patients alike.
Nationally, there are nine proton centers in operation and eight in development, according to the National Association for Proton Therapy. APT has developed similar centers in San Diego, teaming with Scripps Health and Scripps Clinic Medical Group; in Baltimore with the University of Maryland School of Medicine; and in Atlanta with Emory University Healthcare.
For more information: http://utsouthwestern.edu/education/medical-school/departments/radiation..., www.advancedparticletherapy.com