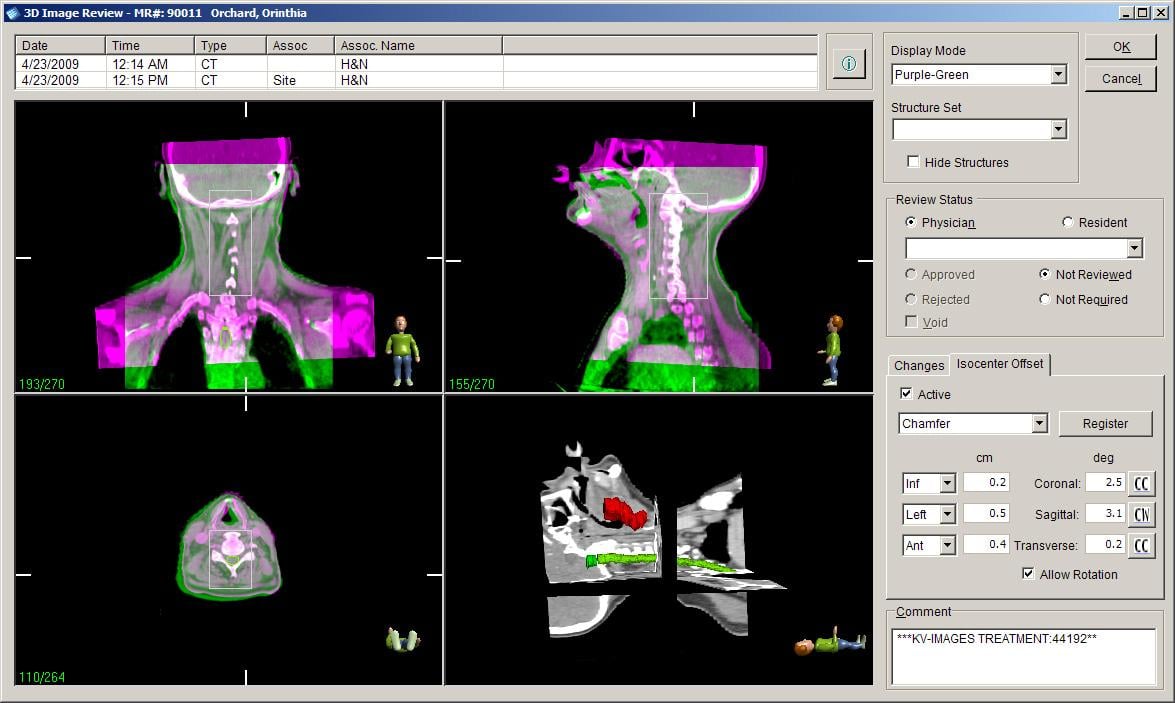 Treatment planning systems are at the heart of radiation therapy (RT) and the key to improved patient outcomes. Once image datasets are loaded and the tumors are identified, the systems develop a complex plan for each beam line route for how the therapy system will deliver radiation. The software also computes the expected dose distribution in the patient's tissue, including variables such as tissue energy level penetration influenced by the type of tissue the beam lines encounter (e.g., bone or lung vs. muscle). These systems also help navigate beam placement based on avoiding critical structures that are more sensitive to radiation in an effort to reduce collateral damage from the therapy. This may include automated, complex programming for multi-leaf collimator (MLC) leaf sequencing to shape the beam around critical structures during dose delivery. These treatment plans can also be modified to compensate for the reduction in tumor size over the course of treatments. 
The following overview helps paint a picture of some of the software systems currently available on the treatment planning systems market, which are highlighted in the Treatment Planning Systems comparison chart.
Accuray
The Accuray MultiPlan Treatment Planning System enables medical professionals to generate high-quality treatment plans for the CyberKnife Robotic Radiosurgery System. These flexible and individualized treatment plans can be created quickly and intuitively, resulting in fast and accurate treatment delivery. The planning is a multidisciplinary and collaborative process, requiring input from the physicist, the radiation oncologist and the surgeon. New features and enhancements in the MultiPlan System address the specific needs of each group and provide the flexibility to accommodate new clinical applications with ease. 
Elekta
Monaco version 5.11, the latest update to Elekta's treatment planning software, was released in May. The update provides significant performance speed enhancements, and users can now attain calculation speeds up to four times faster than in previous versions. With the Monte Carlo algorithm, users can achieve robust accuracy combined with speed and performance.
Fast plan calculation time helps to improve overall efficiency, and Monaco templates enable users to easily import and export treatment plans, facilitating sharing across departments and organizations. With the ability to create multiple prescription plans at one time, overall planning time is reduced. Also, improved data sharing creates additional opportunities to optimize individual treatment plans to meet the needs of each patient.
Philips Healthcare
Philips' Pinnacle³ is designed for small and mid-size centers as an affordable server-class system that provides access from virtually any location. The system is scalable so it can grow with a center's needs. It can support centers with up to three linear accelerators (LINAC). Centralized processing offers all users the power of the professional server. The system is up to 30 percent faster than the older 810X platform. Floating licenses allow a Pinnacle³ user to have an unlimited number of access points, including Mac users.
RaySearch
Version 5 of the RayStation treatment planning system has been released for clinical use in the United Kingdom, Australia and New Zealand. The latest version of the platform is scheduled for release in most major markets during the first half of 2016.
RayStation 5 features carbon ion treatment planning and Plan Explorer, a treatment planning tool that allows clinics to maximize delivery efficiency and plan quality for every individual patient treatment. Carbon ion therapy is a form of particle therapy that has several clinical advantages. As for other types of particle therapy, the depth of the dose deposition can be precisely controlled, which allows for improved sparing of healthy tissues. In addition, carbon ions have an increased relative biological effectiveness (RBE) compared with other types of radiation. 
Plan Explorer is a tool that is based on the capability to automatically generate a large number of treatment plans for an individual patient that span defined combinations of treatment techniques and machines. It is also an efficient way to filter and browse among plan candidates, making it possible to ensure that every radiation treatment is delivered with the highest possible efficiency, with an optimal combination of treatment technique and machine. 
RayStation 5 also features many new additions such as robust optimization based on 4-D computed tomography (CT) images and unlimited patient data storage. The inclusion of 4-D CT images in the robust optimization process addresses situations where there is significant relative motion of internal organs, such as in the thorax during free breathing.
Varian Medical Systems
Varian's Eclipse treatment planning system allows for efficiency. Virtual simulation eliminates data transfer steps and the management of separate sets of data. Emergency treatments can be planned immediately in the simulation area. Powerful tools simplify contouring tasks and field setup, and a fast calculation engine reduces treatment planning time. Integrated plan verification and quality assurance tools speed ongoing treatment planning and beam data validation, saving time for physicists.
Comparison Chart for Treatment Planning Systems
This article served as an introduction for a treatment planning systems comparison chart, which can be accessed on the ITN website at  www.itnonline.com/content/treatment-planning-systems. This page requires registration, which is free and only takes a minute to complete. The chart includes technical specifications for all the major treatment planning systems on the U.S. market.
---
If you enjoy this content, please share it with a colleague