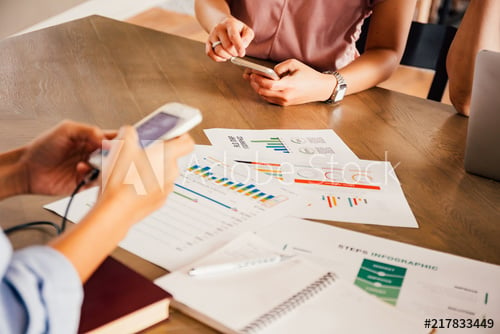 The New Year gives us a fresh start and license to dream of what "could be" if we consistently apply a little discipline to the process. We make goals to achieve and promises to do better. We chart courses of change and hope to arrive in new destinations. Yet, in spite of all this planning and strategizing, we often get stymied when it comes to implementation. It's human nature.
In healthcare, I see this same sort of phenomenon occur when it comes to the goal of becoming a more data-driven imaging department. There is an increased focus in radiology departments to drive operational efficiency with better analytics tools and the application of new technologies to improve interpretation and business processes. Radiology leaders have a strong interest in using data to guide decision-making processes, improve workflow and meet operational goals. However, resolve often dissipates in the transition from data gathering, to intelligence insight, to action.
In imaging today, we face numerous challenges: continued volume growth, more data per clinical decision than ever before, changing reimbursement metrics — and with staff and radiologist shortages, less resources. These pressures are compelling us to unlock the value of our data and leverage it to identify and drive operational efficiencies in imaging. Research suggests that 60-65 percent of the annual spend in radiology is in operations and $10-12 billion of that is waste (such as wrong test, wrong protocol, etc.).1
There is a real opportunity for healthcare providers to achieve operational cost savings that can then be reinvested into patient care. To do that, there are three New Year's resolutions every radiology department should make.
Resolution #1: Why Being "Data Aware" Is No Longer Enough
While most facilities are using some type of data reporting for operational, financial and clinical decision support, the typical process is limited in scope and very much manually driven. As a result, reporting is very labor and time intensive, not standardized, costly and most importantly — delayed.
Delayed reporting doesn't make radiology departments agile. In our personal lives, we are accustomed to having access to real-time data, whether it's traffic information on a route, weather alerts or flight updates. We all understand that it is not helpful to have a report that tells you what the traffic was two weeks ago in order to navigate the best route today. We like tools such as Google Maps because it gives us real-time driving directions and suggests meaningful savings (e.g. reduced drive time to our destination or avoiding routes without tolls).
Limited access to real-time data, and trying to drive change with spreadsheet-based reports, are some of the biggest challenges for radiology departments today. This type of reporting provides only historic information that is days or weeks old. Static reporting may make departments "data aware," but it is no longer sufficient in today's healthcare environment of value-based care.
Resolution #2: Use Real-time Analytics to Identify, Prioritize Improvement Gains
In order to become data-driven, radiology leaders must make better, faster decisions. To do that, we need to move beyond simple reporting — tools that provide a limited view of what has already happened — to next-generation tools that provide a broader view that can help us predict what will likely happen. Radiology leaders need intelligent insights that can help them optimize their operations and identify and support the best possible decision-making. The value of real-time data is that it helps radiology leaders identify and prioritize opportunities for both short- and long-term improvement gains.
Improving workflow through technologies that automate manual processes can help healthcare organizations focus their valuable time where it's most needed. The benefits of data-driven practice management range from quality improvement or reporting, to resource planning and expansion. This includes automating reports for appropriate MACRA reimbursement, tracking system utilization or staff efficiency, addressing scheduling backlogs and patient wait times, understanding volume shifts per modality across multiple locations, and more.
Specifically, meaningful operational analytics tools can help the radiology department improve workflow, reduce manual processes, and achieve gains in many areas such as:
•    Repeat imaging or rescans — by examining issues to reduce the need for repeat imaging in order to reduce cost and increase patient safety and workflow productivity;
•    Referral volume and patterns — by understanding which type of services are most needed for a hospital's particular patient population to increase revenue;
•    MACRA reimbursement — by reducing or removing manual effort to track appropriate quality measures with automated tracking; and
•    Staff experience — by helping residents understand meaningful changes to preliminary reports to improve trainee experience and satisfaction.
The drive toward value-based care and improved efficiencies is forcing clinical leaders to seek the next generation of operational analytics tools. Advances in new technologies such as analytics, business intelligence, machine learning and artificial intelligence are making the tracking and automation of tasks possible. We see an increased application of next-generation analytics, machine learning and artificial intelligence to business processes and clinical outcomes improvement, in addition to the strong benefits to the diagnostic and interpretative process already underway.
However, there's an internal change management component to the process as well that's equally important.
Resolution #3: Data Analytics Can Change the Way You Run Business
We often don't stick to our New Year's resolutions because change is hard. We fall back to old habits or revert to what we've always done because it's comforting, it's easier, it's worked. The first step to keeping a resolution is to believe that it can be done. In your mind, see the benefits of an aligned organization working together to meet goals and drive improvements. Envision a new departmental culture where everyone has a shared view of challenges and accountability to solve problems and sustain improvements.
A department that is empowered not just by data, but by meaningful insights can drive change. Operational analytics tools can offer many of these benefits today and will increasingly provide more capabilities over the next several years.
When clinical leaders can access the information they need in real-time, they can move past historic report shuffling and spreadsheet work to focus their attention on solving problems. They can find and share insights across their leadership teams to drive action and change.
There are real examples of organizations achieving meaningful improvements with data analytics. For instance, we worked with a large nonprofit health system whose vision was to enhance productivity, improve the patient and provider experience, and deliver value-based care. Working closely with the leadership team, we conducted an assessment across 16 of the provider's radiology departments, benchmarking and analyzing patient volumes and equipment utilization, as well as referral and market growth.
We worked with them to establish key performance indicators (KPIs) and create workflow tools to track and drive improvements. With this analysis, we helped the provider identify the potential to significantly save on length-of-stay costs, improve magnetic resonance imaging (MRI) facilities efficiency by 10-20 percent to drive additional volume and revenue, and improve the overall patient and staff experience.2 This project and experience with our advanced analytics team and technology helped them achieve a clear view of the opportunities, a tangible measure of what they would gain and the evidence they needed to move forward toward action.
Using data to guide decision-making processes and workflows can be a big transition, but it is key to surviving in a value-based care world. Data provides deeper insights and objectivity in setting operational goals, rather than relying on "gut instinct" alone to make business decisions. With reimbursement increasingly tied to quality metrics, radiology departments must drive better operations not only for improved efficiencies but for financial health as well. When radiology practices are able to easily gather all the data from the entire imaging value chain, they are in a better position to understand issues, solve problems, predict behavior and achieve improvement gains on a continuous basis. That's a New Year's resolution worth keeping! 
References
1.     Peer60; Unnecessary Imaging. https://reactiondata.com/wp-content/uploads/2015/02/peer60-unnecessaryimaging.pdf
2.     Results from case studies are not predictive of results in other cases. Results in other cases may vary.
Chris Meenan is the general manager of performance solutions, in the radiology solutions group at Philips. Formerly CEO of Analytical Informatics, Inc., before joining Philips in 2017, Meenan has a background in the design, implementation and support of innovative technologies in both commercial and clinical environments. He brings more than 15 years of technical leadership and business experience to the delivery of high-performance clinical information systems in healthcare. Meenan
has served on the faculty, as an assistant professor at the University of Maryland School of Medicine, as a board member for the Society for Imaging Informatics in Medicine (SIIM) and is currently a member of the Board of Trustees for the American Board of Imaging Informatics (ABII).
---
If you enjoy this content, please share it with a colleague