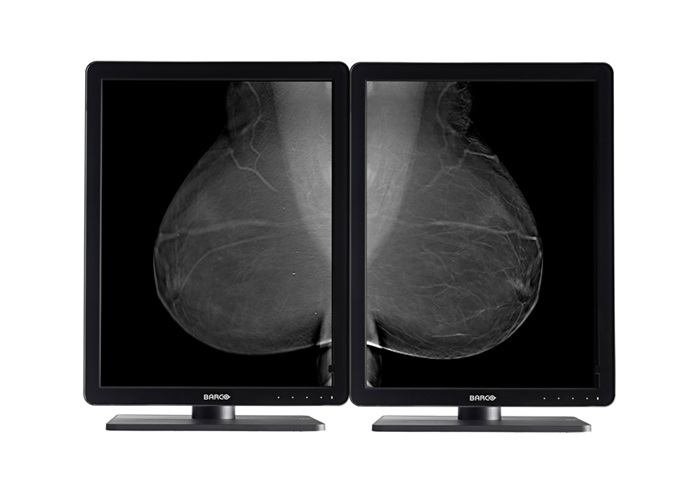 Image courtesy of Barco.
In market research firm Frost & Sullivan's Analysis of the U.S. Medical Image Displays Market Assessment and Outlook of Diagnostic and Surgical Displays Through 2017, the study's authors noted that as the imaging space matures, the market for diagnostic displays is facing saturation, leading to a drastic drop in the average selling price of display monitors. The study notes that while LCD displays with LED backlights are common, complete LED and OLED surgical displays can play a crucial role in the competitive scene of the surgical displays segment.
Although the market is maturing, many new applications are available that help to streamline workflow and enhance productivity for clinicians. Several new state-of-the-art displays were highlighted at the 2016 Radiological Society of North America (RSNA) annual meeting. 
Breast Imaging
As breast tomosynthesis becomes more widespread, the demand for high-resolution, accurate renderings of breast images grows. Barco recently introduced the Nio Color 5 megapixel (MP) diagnostic color display with a 5.8 MP resolution, making it suitable for general radiology as well as breast imaging, including breast tomosynthesis. It is equipped with Barco's color calibration technology for consistent images — both in color or grayscale — to ensure the accuracy of the display and to support confident diagnostic decisions.
The Nio Color 5 MP was designed for demanding radiology applications that require excellent grayscale rendition and detail, both crucial for mammography and breast tomosynthesis. It includes sophisticated calibrated color that also improves gray images, a feature previously only available on Barco's Coronis Uniti display system. Its 5.8 MP resolution offers more pixels than traditional mammography displays, allowing more of the image to be seen. SteadyColor technology ensures consistency in color from display to display, so a diagnosis can be made based on reliable images. The Nio Color 5 MP comes with a set of tools to help radiologists work smarter, not harder, including features for dimming of auxiliary displays, enhancing visualization of details and personalizing display settings. Commercial availability in the U.S. is pending U.S. Food and Drug Administration (FDA) clearance.
At RSNA 2016, Eizo announced the release of RadiForce GX550, a 21.3-inch, 5 MP monitor for viewing detailed digital breast tomosynthesis and mammography images. It is the successor model to the RadiForce GX540 and features superior imaging capability and ease-of-use. It features Eizo's Sharpness Recovery technology, with which the decrease in sharpness (MTF) is restored, displaying an image on the monitor that is true to the original source data, even at high brightness levels. The design features thinner black front bezels that make it easier to focus on images in dark reading rooms. For workspace efficiency, the monitor's width, height and depth were reduced by 28 percent to 21, 36 and 45.5 mm respectively. The company has received FDA 510(k) clearance for digital breast tomosynthesis and digital mammography for the RadiForce GX550. 
Last May, Eizo received FDA clearance for breast tomosynthesis for its 8 MP multimodality monitor, the RadiForce RX850. It now has approval in tomosynthesis, mammography and general radiography. Its high resolution 4,096 x 2,160 screen displays 8 MP of information with a pixel pitch of 0.1704 mm for viewing medical breast images in exceptional detail. To detect small structures, the monitor offers a high contrast ratio of 1,450:1. 
Multimodality Monitors
Richardson Healthcare unveiled an integrated radiology reading station featuring Image Systems 5 MP Color displays (C5MPn) that can view all types of imaging modalities at RSNA 2016, and also a portable reading station for emergency department use featuring two Image Systems 3 MP Color (C3MPn) displays. New productivity tools on the Image Systems diagnostic displays, such as PinPoint and CursorGenie, enhance productivity and improve the viewing experience.
Also at RSNA, Eizo released RadiForce RX660, a 30-inch, 6 MP monitor ideal for multimodality applications. It is the successor model to the RadiForce RX650 and features new functionality for improving reading room efficiency. It is equipped with Eizo's original space and time saving function called Work-and-Flow, which is included with the bundled RadiCS LE software. Compared to its predecessor, the RadiForce RX660 hosts a slimmer, more compact housing for an efficient workspace. The monitor's width and depth have been reduced along with the size of the power supply, resulting in a monitor that takes up 23 percent less space. The 6 MP screen provides ample space for displaying numerous applications at once, making it an effective replacement for a dual 3 MP monitor setup. 
4K Monitors
Ultra-high resolution is a necessity for clinical and surgical use. Double Black Imaging's 4K LED displays help meet the requirements for clinical review, modality imaging, surgical suites, operating rooms, emergency rooms and procedural facilities. The 8 megapixel displays offer quadruple the resolution of most surgical displays available.
Canvys, a division of Richardson Electronics Ltd., featured its custom displays that deliver 4K x 2K resolution (3,840 × 2,160 pixels), four times that of full high definition (HD), at RSNA 2016. The new 4K2K custom display series is available in seven screen sizes — 23.8, 27, 31.5, 55, 58, 65 and 84 inches — and deliver sharp, precise, detailed images with enhanced depth and color representation. In addition to displaying high-quality images, the monitors are multimodality.  
Flat Panel Display Comparison Chart
ITN has created a flat panel display comparison chart of the specifications for these systems. It can be accessed at www.itnonline.com/content/flat-panel-display. This will require a login, but it is free and only takes a minute to register. The chart includes all manufacturers of radiology display monitors that sell systems in the United States.
Read the related article "What is New in Flat Panel Displays."
Watch the sponsored VIDEO "Eizo Celebrates 45 Years of Expertise in Flat Panel Displays," from RSNA 2016.