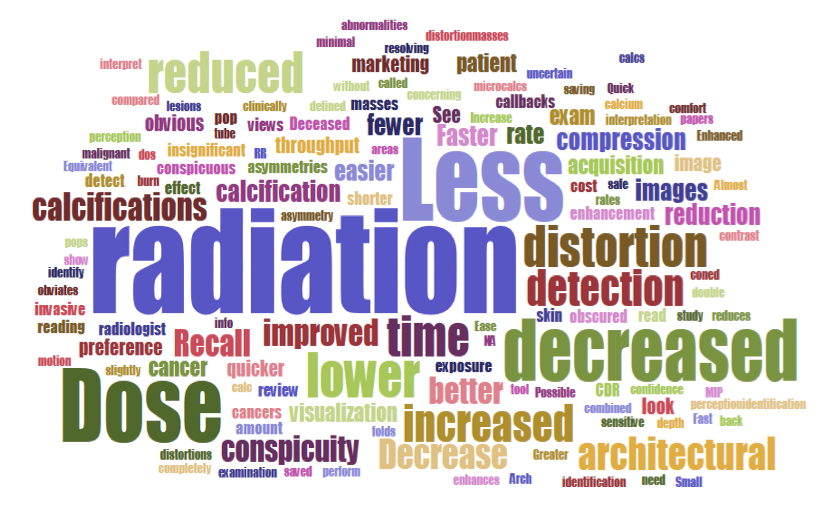 Sizes of words in this "word cloud" correlate to how often each word was used in survey responses to the question: "What do you perceive are the advantages to using synthetic mammography in screening?" In reference to decreased radiation dose to patients, the words "radiation," "less" and "dose" were most frequently cited. Illustration courtesy of Samantha Zuckerman, M.D.
Many mammography practices that use digital breast tomosynthesis (DBT) continue to use dosed digital mammography to screen women for breast cancer, even though 2-D images can be synthesized from the DBT data, according to a survey conducted by researchers at the Universities of Pennsylvania and Vermont.
Survey details and conclusions will be reported in a presentation April 4 at the Society for Breast Imaging (SBI)/American College of Radiology (ACR) Breast Imaging Symposium by Samantha Zuckerman, M.D., a breast imaging fellow in the Perelman School of Medicine at HUP (Hospital of the University of Pennsylvania), who was a lead investigator on the study.  
In her SBI talk, Zuckerman plans to address perceptions about cancer detection rates and recall rates, particularly ones related to the use of 2-D synthetic mammograms (SMs). She may also describe the process for transitioning from dosed mammograms to synthetic ones, possibly recommending that breast imagers get accustomed to the look of SMs by clicking back and forth between SMs and the traditional dosed digital mammograms.
Zuckerman said she hopes that attendees of the presentation will recognize that "synthetic (mammography) is a great (and still evolving) technology." Right now, however, that technology has some shortcomings. 
Synthetic Mammography — Less Than Perfect
This may be why fewer than half of the survey respondents who said they have DBT rely completely on synthetic mammograms. The survey documented that among the 80 percent who reported having the ability to synthesize mammograms from DBT data, fewer than half (45 percent) said they rely solely on SMs when screening with DBT. At least some of the slightly more than half who reported not relying solely on these synthetic mammograms likely have and may use them, "but they still attain the dosed 2-D images," Zuckerman said.
Synthetic mammograms are created from data in the tomosynthesis stack of images, she explained. The computer assembles data from these slices to make a synthetic 2-D image, which "it tries to make look as close as possible to a digital mammogram without dosing the patient," she said.
When asked about the advantages of synthetic mammography, survey respondents who use SMs most often (85 percent) cited lower radiation dose as a reason. About a quarter (27 percent) cited increased lesion conspicuity.
Citing preliminary research, Zuckerman said SM neither increases the number of recalls nor decreases the detection of cancer. She acknowledged, however, that synthetic mammograms, which are produced from tomo slices of the breast, look different than dosed digital mammograms."The differences are the reason why some people still prefer to do the digital mammogram, even though it requires a dose," she said.
Why Many Survey Respondents Do Not Rely On SMs
These differences can cause diagnostic problems. Some survey respondents said they do not synthesize mammograms from DBT data at least partly because of concerns regarding image quality, specifically the characterization of calcifications. 
SM software can make some types of normal tissue look like calcifications, Zuckerman said. It can also miss data associated with subtle calcifications. "So people are wary that they are either over calling calcifications that aren't really there or afraid that they could be missing calcifications," she said. "And because calcifications can be a marker of early-stage breast cancer, people are hesitant to apply synthetic technologies, because they don't want to miss a diagnosis."
In the vast majority of practices that use SMs, however, survey respondents did not report negative impact from these "disadvantages". No changes were reported by survey respondents either in the detection of cancer nor in the rate at which women were recalled for additional testing.
Other reasons reported by the respondents who do not synthesize mammograms from DBT data were related to administrative concerns or the cost of the software for producing SMs. Cost may be incurred, for example, if the DBT user did not have or select the option to include the SM software, Zuckerman explained.
How the Breast Imaging Survey Was Conducted
The online survey developed by Zuckerman and her colleagues was sent last June to the 2,600 SBI members. The objective of the survey was to assess the use of synthetic 2-D mammograms, and to determine perceptions and attitudes regarding SM among breast imagers.
SBI members were chosen, according to Zuckerman, because "most of them are dedicated breast imagers so they would most likely have the most exposure to this advanced technology," she said. About 12 percent of the 2,600 (312) answered survey questions.
The vast majority of respondents (96 percent) reported using DBT; 80 percent reported having the ability to synthesize 2-D mammograms from the DBT data.
Why 2-D Mammograms Are Needed In Screening
Two-dimensional imaging has always been a staple of screening mammography. DBT and 2-D imaging are complementary, she said, and will remain so in the foreseeable future.
The current and most recent prior 2-D mammogram are, in fact, the first images that mammographers examine, laying one over the other to look for changes from the year before. These 2-D images also provide information about calcification clustering or distribution. And they allow mammographers to gauge breast density. "You can really tell what is fat versus what is glandular," Zuckerman said.
The need for 2-D images continues even as DBT is becoming increasingly common in breast cancer screening, Zuckerman said. In the survey, 54 percent of respondents reported that they screen greater than 76 percent of their patients with DBT. This is up, she said, from data published a couple years ago that profiled DBT utilization.
The need to conduct dosed digital mammography to achieve 2-D mammograms initially held back the adoption of DBT. The developers of DBT equipment came up with synthetic mammograms as a solution.
The reason behind the increasing popularity of tomo, she said, is that DBT allows "you to find more cancers and you are also decreasing the false positives." This addresses the two major complaints of screening mammography: "too many false positives and you can't find enough cancers," she said.
What the Future Holds For Mammography Screening
Zuckerman believes that more research is needed to determine if image quality concerns — particularly ones regarding calcifications — result in decreased detection of calcification-only lesions. "We need more multicenter studies that are looking at outcomes," she said. "We need to see more data about false negatives and determine if recall rates have changed and what the cancer detection rates are in larger populations."
Some of this research may be done by Zuckerman and her colleagues, she hinted. "You have to stay tuned to see what the University of Pennsylvania is coming out with next," she said.
Greg Freiherr is a contributing editor to Imaging Technology News (ITN). Over the past three decades, he has served as business and technology editor for publications in medical imaging, as well as consulted for vendors, professional organizations, academia, and financial institutions.
Related content:
Integrating Breast Tomo Into the Women's Imaging Service Line
Strengths and Weaknesses of Synthetic Mammography in Screening
Synthetic 2D Mammography May Hold Advantages Over 2D/3D Mammography