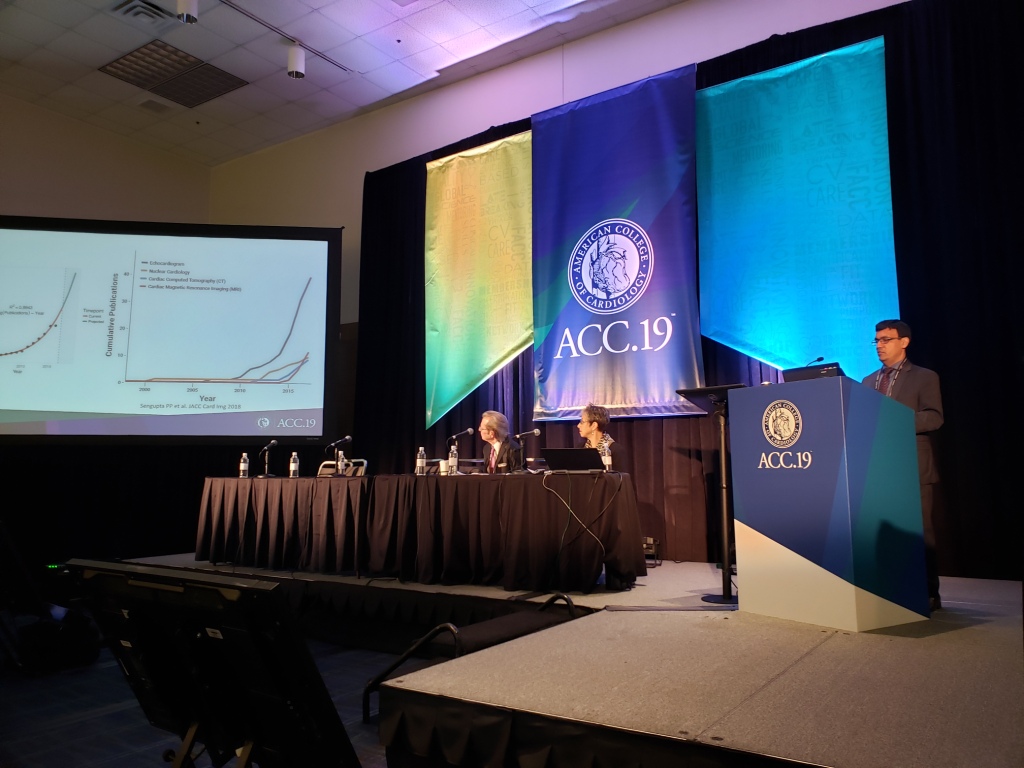 WVU cardiology chief Partho Sengupta, M.D., describes at ACC 2019 how artificial intelligence already helps cardiologists in echocardiography. Photo by Greg Freiherr
Machine learning is already having an enormous impact on cardiology, automatically calculating measurements in echocardiograpy. And machine learning, which is part of artificial intelligence (AI), is just getting started.
"Machine learning (ML) is completely changing the landscape of echocardiography as we speak," Partho P. Sengupta, M.D., told Imaging Technology News/Diagnostic and Interventional Cardiology (ITN/DAIC), before his presentation at an American College of Cardiology (ACC) session on the current and future applications of machine learning in echocardiography. "It has already been embedded in systems. It works seamlessly in the background without even people knowing about its existence. People just do their work and it takes care of interpretation."
Sengupta, chief of the cardiology at West Virginia University in Morgantown, W. Va., is widely recognized as an expert in echocardiography. Before joining WVU, he directed interventional echocardiography and cardiac ultrasound research at the Zena and Michael A. Wiener Cardiovascular Institute at the Mount Sinai School of Medicine in New York City.
ML algorithms, also referred to as smart algorithms due to the AI on which they are based, are already having a major impact on the practice of cardiology, he said in the scientific session Saturday, March 16 at #ACC19, the 2019 annual meeting of the American College of Cardiology.
"Machine learning algorithms are being integrated into the routine workflow of these systems," he said. "So they are already here."
How Machine Learning Improves Echo
Embedded in modern echo systems, today's smart algorithms make data interpretation more efficient, thereby improving the ability of physicians to diagnose rare conditions and problems, Sengupta said. Cardiac diagnostics often begin with echocardiography, he noted.  In recent years, echo has evolved to deliver imagery in multiple dimensions (e.g., 3-D and 4-D) and from smaller packages, epitomized by smart phone. Machine learning is the IT expression of this development.
Sengupta and colleagues concluded in a 2016 paper that machine-learning (ML)  algorithms may help standardize assessments and support the quality of interpretations.  Although "everybody benefits," he said, from the availability of these algorithms, novice readers with limited experience have the most to gain.
"It takes away the knowledge burden required to diagnose a condition," Sengupta said, noting that ML algorithms provide decision support "as good as a very senior physician."
These algorithms may automatically calculate measurements such as ejection fraction. Some may even hint at the underlying anomaly. In the future, machine learning algorithms may be able to make calculations that indicate heart failure, stroke and atrial fibrillation – possibly with percentages indicating future risks, based on the patient's phenotype, he said.
Predictive Analytics Changing Cardiology
"We already use some calculators in cardiology for estimating risk, but in the very near future, it will be even more precise and more individualized," Sengupta said. "My take is that within the next couple of years you will see a total transformation of predictive analytics."
Echo machines might forecast that a particular patient has "a 90 percent probability of having a heart failure admission in the next three days," he said. Such predictions would allow clinicians to focus on high-risk patients.
In the more distant future, ML algorithms may automatically recognize clinical disorders, Sengupta said. But physicians will likely be given the option whether to accept these algorithms' conclusions. Although embedded in the workflow of the echo system, ready to be executed, their conclusions will be "suggestions that physicians will have the ability to override, if they don't agree with them," Sengupta said.
While speculative, this view of the future is an extension of what can already be done and what will soon be possible.
Greg Freiherr is a contributing editor to Imaging Technology News (ITN). Over the past three decades, Freiherr has served as business and technology editor for publications in medical imaging, as well as consulted for vendors, professional organizations, academia, and financial institutions.
Related content:
A 40,000 Foot View of Trends in Cardiology
Applications for Artificial Intelligence in Cardiovascular Imaging
Machine Learning Approaches in Cardiovascular Imaging
Technology Report: Artificial Intelligence (Video report published January 2019) 
PODCAST: Shortcomings of CTA in Cardiology
PODCAST: How Technology Is Changing Cardiology
ACC.19 Future Hub Hosts "Shark Tank" of Emerging Technologies In Cardiology
---
If you enjoy this content, please share it with a colleague