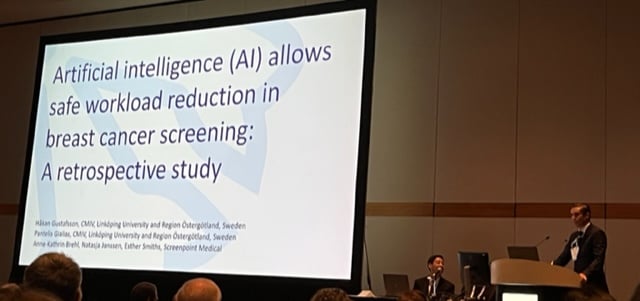 A Scientific Session featuring global studies on the application of artificial intelligence (AI) in breast screening and radiology workflow was presented Nov. 29 during RSNA 2022.
November 28, 2022 — The second day of the 2022 Radiological Society of North America Scientific Assembly and Annual Meeting delivered highly-anticipated updates and insights on a range of hot topics. This round-up features two significant programs: a session of global studies on the application of artificial intelligence (AI) in breast screening, and a forward-thinking Plenary Session by an oncologist and Pulitzer Prize winning author.
Breast Screening with AI: An Update
A Monday morning program provided significant findings from a host of radiologists from around the world on the impact of artificial intelligence (AI). The Science Session with Keynote:  Breast Imaging, "Breast Screening with AI — An Update" was moderated by Wendy Demartini, MD, Stanford University School of Medicine, and Christoph I. Lee, M.D., University of Washington, for the standing-room only session.
The Imaging Technology News (ITN) editorial team asked Lee to summarize the global findings presented, and how these outcomes may affect change moving forward.
"What's really exciting to see today is the amount of prospective studies that are currently launching in European countries," said Lee, adding, "We heard what's happening in Denmark, Norway, Sweden, and a host of other countries, and this is where the evidence is going to come from that is really going to change policy and recommendations — for either single reading or double reading, and how AI could potentially replace double reading with single reading plus AI." Lee further commented, "I think in the next 2-3 years as the initial results come out of those trials, we're going to see some exciting transformations in breast cancer screening."
Overview of findings on detection and workload
Two studies out of Cambridge University, conducted by Fiona Gilbert, MD, and Sarah Hickman, MBBS, looked into whether AI can help deliver better breast imaging and triage out normal cases. One investigated the performance of three AI algorithms for high sensitivity and high specificity triage in the UK National Health Service Breast Screening Program (NHSBSP). It asked, "Can AI tools triage out cases for adaptive reading?" and "Can AI tools triage in cases for adapted assessment?" The study concluded that a large proportion of normal cases could be ruled out of the need for double reading while maintaining a high sensitivity; further, at a high specificity threshold, AI could improve early detection of cancer by selecting cases for further assessment, noting that an appropriate threshold should be identified to limit the increase in recall rates.  
Addressing radiologist workload reduction, Hakan Gustafsson, PhD, CMIV, presented findings from a retrospective study that determined whether AI would allow a safe workload reduction in breast cancer screening. The study was conducted with Linkoping University in Sweden. From Sept., 2021 to Feb., 2022, 15,468 screening exams were completed, with a recall rate of 1.75. The results, noted Gustafsson, found no missed cancers and a 33.8% workload reduction.
Another study on workload, from University of Copenhagen, researched the implementation of an AI system in a Danish screening program, involving 114,000 women. Researcher Andreas Lauritzen, PhD-Fellow, reported on the outcome, including a workload reduction of 37.5%, as well as 27.6% less recalls.
In a German National Screening Program overview, a study compared diagnostic accuracy of radiologists in a population-based screening program before and after installation of an AI tool designed to detect breast cancer. The findings were presented by Axel Graewingholt, MD, an iCad Research Consultant.
Notably, Graewingholt shared breast screening images with and without AI, exhibiting that a 6 mm NST (IDC) was detected by a reader with AI, after the reader of the original screening without AI dismissed it, considering it benign. Speaking to the study's clinical relevance, "The study of the impact of AI on clinical practice shows that one potential benefit of AI is to detect 1.2 additional cancers per 1,000 screened, a 27% increase, without appreciably increasing AIR, he noted.
Plenary Session Speaker on Total Care, Personalized Medicine and AI
Widely-renowned as a pioneering physician, oncologist, and author, Siddhartha Mukherjee, MD, Columbia University, discussed a broad range of issues in the Nov. 28 Plenary Session on "Three Visions for the Future of Medicine." A summary of some of his comments are shared here. Mukherjee is the author of The Song of the Cell: An Exploration of Medicine and the New Human, The Gene: An Intimate History, and The Emperor of All Maladies: A Biography of Cancer," for which he won a 2011 Pulitzer Prize.
"A good oncologist becomes a partner in the patient's care," he noted, focusing on the mantra of Sidney Farber of the Dana-Farber Cancer Institute, which has informed a great deal of his work.
Covering his current work on genomics and risk assessment, he walked the audience, packed into the Arie Crown Theater, through the development of organoids, 3D multi-cellular cultures. he described it as "quite breakthrough work" which he and fellow researchers have focused on in what he refers to as the "Cancer in a Dish" project. In doing so, they take the actual tumor specimen, process the tissue, place it in a culture and conduct post-genomic analysis for ovarian, colorectal and other cancers.
On AI, he referenced a 2017 article he wrote for the New Yorker. He noted the original title, "A.I. vs M.D." is really a false title, emphasizing that it is quite notably "AI with MD" that is the case in medicine and radiology today. He added, "AI will allow a new generation of physicians to answer 'Why?'"
Mukherjee spoke to the importance of having studies which focus on the most important endpoint, whether lives saved, disease down-staged, or less invasive surgery, and issued a call for radiologists to become involved in the future of AI's role in medicine, saying, "I'd like all of us to think together how to create the definitive study to really put AI on the map."
"I encourage those of you involved in patient care to respect patient autonomy, understand it is changing, and that the only way forward is to really have a 'with patient' as opposed to 'for patient' model."
RSNA President Bruce Haffty, MD, who introduced Mukherjee, joined him for a Fireside Chat after the presentation, and asked about the role of the radiologist in personalized medicine. In the spirit of the theme for RSNA 2022, Mukherjee noted the value of communication with a patient in identifying treatment options, telling the audience "You will be astounded" at the difference it makes with the patient and their overall trust in medicine. He further replied: "If you think about total care, which I keep coming back to because it is so important, there are arenas of personalized medicine that all of us are involved in, and need to be continuously involved in…and that, I think, has transformative effects in medicine."
Stay tuned for additional summaries and news insights from featured programs, studies and product announcements from the ITN editorial team, online and on social media, throughout RSNA 2022.
Related Content: RSNA 2022: Innovative Solutions on Display, Leadership Addresses Value of Imaging
---
If you enjoy this content, please share it with a colleague