There are many ways to serve to make a meaningful impact in the lives of others.
This applies to my work in the radiology industry and as a minority advocating for health equity. My hope is that the healthcare industry will adopt this same vision and strive for better patient care.
Pediatric radiology (and radiology as a whole) is a unique healthcare specialty. It deals with minor ailments to life-altering diseases. It supports better care outcomes across many specialties. It is fraught with misunderstanding and misperception from a large part of its patient population. It is as much a technology profession as it is a research and health profession. It is critical to execute the industry's vision of a holistic care continuum for patients.
Our industry has an opportunity and obligation to educate, advocate and innovate. And, to uncover new possibilities for patients, healthcare professionals and technologists. In doing so, the radiology industry will be able to end healthcare disparities, increase representation, and overcome decades of misinformation passed from generation to generation.
Understanding the Current Landscape
Over the past few years, I have spoken with the Congressional Black Caucus and attended educational events across the country. Here's what was clear: There remains a level of distrust in healthcare from Black patients and families. There are also disparities in how radiology tests have been administered. In fact, studies show the influence of patient race and ethnicity on the use of diagnostic imaging, with Black patients approximately 20% less likely to receive imaging.
A main reason behind this disparity is representation within the industry. It's a stark disparity. Only 5-6% of radiologists are African American or Blacks. Representation matters, whether understanding the patient population, instilling comfort in a patient or educating on treatment opportunities.
The stage is set — and we must keep this in mind when charting a path forward for radiology. We're already seeing this with research and partnerships across our industry. If we're going to get this right, patients and families must be a part of care decisions so they are informed. We must encourage them to be an active participant in their care.
Eliminate Radiology Misconceptions
There is still a huge amount of fear about radiology, and radiation in general. There is also a general fear of healthcare passed from generation to generation, particularly with minorities. We must break down those barriers and bring awareness to modern imaging. Technological innovation can help spread this message.
Here's a good example in pediatrics. In recent years, we've pioneered the use of positron emission tomography/magnetic resonance imaging (PET/MRI) instead of PET/computed tomography (CT) scans. This approach combines high spatial resolution and fine anatomical soft tissue detail with high molecular specificity. It limits radiation exposure and eliminates the need for separate or additional scans. There are also new and innovative imaging techniques that don't even use radiology. For example, the team at Stanford Medicine Children's Health have developed a way to test for vesicoureteral reflux, a kidney condition that impacts approximately 1 in 10 children, without the use of radiation. Bringing awareness to how technology improves care offerings and expands options in radiology helps to rebuild trust.
Close Education Gaps to Build a Diverse Talent Pipeline
I came into healthcare and radiology after two decades in the military. My journey led me to the civilian sector, but it is surprising how many people don't know about what opportunities can be found making the transition. Individuals in the military are driven by service, so healthcare is a good fit on paper, but it is seldom thought of as a natural path. Despite finding radiology, I've learned the industry doesn't do a good job advocating for itself within competitive talent landscapes.
Radiology is unique in that it is not all what is thought of as "traditional bedside care." Career paths don't have to follow this route. We must showcase the range of modalities within the radiology profession and educate brimming talent from earlier stages. This is what intrigues people. Computer science? Radiology excels. Artificial intelligence (AI) and machine learning applications? We have that too. Integrating computing systems and data applications? These are changing the radiology game, and so our search for talent should match. Here is a good example of what innovation looks like in practice: We are currently looking into imaging around enamel to assess brain function at a younger age. This information will allow us to be more predictive when it comes to potential disease, before a child gets older.
Move the Needle on Providing Holistic Care
Radiology already plays a pivotal role across the care continuum. But as healthcare organizations move toward holistic care models, its role will grow. For example, using imaging as a preventive measure can catch potential problems in earlier stages. Imaging can also provide more information earlier on in the diagnostic process to cut additional visits or steps between time of discovery and time of diagnosis.
Here's another in which strategy directly impacts care. It was discovered that many children who needed an MRI for orthopedic indications had slow and cumbersome experiences due to the nature of the healthcare system. In addition to taking days off from school and work, the families needed to see a specialist, followed by an MRI request, followed by insurance pre-authorizations, and then finally more time for the MRI. Now, thanks to collaboration by radiology and imaging teams, new processes were innovated from our understanding of MRI physics and high-performance computing. The result, an MRI in under 10 minutes. This, coupled with a waived authorization, allowed for walk-in MRIs, and a single visit can now set a patient on the path to recovery.
As advocates for health equity and parity, we must extend to capabilities beyond imaging in radiology. Others must come to the table to enable multidisciplinary care that treats the patient holistically as opposed to one ailment at a time. For example, muscular or skeletal injuries captured by imaging can be discovered and treated. But how much do we know about that individuals' environmental, socio-economic, and education that pertains to the injury? Where do they live? How do they exercise? Do they have access to adequate nutrition? Do they have a history of avoiding radiology appointments or self-diagnosing? Changing the types of questions we ask our patients allow us to treat what is in front of us and provide guidance on preventive or holistic care.
There's a Generational Opportunity at Our Fingertips
Our industry is at an inflection point. We are researching, testing and deploying some of the most innovative, advanced technology and care methodologies across healthcare. But we still have a long way to go in leveling the playing field in education and representation. There's an opportunity to bolster the talent pipeline and capitalize on the tech industry's revolving talent door by showcasing what radiology is all about: using advanced technology and computing science to inform high-touch, personalized and intricate patient care.
I had the chance to serve my country on the frontlines for over 20 years. I now face a different battle that affords me the same opportunity to fulfill a duty and change lives for the better. Let's get others on board.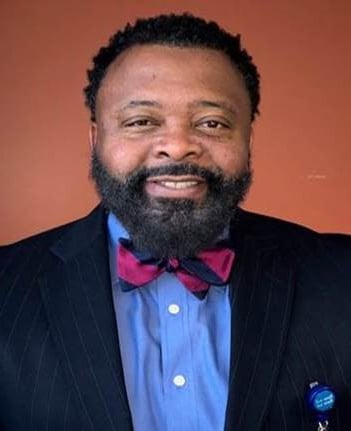 Cedric Wilson, MBA, RT(R)(MR), is Stanford Medicine Children's Health's Executive Director of Diagnostic and Imaging Services. He leads the organization's diagnostic testing, imaging strategies, capital equipment procurement and clinical research innovations. He has decades of experience implementing process improvement, physician and organizational leadership development, positive industry outcomes and advancing information technology. He is also a military veteran (retired Master Sergeant), having spent more than 21 years in the United States Air Force.
Related Health Equity Content:
ASTRO SUPPORTS CMS' PRIOR AUTHORIZATION REFORM FOR MEDICARE ADVANTAGE PLANS PHYSICIAN AND PATIENT
GROUPS CALL ON CMS TO UPDATE MEDICARE LUNG CANCER SCREENING COVERAGE
MEDICAL SOCIETIES RELEASE STATEMENT ON CONGRESS' FAILURE TO MITIGATE IMPACT OF CLINICAL LABOR PRICING
UPDATE POLICY IN OMNIBUS APPROPRIATIONS PACKAGE 
ACR ISSUES STATEMENT: CONGRESS COMES UP SHORT ON 2023 MEDICARE CONVERSION FACTOR ADJUSTMENT 
---
If you enjoy this content, please share it with a colleague