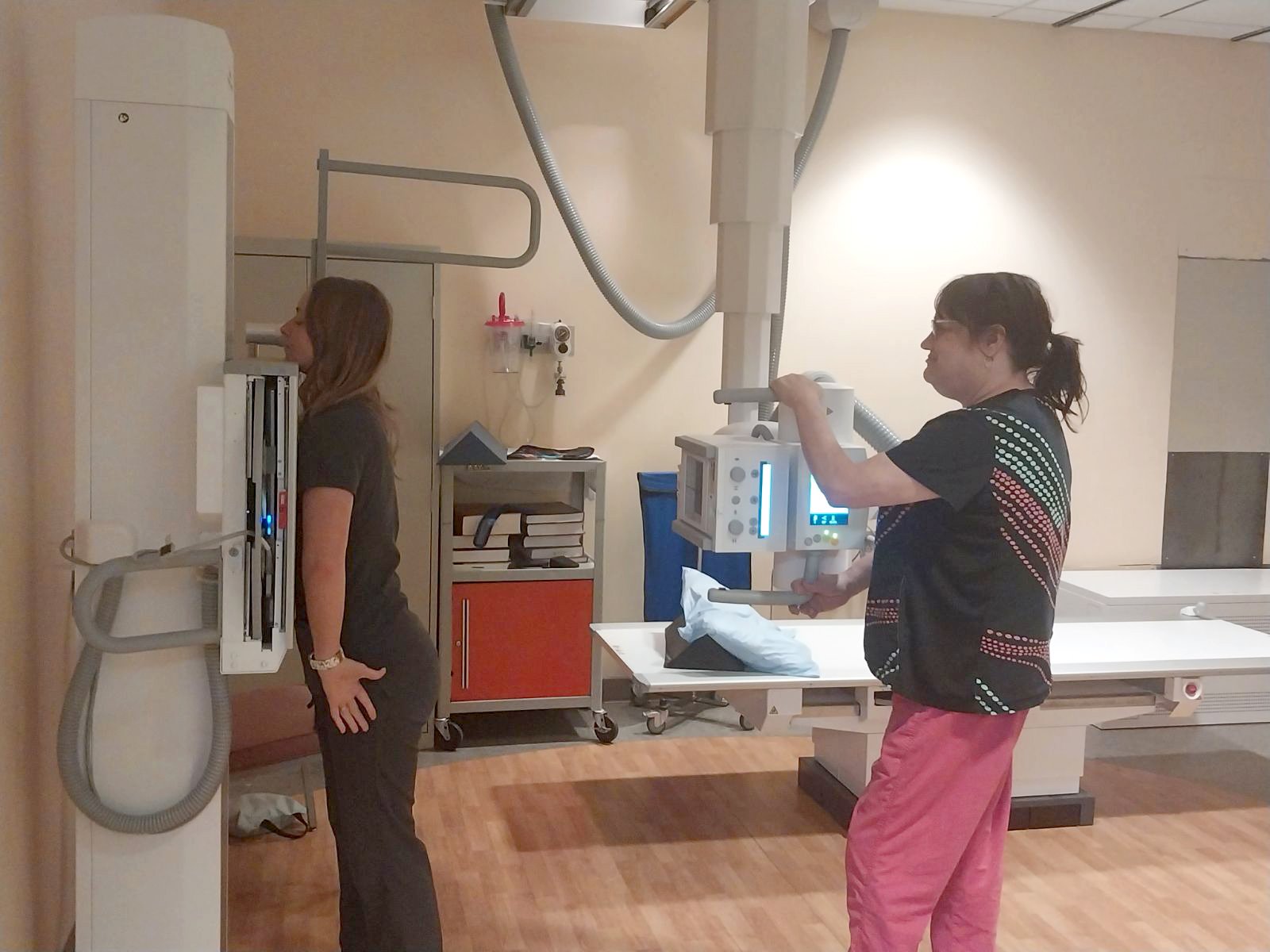 They say good things come in small packages. That's clearly the case at Massac Memorial Hospital, an award-winning critical access hospital in Metropolis, Ill., with 25 beds. But far from quaint, this small facility is cutting edge.
Here you'll find a highly skilled, compassionate staff along with comprehensive advanced imaging technologies that are raising the bar for patient care in their rural community.
The hospital serves patients in Massac County and the surrounding areas. Far too many rural communities lack access to the latest medical technology. But Massac Memorial prides itself on going the extra mile — so patients don't have to.
"Our goal is to be able to provide top-notch healthcare to the people in our community so they can get it here at home and not have to drive to larger cities to get what they need," said Janet Vannatter, Chief Operating Officer of Massac Memorial Hospital. "To meet that goal, we had to get the best possible equipment and that's why we turned to Fujifilm Healthcare Americas Corporation for the very latest in diagnostic imaging systems."
Rural and Socioeconomic Challenges
A recent study found that regions of the US with an extreme level of socioeconomic disadvantage were less likely to have access to accredited medical imaging facilities. Some 2,796 US zip codes met the criteria for extremely disadvantaged. Of these, rural zip codes totaled 1,160.
Only 21% of extremely disadvantaged zip codes had access to computed tomography (CT) facilities as compared to 32% of extremely advantaged zip codes. As for magnetic resonance imaging (MRI), just 19% of extremely disadvantaged zip codes had access as compared to 32% of extremely advantaged. 
Yet a lack of access to high-quality imaging can lead to delayed or missed diagnoses, further exacerbating the health disparities experienced by people who live in disadvantaged or remote communities. 
However, Massac Memorial has long challenged the status quo. Since welcoming its first patient in 1956, the organization's patient care has been guided by its belief that healthcare should be delivered using state-of-the-art technology and procedures, as well as deep regard for the human spirit.
The recent investment in a full portfolio of diagnostic imaging equipment is the latest testament to that philosophy.
"You would think that a small hospital would not be able to provide the quality of care as some of the bigger hospitals —well, that's not true," said Jonathan Walters, MD, Chief Medical Officer. "We're a gem in the rough. We have the newest technology; we have an MRI that can rival anybody's in the region. And having that in your own backyard means you're getting the care you need without having to travel."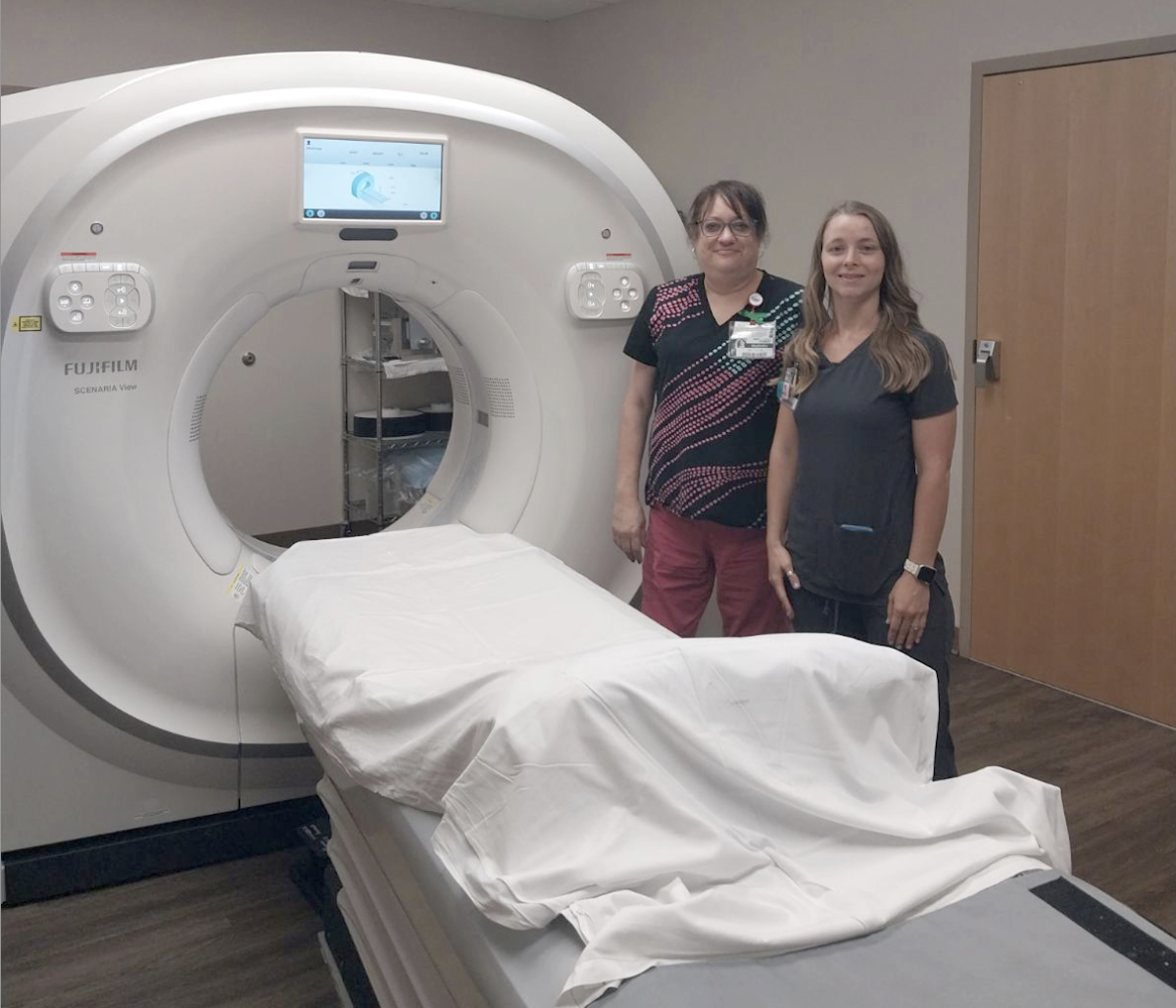 Massac Memorial employees in front of their SCENARIA View CT System.
Open MRI Equals Greater Comfort, Better Compliance
The clinical team at Massac Memorial says the hospital's Oasis Velocity Open MRI system is boosting efficiency for technologists and offering big benefits to patients. For starters, an open MRI is solving the problem of people refusing an MRI due to anxiety.
"Having an open MRI is important because a ton of people have claustrophobia and they may not even know it," said Haley Anderson, RT(R), (MR), (CT).
Previously, many patients complained about the narrowness of the MRI "donut." But the Oasis Velocity has an open feel, so more patients of all sizes are willing to go through with the exam. The open MRI means enhanced comfort — which also translates into improved images. When patients are at ease during the exam, they tend to do better at remaining still and that leads to crisper images with finer resolution.
Anderson notes that the team has increased its image quality while reducing scan times, for example, a typical 45-minute exam can be performed in just 20-minutes. That means patients will have a better exam experience and the Massac team can see more patients daily ensuring more speedy diagnoses and treatment.
Low-dose X-ray Solutions Serve Broadest Patient Population
Digital radiography has come a long way at Massac Memorial as well. For example, the D-EVO Suite II X-ray room has made a big improvement on image quality while lowering dose. In Massac's previous X-ray room techs found it difficult to acquire a good T-spine views. But now, images are far crisper.
"With this machine, the detail is great," said Frederich Park, MD, Radiologist. "What I'm seeing, I see a lot better and with better detail."
The radiologic technologists also like having removable, lightweight detectors because it makes it easier to perform numerous extremity exams and the system also delivers less radiation dose. Often, the team doesn't need to use a grid but rather a virtual grid simulation — making exams more efficient and requiring less repetitive strain on techs.
The D-EVO Suite II was built to serve the widest population as possible — and that's particularly important in a rural community because it means even challenging patient types needn't travel to get the X-rays they require.
"The table weight limit is much higher than our previous one so we can scan more bariatric patients," said Keri Copley, RT, (R) (M), Radiology Technologist. "Also, the table lowers down further, which is a great feature for challenging patients like the elderly and children."
However, in some instances patients are unable to be brought to the radiology room, and that's where Massac Memorial's FDR Go PLUS portable X-ray system is a game changer. FDR Go PLUS acquires and displays images at the patient bedside so physicians can see them immediately. The FDR Go PLUS is particularly ideal for the emergency room, OR, patient rooms and critical care.
"It's important to get good images so we can find out what's going on and send the patient to another higher level of care if we need to," said Robin Newcomb, Emergency Manager. "The portable machine saves a lot of time for us and saves a lot of discomfort for the patient by not having to move them."
The team was also thrilled to get a new fluoroscopy machine — the Persona RF Premium radiography fluoroscopy system — particularly because swallow studies have historically posed a problem.
"Sometimes we had to deny a patent from getting a swallow study because of how narrow the previous machine was. We couldn't fit them into the frame, and we couldn't see the side of their neck because of their shoulder width," said Rachel Gower, Speech Therapist. "With the Fujifilm machine, we can roll almost two people into that frame."
The Persona RF offers a host of benefits for the hospital and patients. First, it's an extremely versatile system with minimal space requirements. The system's dual use capabilities provide for higher utilization because it can acquire more types of general radiography exams than a typical RF, even long length stitching. This allows smaller facilities that have just one or two general X-ray rooms to really utilize the system as a backup X-ray room, providing justification and for purchasing and added advanced fluoroscopic exam applications. And since the system is built on the latest digital radiography (DR) technology, it delivers lower dose than Massac's previous machine. Plus, it's easier to use and offers shorter scan times — which translates into greater efficiency and enhanced patient comfort.
But most importantly, image quality is greatly improved. Now the clinical team is catching more issues than ever before on fluoroscopic procedures — which means rapid treatment and better patient outcomes — in their own backyard.
Speedy CT Scans Find Orthopedic Issues, Pulmonary Embolisms and More
A state-of-the-art, 128-slice CT scanner is perhaps one of the greatest new additions to Massac Memorial. Prior to the arrival of the hospital's Scenaria View CT system, many patients had to travel approximately two to three hours for a scan.
For patients in this rural community, the Scenaria View means the need to travel is eliminated — saving them time, hassle and money.
Massac Memorial's CT scanner boasts several other benefits. "The Scenaria is great for large patients. It never feels good to have to turn someone away, so now we have a weight limit that's over 500 pounds and the gantry itself is bigger," said Krista Lech, CT Technologist.
The Scenaria View moves quickly, so that it maximizes throughput. In addition, its low dose comes with exceptional image clarity, and quick image reconstruction, so techs can scan trauma patients as rapidly as possible.
The machine is ideal for orthopedic scans and the Scenaria View is also helpful when it comes to detecting pulmonary embolisms. "We see these very small sub-segmental arteries. Because of the speed it freezes the motion, and this is called temporal resolution," said Dr. Park. "That temporal resolution is much better than it was with previous scanners."
Commitment to the Community
For six consecutive years, Massac Memorial has received a 5-star quality rating from the Centers for Medicare and Medicaid Services and holds the distinction of being the region's only 5-star rated hospital.
In fact, Massac Memorial is a shining example of the big things a small hospital can achieve. The Massac team has truly raised the bar when it comes to providing quality care in rural America. 
---
If you enjoy this content, please share it with a colleague