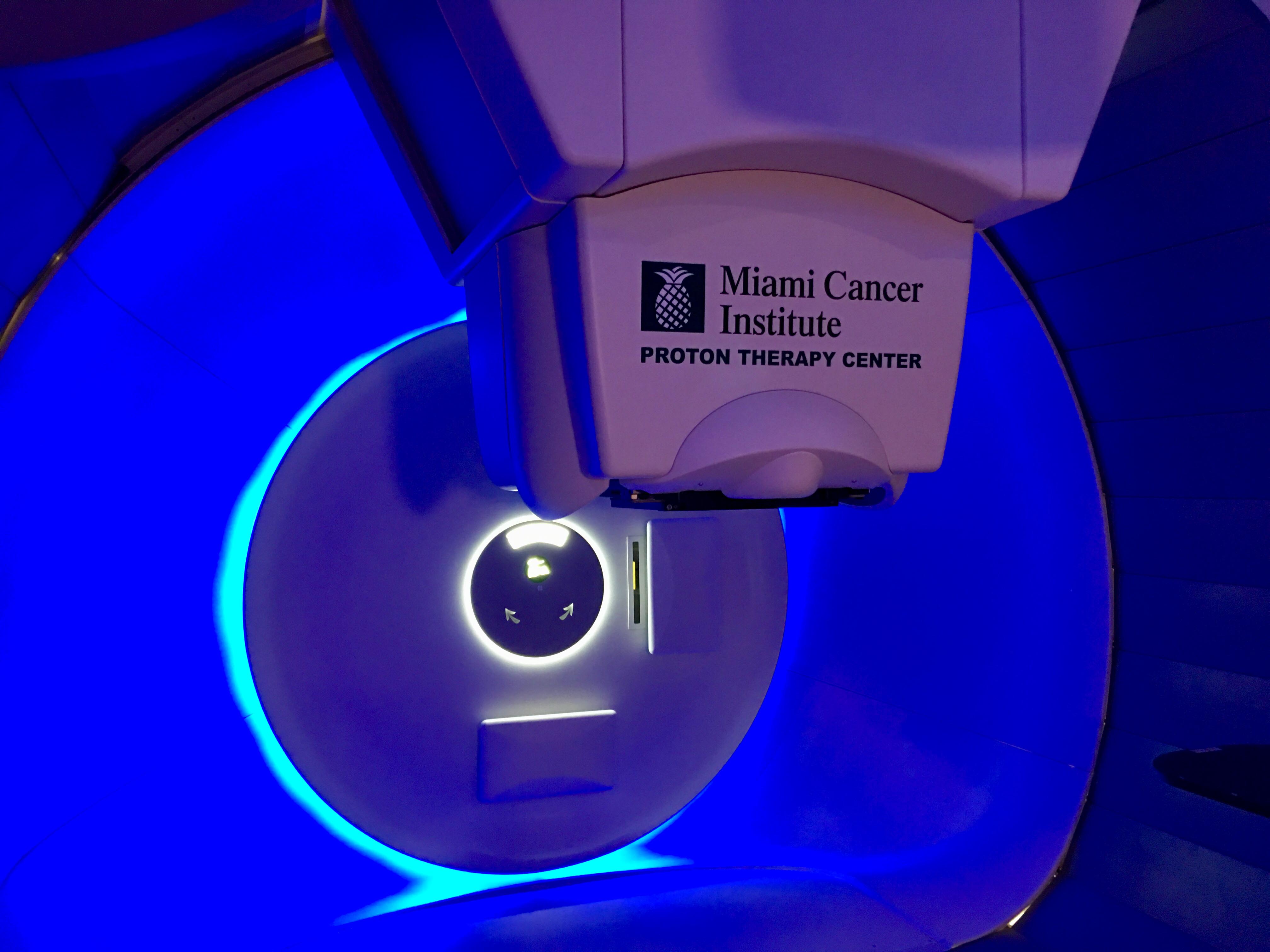 Miami Cancer Institute's Proton Therapy Center is the first in South Florida and the region's top destination for this leading-edge treatment. Proton therapy is an advanced form of radiation therapy that uses pencil beam scanning (PBS) technology.
Radiation therapy has advanced significantly in the last few decades as a result of a continued technological revolution, now allowing for safer and more precise procedures to treat a wide range of solid tumors. Unlike the more commonly utilized photon therapy — in which high-energy, megavoltage X-rays pass through healthy tissues and organs as they enter and exit and body to deliver the radiation dose to a tumor — proton therapy, endowed with the unique physical property of depositing very limited dose in the entry path, but explosively depositing almost all of its energy at a pre-determined depth (matched to the depth of the tumor), and then having too little residual energy to produce any meaningful exit dose, reduces normal tissue dose and consequently the risk of acute and delayed complications resulting from tissues and organs in the beam entry and/or exit path.
The origins of proton therapy date back to the 1940s, characterized by an industrial age fueled to fill the needs of World War II, and out of this high-energy particle physics laboratory environment arose both the atom bomb and the concept of the therapeutic use of charged particles such as protons. Initial clinical efforts were largely restricted to these non-clinical physics research laboratories. As technology continued to evolve, newer hospital-based machines, especially those with pencil beam scanning capabilities, expanded the range of diseases that could be treated with proton therapy. Some of these key advances include the miniaturization of equipment, the development of pencil beam scanning technology, volumetric image guidance and beam guidance for motion management.
Proton Therapy as a Viable Option
Miniaturization of medical devices has made proton therapy a more viable option in cancer treatment.
Across many areas of manufacturing — not only medical devices but also areas such as automotive, aerospace and optics — the need to meet increasing consumer and market demands and adapt to rapidly changing environments and needs has contributed to emerging microelectromechanical systems. In the medical field, this miniaturization trend has allowed for medical tools and technology to be installed with a much smaller footprint, expanding treatment options for patients with diverse and complex needs.
Now, proton therapy equipment does not need to be limited to large-scale, high-energy physics research facilities, and can easily be accommodated in hospitals and specialized medical centers, where physical space is a valuable commodity. Although there are significant costs associated with establishing and maintaining proton therapy facilities, making these medical solutions more manageable in size has helped expand their availability and accessibility for patients all over the world. We have evolved from research cyclotron-based laboratories to large hospital-based multi-room proton centers, to miniaturization into a single vault within a radiotherapy clinic.
Pencil Beam Scanning Technology
The development of pencil beam scanning technology made spot-scanning treatment available, expanding the applications of proton therapy.
Historically, proton therapy was delivered using a concept referred to as the "spread-out Bragg peak" approach, which had several limitations. The ability to move a small spot of protons in two axis allows the beam to mimic the operational characteristics of a 3-D printer, and deposit dose spot by spot across a tumor in length and width; dose deposition at various depths is achieved by tailoring energy, which allows "layer-switching." The resultant dose-deposition matches the 3-D configuration of a tumor. With this technology, it is now possible to control the intensity and spatial distribution of the radiation dose at each point of the tumor, supporting improved treatment effectiveness, particularly in complicated and challenging tumors, as well as reduced side effects for patients.
Volumetric Image Guidance
The addition of volumetric image guidance has further enhanced the precision of radiation delivery.
While traditional patient set-up techniques were based on an alignment of skin marks placed on the body with in-room lasers during simulation and treatment, pencil-beam scanning proton therapy requires more advanced alignment and verification techniques because the dose is deposited in numerous tiny beamlets. With volumetric image guidance, 3-D imaging of the tumor through computed tomography (CT) scans allows physicians and technicians to localize and properly position the patient, and the tumor, on the treatment table before each session. Today, it is possible to have alignment with the accuracy and reproducibility of 1-3 mm, in a process that can take about five to 10 minutes per treatment beam, depending on each specific case.
Beam Guidance Technology
Beam guidance technology helps mitigate involuntary patient movements that can reduce treatment accuracy.
Although pre-treatment positioning can be verified with volumetric imaging, the accuracy of pencil beam proton therapy delivery can easily be compromised by patient motion during the process of delivery.
While some form of immobilization is typically used so that patients do not move during this window of time, this has limitations. Beam guidance technology helps mitigate movement that occurs during the beam-delivery phase. High-precision, continuous tracking cameras can register a patient's surface or movement that causes changes in alignment and can even be incorporated in a feedback loop that stops the beam if the patient's position has shifted beyond a pre-defined threshold. This makes the treatment far more precise.
The precision and accuracy of proton therapy treatments have vastly improved by incorporating these technologies into the daily workflow. With normal tissue spared from unnecessary exposure to radiation doses, patients experience fewer short- and long-term side effects and can enjoy a better quality of life.
Comprehensive Multidisciplinary Program
For proton therapy to be delivered most effectively, it should be part of a comprehensive multidisciplinary cancer care program and done at a highly experienced center. Depending on the specific cancer type and several other factors that determine each patient's individual needs, proton therapy can be combined with traditional radiation, chemotherapy and/or surgery to provide the best treatment and outcomes possible.
While the number of facilities currently offering proton therapy is relatively limited due to costly equipment and the need for a highly specialized team of scientists, physicians and engineers to operate and maintain it properly, this cutting-edge form of radiation therapy is an essential part of the consideration set when establishing a treatment plan for cancer patients, and will play a role in the new standard of care moving forward.
Minesh Mehta, M.D., is deputy director and chief of radiation oncology at Miami Cancer Institute, a part of Baptist Health South Florida. He is a widely renowned expert in radiation oncology, proton therapy and cancer research. Mehta is board-certified in radiation oncology by the American Board of Radiology and in neuro-oncology by the United Council for Neurologic Subspecialties.
---
If you enjoy this content, please share it with a colleague