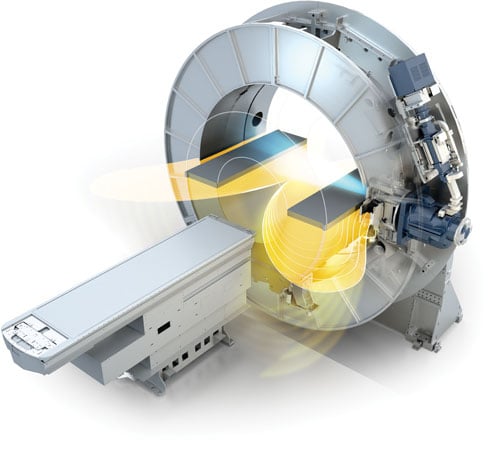 Elekta's MR-linac combines two technologies — an MRI scanner and a linear accelerator — in a single system. This allows physicians to precisely locate tumors, tailor the shape of X-ray beams and accurately deliver doses of radiation evento moving tumors.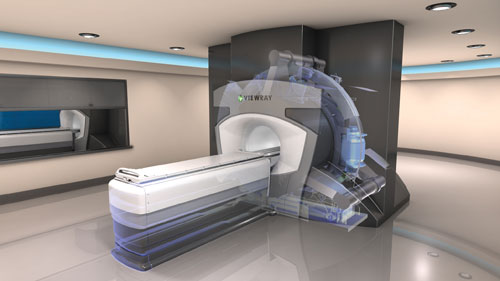 The first version of the MRIdian System from ViewRay used cobalt teletherapy heads to generate gamma rays that could not be affected by the magnetic field. ViewRay announced a linear accelerator-based version of the system in March. 
As radiation therapy continues to evolve, new techniques and technologies are largely focused on maximizing the dose to the tumor site while protecting surrounding tissue as much as possible. Image guidance is a critical component of treatment planning for tumor delineation and gauging treatment response, and cone beam computed tomography (CBCT) has traditionally been the modality of choice. While effective, it doesn't always offer optimal soft tissue contrast, and can have difficulty imaging tumors with lots of movement. As a result, there has been movement in recent years to investigate the potential of magnetic resonance imaging (MRI) as a guidance tool for radiation therapy. Several vendors have even begun combining the two functions into one system, allowing real-time visualization for truly adaptive radiation therapy. 
Benefits of MRI
MRI solves both of the primary issues with CBCT — poor soft tissue contrast and difficulty capturing moving organs — while delivering no extra radiation dose to the patient. The other factor that makes MRI well-suited for radiation therapy planning is its ability to capture both anatomical and functional information. 
Cancers of the liver, pancreas, lungs, and head and neck are often difficult to capture due to continuous motion from breathing or swallowing. MRI counteracts this challenge through respiratory gating, continuously monitoring the breathing cycle and taking the image at the optimal point in the cycle. 
Different types of MRI exams can also be used to track molecular activity as another method of tumor delineation. One of the MRI exams most commonly used in radiotherapy is diffusion weighted imaging (DWI), which evaluates the movement of water protons, quantified as the apparent diffusion coefficient (ADC); such movement may be restricted in the dense cell structure of a tumor. 
"If you can see everything, you have 100 percent confidence you're hitting the target you want to hit, and you also have confidence that you're missing everything that you want to miss. And that becomes more and more important as you turn up the intensity," said Chris Raanes, CEO of ViewRay, the company that developed the MRIdian system. 
MRIdian System
Ohio-based ViewRay was the first to reach market with a clinical MRI-guided radiation therapy system, debuting MRIdian in 2012 following U.S. Food and Drug Administration (FDA) approval. Since initial rollout, there have been six installs worldwide, according to Raanes. 
One of the greatest obstacles in developing an MRI-guided radiotherapy system has been managing the interaction between the MR scanner and the radiation generator. Radiotherapy treatment is typically done with a linear accelerator (linac), which generates high-energy X-rays. The photons in these beams, however, generate their own electrons, which can be affected by the magnetic field, diverting or negating the treatment beam. 
ViewRay solved this problem — and became the first to market — by replacing the linac entirely, opting instead for a series of cobalt teletherapy heads. Cobalt generates gamma rays, which offer the same benefits of X-ray without the magnetic field interaction problems. They also dialed down the strength of the magnetic field, utilizing a 0.35T magnet in the MRIdian system. Raanes told ITN this allows continuous imaging without distorting the radiation dose. 
Enhancing radiation efficiency with a weaker magnet does mean a slight tradeoff in image quality, but in 2015 ViewRay doubled the frames per second (FPS) from 4 to 8 and reduced the voxel size from 3.5 mm to 2.1 mm; together, these two changes create a significant upgrade in image resolution. 
One of the emerging applications being used at several institutions is stereotactic body radiation therapy (SBRT), which offers more precisely targeted treatment at higher doses in fewer fractions. Numerous clinical studies have demonstrated SBRT to be more effective than conventional radiation therapy, and according to Raanes, real-time MRI guidance is uniquely suited for this particular technique. He told ITN that across ViewRays' six clinical install sites, SBRT usage is between 35-45 percent, compared to 13 percent usage worldwide. 
"We're looking at it as a surgical tool, and the treatment room is like an operating room," said Percy Lee, M.D., director of SBRT and MRI-guided radiation therapy programs at the University of California Los Angeles (UCLA) Jonsson Comprehensive Cancer Center.
Lee and his UCLA colleagues have reported overwhelming success using the MRIdian system to conduct SBRT at various tumor sites. He told ITN that cancers of the liver, lung, pancreas and abdomen have been successfully treated in 3-5 fractions; cancers of the prostate, head and neck, and gynecological cancers and sarcomas have been eliminated in 30-35 treatments, still a significant reduction from traditional radiation therapy. 
 They have had several success stories including: 
• A woman in her early 50s with peritoneal cancer that had metastasized from her breast. Using SBRT, the cancer was eliminated in five treatments; and
• Another woman in her late 70s had metastatic colon cancer. The patient had had SBRT prior for two liver tumors, but the original radiation oncology team was not comfortable with the position of the third tumor and referred her to UCLA. 
Lee and his team have also done some exploration of the functional imaging capabilities of ViewRay, highlighted by a study using diffusion weighted imaging published in the March issue of Medical Physics. The purpose of the study was to demonstrate the feasibility of DWI for assessing patient response to radiotherapy. A total of six patients (three with head and neck cancer and three with sarcoma) received fractionated radiotherapy, and the same MRI pulse sequence was used every 2-5 fractions. The results of the study were a bit of a surprise. "Previously published research has said the ADC goes up if the radiotherapy treatment is working, but our research indicated it can go up or down," said Lee.  
Changes Coming 
While the cobalt-based version has proven successful, ViewRay announced this past March that it will be introducing a linac-based version of MRIdian in the near future. Raanes explained that the system will introduce magnetic shielding and radiofrequency (RF) dampening technology to reduce interference between the magnetic field and the photon beam. 
The first pre-clinical system has already been installed at Siteman Cancer Center at Barnes-Jewish Hospital and Washington University in St. Louis. The company plans to apply for FDA approval in the second half of 2016, and Raanes expected the first scientific papers to debut at the American Association of Physicists in Medicine (AAPM) and the American Society for Radiation Oncology (ASTRO) meetings this year. 
The Elekta MR-Linac Consortium
A new player is about to enter the market, thanks to a collaborative effort between Philips and Elekta. 
The two companies have been working on the project, dubbed the Elekta MR-Linac Consortium, since 2012, gathering eight leading institutions from around the world to help develop and test an MRI-guided radiotherapy system. Consortium member institutions include: 
• The Institute of Cancer Research, London, U.K.;
• Froedtert & the Medical College of Wisconsin Cancer Center, Milwaukee;
• MD Anderson Cancer Center, Houston;
• Sunnybrook Health Sciences Centre, Toronto;
• The Netherlands Cancer Institute-Antoni van Leeuwenhoek Hospital, Amsterdam;
• University Medical Center Utrecht,
The Netherlands;
• Christie National Health System (NHS) Foundation Trust, Manchester, U.K.; and
• The Royal Marsden NHS Foundation Trust, London.
Systems are currently installed at UMC Utrecht, the Netherlands Cancer Institute and MD Anderson; all consortium members will have their own systems installed by the end of 2016, according to Kevin Brown, global vice president of scientific research at Elekta.
Elekta worked on both ends of the MR-linac problem to find a workable solution. They did not compromise on field strength, employing a 1.5T magnet to ensure high-quality imaging; magnet strength is reduced at the point where the linac sits. Philips contributed new magnetic coils for the MRI scanner that are resistant to the photon beam and allow more space for it to pass through. The treatment planning system is based on Elekta's Monaco program — including the Monte Carlo algorithm for more precise dose calculations —  but is enhanced for this specific application, according to Brown. 
The consortium as a whole is investigating potential applications for the technology at nine different tumor sites. Each site has a dedicated working group composed of team members from each institution. Four additional working groups are conducting R&D on the technical elements of the system, including workflow, quality assurance, MRI issues and adaptive radiotherapy. 
Much of the current work is focusing on contouring at the various tumor sites, according to Christopher Schultz, M.D., FACR, FASTRO, professor and chair of the Department of Radiation Oncology at Froedtert & the Medical College of Wisconsin, Milwaukee. To guide these efforts, Elekta created and distributed a contouring atlas consisting of MRI scans from the various tumor sites. 
"We're taking a proactive, systematic approach to demonstrating the benefits of this new technology," said Brown. According to Brown, the system is on track to be ready for regulatory approval in 2017, with clinical trials to begin shortly thereafter. Initial rollout for clinical use would begin in 2018. At present, all consortium sites are working to develop protocols for those clinical trials. In the meantime, numerous papers have already been published on the technology, including seven that were presented at the European Society for Radiotherapy and Oncology (ESTRO) 2016 meeting in May. 
Related Articles on MRI-guided Radiation Therapy:
MRI-guided Radiation Therapy (2017)
First Patients Treated with ViewRay's MRIdian Linac at Henry Ford Health System
Early Clinical Experience with ViewRay's MRIdian Linac Presented at AAPM 2017
Elekta Begins MR-Linac Installation at Sunnybrook Health Sciences Centre
MRI Brings New Vision to Radiation Therapy
Dutch Medical Center Begins Installation of World's First High-field MRI-guided Radiation Therapy System