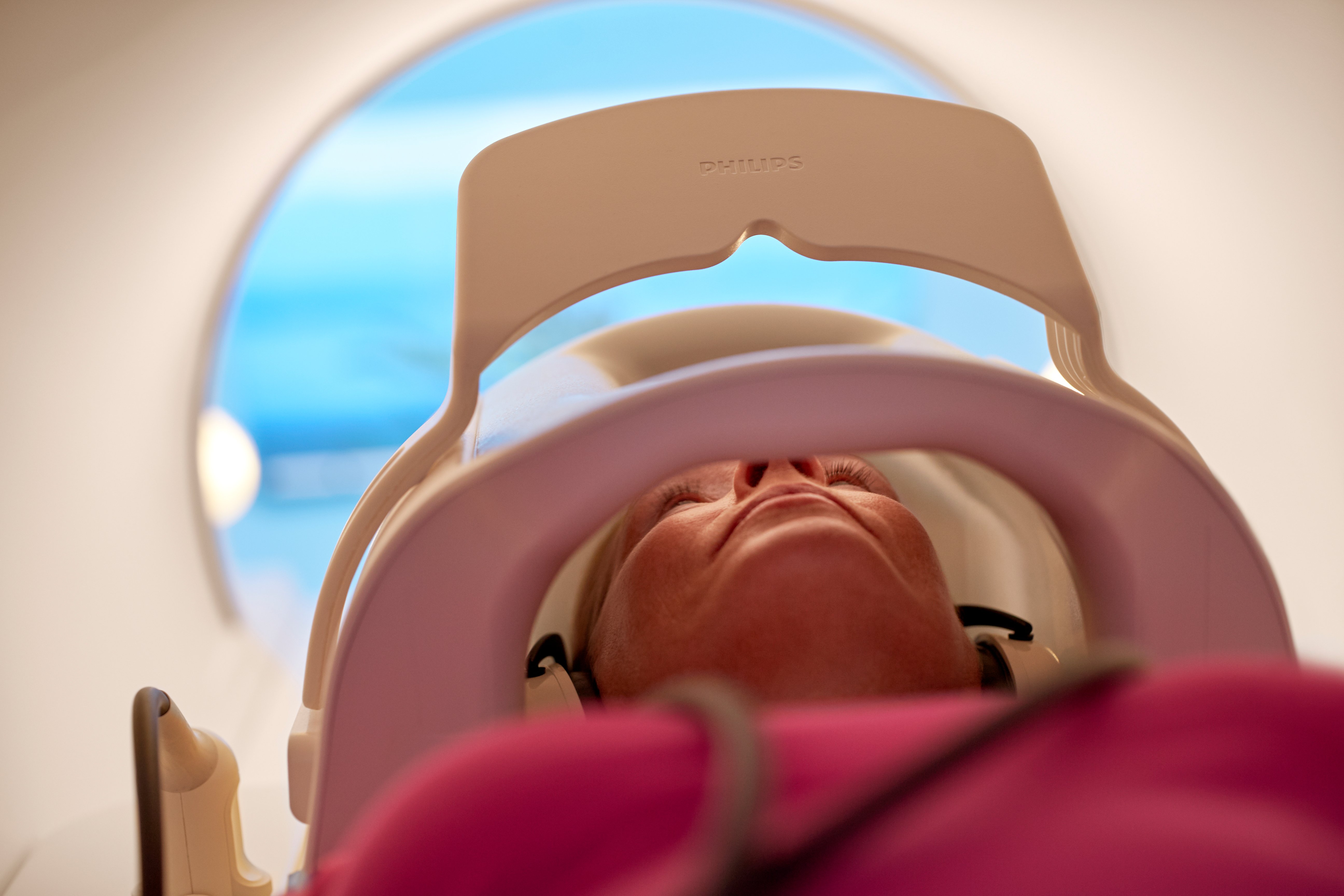 Image courtesy of Philips Healthcare
According to the Prescient & Strategic Intelligence report, "Global Magnetic Resonance Imaging (MRI) Market Size, Share, Development, Growth and Demand Forecast to 2022,"1 the global magnetic resonance imaging (MRI) market size is projected to reach $7.5 billion by 2022, growing at a compound annual growth rate (CAGR) of 5 percent during the forecast period. The market is driven by factors such as growing geriatric population, increasing prevalence of chronic diseases and technological advancements. An increasing awareness about the benefits of MRI technology and increasing healthcare expenditure are also driving the growth of the global MRI market.
The market is divided into two segments: open MRI and closed MRI. According to the report, the closed MRI segment held the largest share in the global market in the historical period and it is expected to hold a market share of more than 75 percent by 2022. The wide bore MRI segment is projected to experience the fastest growth during the forecast period.
Geographically, North America is the largest MRI market in the world and it is projected to hold a market share of 40 percent by 2022. Improved healthcare infrastructure and growing prevalence of chronic diseases are the two major drivers of the North American market. In addition, technological advancements in MRI and awareness programs for early diagnosis of the diseases are also driving the growth. Among the North American countries, the U.S. is the largest market for MRI, and is expected to witness the fastest growth during the forecast period.
New Opportunities for Growth
According to the Prescient & Strategic research, novel application areas, such as detection of multiple sclerosis and breast cancer, are creating new opportunities in the global MRI market. For example, MRI is used to detect multiple sclerosis, and has helped to revolutionize its diagnosis and treatment. This also holds true with breast cancer. "The distinct governments and organizations in different countries across the globe are running awareness programs to educate people regarding early diagnosis of diseases. MRI technology has paved the way for the identification of health conditions at incipient stages, which increases the success rates of the treatment," stated the report. "MRI produces higher quality of images and accurately characterizes diseases as compared to the other imaging technologies. Healthcare providers and patients are getting aware of these benefits of MRI. The healthcare provider's compliance for MRI is increasing with the increasing awareness about benefits of MRI technology. Therefore, the factor is expected to fuel the demand for the MRI market during forecast period."
DuPage Medical Group (DMG), serving suburban Chicago, upholds the philosophy that wide bore MRI systems help to achieve the highest quality image while also keeping the patient's experience in mind.2 In its literature, it cites benefits that include a high field 70 cm entry point, stating that the additional space provides more room and comfort for patients than a traditional closed bore scanner. The group goes on to say that once a patient is on the scanner bed, this generally leaves 15-17 inches from tip of the nose to the top of the scanner, compared to the open style magnet which only offers about 8-10 inches. In addition, wide bore MRI scanners combine patient comfort with high-quality imaging, so there is no need to sacrifice comfort over quality. In addition, claustrophobic patients are more at ease in a larger space, and most scanners can accommodate 500-plus pounds.
New Systems
Several new wide bore MRI systems have entered the market recently, and these are just a few. The Canon Vantage Galan 3T is designed to increase signal-to-noise ratio (SNR) by up to 20 percent, allowing for faster sampling and higher resolution images thanks to PURERF and Saturn technologies. This, combined with the ability to stack protocol sequences, results in quick neuro exams. The system enhances diagnostic confidence with new advanced clinical applications and helps make exams easy to perform with EasyTech workflow solutions, which streamline positioning and scanning.
GE Healthcare's Signa Premier is the result of a four-year collaboration with the National Football League (NFL) and research institutions around the world working to design new imaging tools, particularly to aid researchers in the detection of biomarkers for the potential diagnosis of mild traumatic brain injury (TBI). GE said the system delivers a new level of clinical performance with additional research-focused capabilities, especially for neurology and oncology research.
Philips Healthcare's Ingenia Elition 3.0T magnetic resonance imaging (MRI) solution offers MR imaging techniques, while setting new direction for clinical research in 3.0T imaging based on gradient and RF designs. Fast overall exam time is achieved by improving patient handling setup time at the bore with the touchless guided patient setup, combined with accelerations in both 2-D and 3-D scanning. It also offers an immersive audio-visual experience to help calm patients and guide them through MR exams.
The Magnetom Vida from Siemens Healthineers features new BioMatrix technology that addresses inherent anatomical and physiological differences among patients, as well as user variability. By reducing this variability among patients and users, the scanner's BioMatrix technology can lower the number of rescans and increase productivity to improve MRI's cost efficiency. In addition to its many clinical innovations, the Magnetom Vida consumes energy efficiently, potentially lowering the total cost of ownership over its lifetime. The scanner's Eco-Power technology provides intelligent control of power-hungry components by deactivating them when they are inactive for long periods.
References
1. "Global Magnetic Resonance Imaging (MRI) Market Size, Share, Development, Growth and Demand Forecast to 2022," Prescient & Strategic Intelligence, www.psmarketresearch.com/market-analysis/mri-market. Accessed Aug. 23, 2018.
2. "4 Benefits of Wide Bore MRI Systems," DuPage Medical Group Radiology, www.dupagemedicalgroup.com/health-topics/post/4-benefits-of-wide-bore-mri-systems/. Accessed Aug. 23, 2018.
---
If you enjoy this content, please share it with a colleague