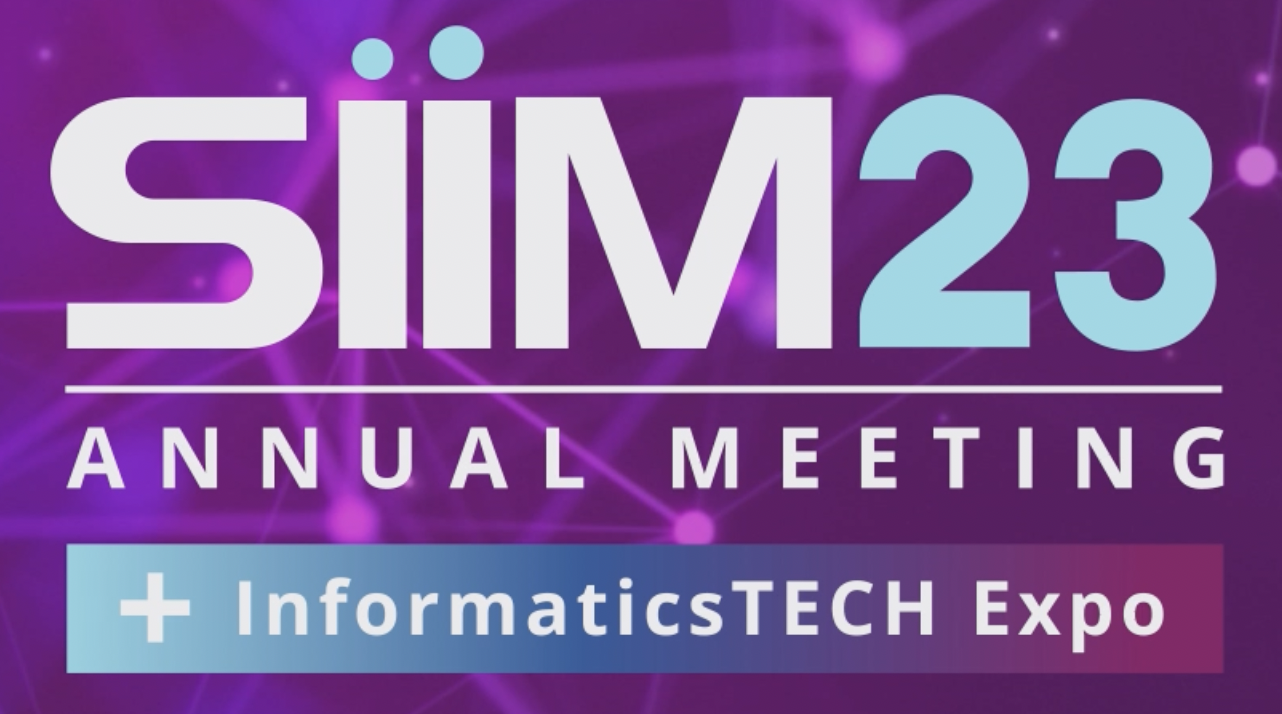 May 10, 2023 — The Society for Imaging Informatics in Medicine (SIIM) Annual Meeting (SIIM23) and InformaticsTECH Expo is fast-approaching, as is the May 15 housing deadline, so ITN's editorial team has compiled a pre-event feature summary highlighting significant SIIM23 program features being offered in-person and live-streaming from June 14-16, 2023 in Austin, TX.
The 3-day conference, "Imaging the Possibilities," offers continuing education opportunities (CME and multiple CE), along with a wide range of programming for imaging informaticists across the healthcare spectrum.  
"Machine Learning from Ground Truth," presented by Zlad Obermeyer, MD, will launch the Opening General Session at 8:00 a.m. (CT) Wednesday. Obermeyer is Associate Professor, Blue Cross of California Distinguished Professor at the University of California Berkeley School of Public Health. During the Closing General Session – The 2023 Samuel J. Dwyer Lecture, at 3:15 p.m. on Friday, "Changing the Face of Healthcare Informatics," will be delivered by Teri M. Sippel Schmidt, MS, FSIIM. Schmidt is an adjunct professor, Marquette University College of Engineering, and adjunct professor and instructor at Johns Hopkins Medicine.
2023 SIIM-ACR Data Science Summit
Ahead of the event, held in conjunction with the American College of Radiology (ACR), the 2023 SIIM-ACR Data Science Summit will be held on Tuesday, June 13, focusing on an engaging theme of "Quantifying the Value of AI: Investment, Costs, Reimbursement and Benefits." Planners note that this year's pre-event will explore the economics of AI and the operational and regulatory responses to those changes. As AI continues to advance the field of radiology, understanding the financial, operational and values impact is imperative in harnessing the future.
The keynote speaker for the 2023 SIIM-ACR Data Science Summit will be Richard Bruce, MD, Associate Professor of Radiology and Vice Chair of Informatics at the University of Wisconsin-Madison. Among the many featured speakers are: Mike Tilkin, MS, ACR Executive Vice President and Chief Information Officer; Kathy Andriole, PhD, Director of Academic Research and Education, Mass Gen Brigham Data Science Office, Associate Professor of Radiology, Director of Imaging Informatics; Keith J. Dreyer, DO, PhD, FACR, Vice President for Enterprise Imaging, DSI Chief Science Officer and Chief Data Science Officer at Massachusetts General Brigham; Melissa Chen, MD, Associate Professor of Neuroradiology, and Director of the Cancer Network, at MD Anderson Cancer Center; Marc Kohli, MD, Associate Chair of UCSF Imaging Informatics at University of California, San Francisco, who is also Associate Professor in the Department of Radiology and Biomedical Imaging; Alexander J. Towbin, MD, Associate Chief Medical Information Officer, Associate Chief of the Department of Radiology at Cincinnati Children's Hospital; and Howard (Po-Hao) Chen, MD, MBA, Chief Imaging Informatics Officer, IT Medical Director for Enterprise Radiology, and Staff Radiologist in Musculoskeletal Imaging at Cleveland Clinic; among numerous others.
Informatics TECH Expo
Informatics TECH Expo and InformaticsTECH Day will be held from 10:30 a.m. – 4:30 p.m. on Thursday, June 15. The General Session will kick off at 8:00 a.m. (CT), with a session led by James T. Whitfill, MD, MBA, FSIIM, on "Real World Rochambeau: How Leaders Overcome Challenges through Peer Relationships." Whitfill is the Senior Vice President, Chief Transformation Officer of HonorHealth, and Clinical Assistant Professor at the University of Arizona College of Medicine. He will be joined by an expert panel, including: Judy Gichoya, MD, MS, Emory University; Woojin Kim, MD, Rad AI; Brett Strassner, MA, CIIP; and Richard Wiggins, MD, FSIIM, University of Utah School of Medicine.
New to the event is the SIMM23 AI Open Source Playground, which will be available to attendees during Expo Hours, which are as follows: Wednesday, June 14, from 10:30 a.m. – 4:30 p.m.; Thursday, June 15, from 9:30 a.m. – 4:30 p.m.; and Friday, June 16, from 9:30 a.m. – 1:00 p.m.
SIIM 23 News and Program Highlights
Program Committee leadership includes 30 members, including Chair Christopher Roth, MD, MMCI, CIIP, FSIIM, Duke University Medical Center - Duke Department of Radiology, along with Vice Chair Paul Yi, MD, of the University of Maryland School of Medicine.
Nearly 20 different sessions will be offered on the June 14, first day of SIIM23, including: "Practical DICOM – AI Implications; Managing Human & AI Biases; Cardiology AI; Professional Development Through Your Informatics Career; among other engaging sessions. Day two, June 15, brings two dozen sessions, including "Informatics Tech Talks" by industry vendors, as well as educational sessions such as: Applications of Medical Imaging AI in Radiotherapy; Emerging Models of AI Governance – Learning from the Past and Engineering a Successful Future; and Training the Next Generation of Imaging Informaticists, with many others, all featuring expert presenters and panelists.
The 2023 SIIM Membership Meeting will take place Thursday, from 4:15 p.m. – 5:15 p.m. and will be available for live-streaming. Later that day, from 6:30 p.m. – 7:30 p.m., SIMM will host the SIIM Fund Silent Auction, coinciding with a social event.
The final day will again be jam-packed with dozens of feature sessions, including: Enterprise Imaging – The Importance of Standards; POCUS Needs Focus – Enterprise-wide Point of Care Ultrasound Strategies; Legal + Security Considerations for Remote Reporting in Pathology and Radiology; and the 2023 SIIM Hackathon Showcase. New to the SIIM Annual Meeting agenda, Research and Applied Abstracts Posters and Demonstrations – Roving Tours will be featured Friday, June 16 from 9:30 a.m. – 10:30 a.m., with the previously noted Closing General Session, available in-person or via live stream, ending the day during a 3:15 p.m. – 4:45 p.m. program.
More information: www.siim.org
---
If you enjoy this content, please share it with a colleague