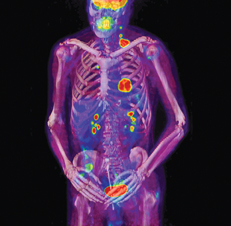 Since it was named "Invention of the Year" by TIME magazine in 2000, positron emission tomography/computed tomography (PET/CT) has been hailed as a winning combination. It captures anatomical information from the CT and functional information from the PET to create a fused image at once, reducing some of the challenges that occur in fusing two images acquired at separate times from separate modalities.
Another benefit is having the attenuation correction provided by the CT.  "The quality of the images with attenuation depends on the accuracy of registration of the emission and transmission scan…Optimal correction for attenuation can be obtained using integrated PET/CT systems," said Dominique Delbeke, M.D., Ph.D., Vanderbilt University Medical Center.1
Because it is so helpful to have CT in conjunction with PET, today virtually all PET units sold are hybrid devices. As noted by the National Oncologic PET Registry, most PET scans using either F-18 fluorodeoxyglucose (FDG) or sodium fluoride F-18 (NaF) as the tracer are done on a PET/CT hybrid.
Oncology, Cardiology and Other Uses
The complementary advantages offered by PET/CT are particularly useful in oncology. Tri-City PETCT, a diagnostic imaging facility in California, lists three main benefits to having a combined PET/CT scan: earlier diagnosis, accurate staging and localization, and precise treatment and monitoring.
Its website gives a few examples of how PET/CT can be used:
• Physicians can use it to differentiate between benign and malignant lesions;
• Surgeons can use it to determine the optimal location to perform an invasive procedure;
• Radiation oncologists can use it to tailor radiation fields reaching all the cancer cells without damaging the surrounding healthy cells;
• Medical oncologists can use PET/CT to monitor response to treatment.2
In addition, PET/CT has moved beyond oncology and is being used for coronary artery disease and in the diagnosis and evaluation of Alzheimer's disease and other neurological conditions. The American College of Radiology, which offers courses in PET/CT three times a year, says in its course overview that PET/CT "has become the standard-of-care imaging modality in cancer management and has garnered an evolving role in diagnosing neurodegenerative and oncologic diseases."3
Doing a combined PET/CT exam can be an advantage for the patient, who does just one exam instead of having to go to two different places for separate exams. And, since CT provides the attenuation correction, scan time is reduced, which also is easier for the patient.
However, PET/CT doesn't come cheap, according to a Frost & Sullivan report released last year. It said, "Issues surrounding cost have restrained market progression. The cost of a PET/CT fusion scanner ranges anywhere between $1.9 million and $2.4 million, depending on the system configuration; however, this does not include the additional costs for extended interpretation times required by the radiologists.
"This is much larger than the cost of a stand-alone PET or CT scanner and, therefore, limits its availability in small medical imaging clinics and rural setups,"  the report continues. "This is because only multi-specialty hospitals and larger clinical setups can afford to install high-end hybrid systems."4
New System Introductions
New PET/CT scanners were introduced by three major vendors in 2011:
• Introduced at the Radiological Society of North America (RSNA) 2011 show, the new Discovery PET/CT 710 from GE Healthcare features 128-slice imaging capabilities and Q.Suite, a collection of capabilities designed to extend quantitative PET by generating more consistent standardized uptake value (SUV) readings.
• Also at RSNA, Siemens Healthcare introduced the next-generation Biograph mCT PET/CT scanner that enables precise measurement of metabolic processes and data quantification, including the assessment of neurological disease and cancerous tissue, as well as cardiac blood flow (perfusion). In mid-February, the U.S. Food and Drug Administration cleared features associated with the system.
• Philips Healthcare's TruFlight Select PET/CT, introduced in mid-2011, is an economical system that incorporates the company's Astonish TF time-of-flight (TOF) technology. TOF technology is designed to enhance image quality by reducing image artifacts and providing higher sensitivity. The resulting images help clinicians better detect and locate lesions to increase diagnostic confidence and preserve healthy tissue during treatment.
This article appeared as the introduction to a chart on PET/CT systems in the May 2012 issue.
 
References:
1 "Integrated FDG-PET and PET/CT: Clinical Applications and Impact on Patient Care," courtesy of Dominique Delbeke, M.D., Ph.D., Vanderbilt University Medical Center through the PET PROS program of the SNM PET Center of Excellence
2 www.tricitypetct.com/patient.html#petct
3 www.acr.org/EducationCenter/ACRFutureClassroom/details-pet.aspx
4 "Technology Developments and Superior Diagnostic Capabilities Stoke Growth in the Hybrid Scanners Market," Frost & Sullivan, published March 22, 2011