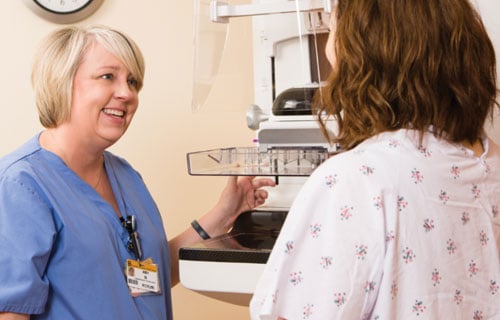 Photo courtesy of Cerner
With the Internet bringing all of the world's collective knowledge to their fingertips, patients are more informed than ever and are playing a more active role on their own healthcare team. This easy access can be a double-edged sword, however; the sheer volume of information available means that, inevitably, conflicting ideas may emerge. For this reason, healthcare professionals are still needed to separate fact from speculation and provide guidance. This is especially true in regard to breast cancer screening, where recent research and ensuing debate have created confusion about best practices. Patients are coming to their healthcare team with questions, and radiologists need to be prepared with some answers.
Mammogram Frequency
The U.S. Preventive Services Task Force (USPSTF) created a flurry of controversy when it released updated recommendations on mammogram screening late last year, advocating for biennial screening for women 50 to 74 with a "B" recommendation. The diversion from annual screening was a source of concern by itself, but the task force also downgraded the importance of screening for women in their 40s to a "C," arguing the likelihood of benefit is less than for older women and the potential harms (over-diagnosis, false positives and the emotional stress from possibly unneeded treatment) proportionally greater. The "C" recommendation for screening for women in their 40s meant private insurers would no longer be required to cover exams or procedures under the Affordable Care Act.
Backlash against the recommendations was swift, with numerous professional societies saying reduced screening would result in many more breast cancer deaths. The American Cancer Society (ACS) updated its own breast cancer screening guidelines in 2015, the highlights of which said:
Women at average risk of breast cancer should undergo regular screening mammography starting at age 45 (strong recommendation);
Women 45 to 54 years old should be screened annually (qualified recommendation);
Women 55 and older should transition to biennial screening or have the opportunity to continue annual screening;
Women should have the opportunity to begin annual screening between 40 and 44 (qualified recommendation); and
Women should continue screening mammography as long as their overall health is good and they have a life expectancy of 10 years or longer.  
"I think all of those guidelines are heading toward what I consider personalized risk assessment for the patient. They're giving some guidelines, but they're also saying 'You need to personalize the guidelines based on your individual risk assessment,' and that is so incredibly confusing to the patients and referring physicians," said Jan Marie Jeske, M.D., section chief for breast imaging at NorthShore University HealthSystem in Evanston, Ill. 
Jeske told ITN that NorthShore released a position statement immediately after the final USPSTF recommendations saying it will continue to follow the joint American College of Radiology and Society of Breast Imaging guidelines, released in 2012. "We strongly encourage patients to obtain the maximum life-saving benefits from mammography by continuing to get an annual screening," she said. "We agree that starting annual screening at the age of 40 saves the most lives."  
Breast Density
The effect of dense fibroglandular breast tissue on mammograms — specifically its ability to mask cancers on 2-D mammograms — has been a major source of discussion in the radiology world in recent years. 
Starting with Connecticut in 2009, states are slowly adopting legislation requiring specific language about breast density in mammography reports. As of press time, 24 states had breast density inform laws in place, with another eight actively debating similar bills. 
Illinois is one of the holdout states that does not yet have a breast density inform law, though Jeske said Gov. Quinn passed limited legislation in 2013 requiring notification only for those patients determined to have dense breast tissue. In response, NorthShore compiled a four-page informational document that can be found in every room of its breast centers; patients are free to take the information if they so choose. (See Questions About Breast Density for some of the questions discussed in the information.) 
Michigan enacted a breast density inform law on June 1, 2015, which requires specific language on density in the reports of patients whose mammogram indicates heterogeneously or extremely dense breasts. David Strahle, M.D., chairman and president at Regional Medical Imaging in Flint, Mich., testified in support of the bill before the Michigan Senate, and he believes the law has already made a difference in the short time it has been in place. "Now women see and understand there's an issue, and they go to their doctor and say 'What can you tell me?' There's a lot of discussion generated among patients and among the doctors in our community, and as I understand that's the way it is across the rest of the state," he said.
Strahle also noted that having the density information in the report has helped parse through patient history to coordinate follow-up. "Some of our doctors say, 'Well, if the woman has a lot of dense tissue, I'd like to have her back so that I can follow up with her next year.' So by reporting what the density is and seeing who the last radiologist is who read it, that often helps us sort out and handle difficult cases," he told ITN.  
Perhaps most importantly, however, Strahle said the law is having an impact on patients by giving those interested in their healthcare the information they may have been missing. 
Supplemental Screening
The questions about mammography screening frequency and breast density have increased discussion about supplemental screening methods that might enhance findings from mammography. The most frequently discussed modalities include breast magnetic resonance imaging (MRI), ultrasound and tomosynthesis. While each of these modalities shows promise in screening for breast cancers, evidence is still being collected. 
"It's interesting in that some of this legislation is really preceding the science," Jeske said of density inform laws. "What I mean is it's great we are informing patients, but in the ideal circumstances, we would have already gone through the research, the data, the long-term clinical trials, to give patients concrete guidance on what to do next.
"What we need to define is — and this is a hard decision — to determine which patients should have supplemental imaging, what type of supplemental imaging and with what frequency," she added. 
NorthShore started using tomosynthesis and automated breast ultrasound (ABUS) in 2015, and Jeske said so far the results have been promising: She estimates that in their first 500 ABUS screenings, six mammographically occult stage 1 cancers were detected. (Conventional literature highlights a rate of three cancers per 1,000.) One cancer was found using tomosynthesis in the same time period. 
Strahle specializes in breast MRI and has been conducting research for the last several years investigating its ability to detect mammographically-occult cancers. Over the course of the study, the team detected 424 lesions that were not seen on mammography in 671 patients. Of those 424 lesions, 17 were suspected cancers and eight were confirmed as malignant (seven malignant and one pre-malignant). 
While there is no one modality deemed universally superior for all cases, several states are starting to offer insurance coverage for supplemental screening if it is proven medically necessary (e.g., if the woman has proven to have dense breasts). These include Illinois, Indiana, New Jersey and Connecticut. Strahle noted that Michigan currently has two payers that cover breast MRI screening, and the state is working with other insurance providers to expand their coverage. 
Illinois law currently mandates coverage for a comprehensive ultrasound screening of an entire breast or breasts when it is determined to be medically necessary by a physician. The required coverage for mammograms and ultrasound screenings must be provided at no cost to the insured. 
Radiologists Key to Patient Education
In what may be a departure from some organizations, NorthShore has physicians personally conduct all targeted ultrasound follow-up exams, "so I'm in the room with the patient, looking at her, explaining what I'm doing, she gets immediate feedback," Jeske explained. "And in the process of this, it's a conversation with the patient about what we're finding, but breast density also enters into [it].
"We feel very strongly that the follow-up is best done by the physician, and we give that patient immediate feedback, whether it's good or bad." 
Aside from — or in addition to — direct patient contact, radiologists must take advantage of their surrounding network, including referring physicians and surgeons. "We happen to have a pretty strong network of breast care physicians and approach things as a team, which is helpful in the education process," Jeske said. 
The network can also extend out into the community — Strahle said he has done classes and speaking engagements on the advantages and challenges of supplemental screening modalities, mostly for groups of physicians but occasionally for local employers as well. "We are also planning sessions for the general public in the near future," he told ITN.  
"Really for each individual patient, it's about being informed, know your own level of risk, be your own advocate and know what you can do to minimize your own level of risk," Jeske concluded. 
SIDEBAR:
Questions About Breast Density
NorthShore University HealthSystem compiled a four-page informational document explaining dense breast tissue for its patients, featuring common questions they might have about what it is, what it means and further steps to take. Questions include:
• What is dense breast tissue?
• Why are you telling me about dense breast tissue?
• Why do I want to know about my breast density?
• If I have dense breast tissue, do I still need a mammogram? 
• What should I do if I have dense breasts?
• I have dense breasts and some other risk factors. What should I do now?
• What additional tests are available to screen dense breasts? 
The website of educational group Dense Breast-Info also contains a patient question-and-answer section, highlighting topics such as:
• What are factors that may affect breast density?
• If I am recommended to have additional screening with ultrasound or MRI, will I need to have that every year? 
• Will my breasts always be dense? 
• Should a routine annual mammogram for a woman with dense breasts be scheduled as a "diagnostic" or a "screening" mammogram?