The smallest point-of-care ultrasound platform available is the V-Scan, released earlier this year by GE Healthcare. The devices is about the size of a pocket personal digital assistant (PDA).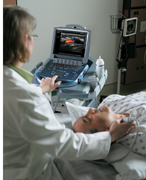 Point-of-care ultrasound evaluation of carotid artery intima-media (CIMT) thickness can help determine artery health for the entire body.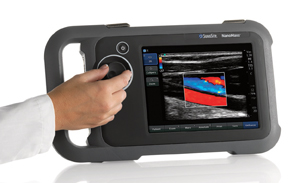 Castle Rock Family Physicians in Castle Rock, Colo., uses the Sonosite NanoMaxx hand-held ultrasound system to screen its cardiac patients in-office, rather than referring them for off-site imaging.
A quick look at the current statistics sends an alarming message: The state of cardiovascular health in the United States is abysmal. With diabetes and obesity on the rise, we as physicians need to take the lead to help the U.S. population manage its increasing risk for developing cardiovascular-related disease.[1,2]
Traditional assessment tools, while incontrovertibly valuable, do not provide a complete solution. Recent data suggest that Framingham Risk Score (FRS) analysis may be inadequate to detect subclinical atherosclerosis or ultimately predict a cardiac event. Furthermore, calcium scoring by use of computed tomography (CT) – once considered the gold standard for evaluating atherosclerosis progression – has recently come under fire by the U.S. Food and Drug Administration (FDA) for unnecessarily exposing patients to harmful ionizing radiation.
Our practice, Castle Rock Family Physicians in Castle Rock, Colo., has successfully implemented an aggressive program of traditional cardiovascular disease management methods. These methods include tight lipid and blood pressure control, and diabetes management programs.[3]  We coupled this with use of hand-carried ultrasound for carotid intima-media thickness (CIMT) evaluation. This tool has substantially reduced the number of cardiac events among patients within our practice group and provides a reliable, affordable and effective means to accurately risk stratify among our patients. We were able to do all of this without the potential side effects of CT-based imaging.
Point-of-Care Ultrasound
Ultrasound technology, while certainly not new, has only recently become a viable point-of-care imaging system. New devices can be smaller than a laptop computer, while still delivering high-resolution images without sacrificing any of the clinical utility of traditional cart-based ultrasound machines.
The power of CIMT testing in a primary care setting is substantial. One obvious advantage is the ability to show patients their actual plaque or cholesterol burden. This sends a powerful and concrete visual take-home message. It also helps improve compliance, whether making minor to moderate lifestyle changes aimed at improving cardiovascular health, or adhering tightly to an aggressive medication regimen. Unlike most laboratory results, which are potentially confusing and generally not tailored for a layperson to understand, concrete visual identification of atherosclerosis with ultrasound really brings a physical dimension to the process and tends to resonate strongly with our patients.
Our practice uses SonoSite hand-carried ultrasound systems. Along with careful monitoring of lifestyle, blood pressure, and lipids, CIMT testing is a key tool in our arsenal for identifying which patients have the highest risk levels for developing cardiovascular disease. It also helps identify which patients are more likely to remain stable without immediate intervention.
Prior to integrating hand-carried ultrasound into our practice, we frequently sent patients to a hospital or other remote imaging center for coronary calcium screening, stress testing, or other expensive and potentially inconvenient diagnostic work ups. A portable ultrasound system allows immediate identification of possible problems without compromising continuity of care. The benefits to both our staff and our patients are invaluable.
Helping Patients
To help illustrate the point, consider a recent case of mine – a male patient, age 47, with a career in sales who had been my patient for more than 17 years. He led a moderately active and healthy lifestyle, maintained a proper diet and engaged in frequent moderate exercise, including downhill and water skiing, and hunting. Other than elevated triglycerides and low high-density lipoproteins (HDL) levels, the patient had an otherwise unremarkable medical history and was not considered at extremely high risk for cardiovascular disease.
Suspecting compliance issues with his prescribed statin and niacin medication, we decided to perform a CIMT examination, only to reveal that his true arterial age was hovering somewhere around that of an 80-year-old man. As the patient looked at his carotid artery, I was able to show him where I saw thickening in the arterial wall. A look of shock and uneasiness fell over his face. I've witnessed his look of disbelief on numerous occasions, and it's a primary reason for why I hesitate to tell patients how poor their arteries look. To say the least, news like this can be overwhelming.
Immediately after telling him this unexpected information, I was able to emphasize the need for strict adherence to smart lifestyle and dietary choices. Perhaps more importantly in this case, I persuaded the patient to strictly adhere to his prescribed medication.
Over the course of subsequent follow-up visits, he has become a changed man. In addition to a significant improvement in compliance, he has since modified his diet and lifestyle enough to lose between 10–20 pounds. Thankfully, in this case, we were able to identify a problem in plenty of time to intervene, and it may have not been possible without performing a CIMT test.
Choosing a System
We chose SonoSite's ultrasound systems over others because of the image quality, portability and customer support. There have not been any product issues in more than three years with the current system used in our practice.
Like all new medical technologies, the learning curve will vary from user to user. Proficiency will improve with hands-on experience. We have one physician in the practice with experience as a resident in obstetrics, gynecology (OB/GYN). Within an hour he had the hand-held system up and running. Others developed equipment proficiency over a period ranging from one week to a few months.
The company also provides excellent training resources online as questions arise and as a clinician wishes to increase his skill set.
Improved Patient Outcomes
In my opinion, all medical practices should have access to portable ultrasound technology. I recommend using it in their primary and secondary risk prevention to achieve the same kinds of results we've seen. It is a win-win for everyone involved.
In the last eight years, we have virtually eliminated stroke and heart attack from our practice using the ultrasound systems to help us make more informed decisions regarding management of patients with cardiovascular risk factors.
We have practically eliminated catastrophic cardiovascular events in our practice group by integrating hand-carried ultrasound as a standard diagnostic tool.
Editor's Note: Larry Wilner, D.O., runs Castle Rock Family Physicians in Castle Rock, Colo. He hasbeen practicing in the Denver area and worked in family practice and urgent care for 20 years.He also spent a great deal of time manning emergency rooms across the Front Range.
References:
1. www.cdc.gov/obesity/data/databases.html accessed April 2010.
2. Obesity Trends Among U.S. Adults Between 1985 and 2010. http://templatelab.com/us-obesity-trends/. Accessed Oct. 24, 2019.
3. Triglyceride 180, high- density lipoprotein (HDL) 38, low-density lipoprotein (LDL) 110, total cholesterol 185, waist circumference <40 inches, blood sugar <100, blood pressure 128/82