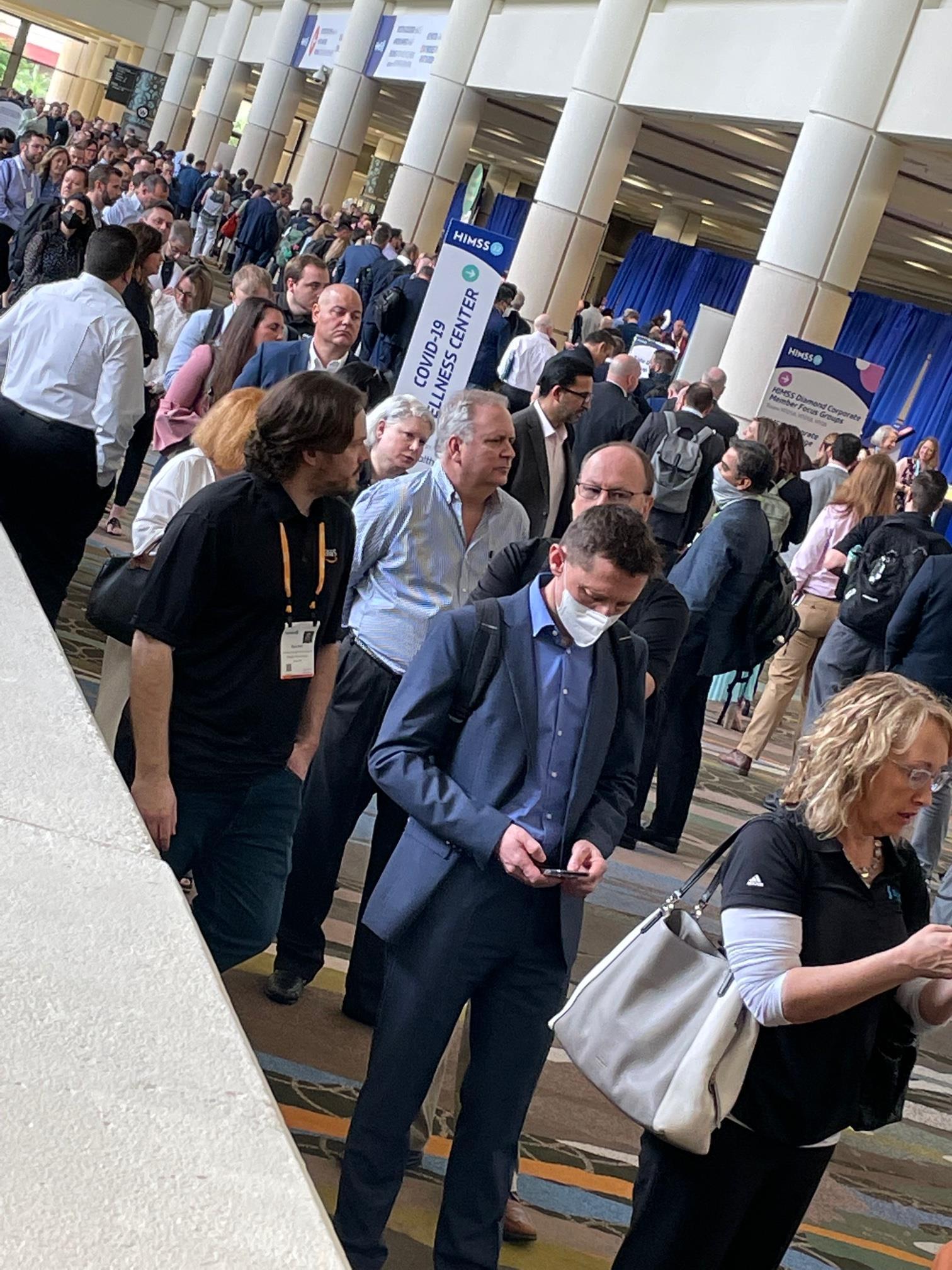 Attendance was healthy at the recent HIMSS22 in Orlando. Mask mandates had lifted just days before the event, but many attendees still elected to keep that extra layer of protection.
I recently came across a very interesting survey conducted by KFF Polling regarding the consequences of both ending—and keeping—COVID-19 restrictions. In late-February, federal, state and local authorities made the decision to ease pandemic restrictions, and though the majority of people are looking forward to easing back into normal life, most still are hesitant about potential lurking consequences of loosening the boundaries.
Are we at a turning point in this pandemic? The survey, The February KFF COVID-19 Vaccine Monitor, looks at what a return to normal means for most people. Overall, people feel the worst is over. According to the survey, six in ten adults (62%) say that when it comes to COVID-19 in the U.S., "the worst is behind us." Another 17% say the worst is still yet to come, while 17% said they don't think COVID-19 is or will be a major problem in the future. According to KFF, this is a reversal from perceptions of the pandemic 14 months ago, which was prior to widespread availability of vaccines. In December 2020, one-quarter of the public thought the worst was behind us while half (51%) said the worst is yet to come.
The majority of adults are worried about possible consequences of both lifting and not lifting restrictions. Six in ten are worried about immune-compromised people being left behind due to their increased risk of getting sick (61%), and about half are worried there will be an increased number of deaths in their community or they won't be able to receive needed medical care because local hospitals could again be overwhelmed when restrictions are relaxed (48%).
The survey goes on to say that nearly half of U.S. adults think it will be safe to resume normal pre-pandemic activities by late spring or sooner, including one-third (35%) who say it safe to do so "now," 4% in "the next month or so" and one in ten who say it will be safe "by late spring." Another one in five say they think it will be safe to resume activities by mid-summer (13%) or mid-fall (5%). However, 26% feel it will be at least another year, maybe more, before it will be safe to resume normal pre-pandemic activities.
As for the medical imaging industry, a slow and gradual approach appears to be the norm for now, in large part based on what we are seeing with industry conference patterns. The majority of conferences are offering a hybrid model, where attendees can choose to either attend in person or virtually. The Healthcare Information and Management Systems Society (HIMSS) 2022 annual conference and exhibition held in Orlando in March will be the first event for many since the mandates have been eased. HIMSS is still requiring that attendees and exhibitors show proof of vaccination, and be masked throughout the event. 
The one thing that all survey participants did agree on was that "normal life" is going to look different moving forward. There is no going back to the way things were pre-pandemic, however lessons learned can hopefully help the world move forward as the pandemic starts to morph down to an epidemic.
Related COVID Content:
COVID-19 Fallout May Lead to More Cancer Deaths
Kawasaki-like Inflammatory Disease Affects Children With COVID-19
FDA Adds Myocarditis Warning to COVID mRNA Vaccine Clinician Fact Sheets
CMS Now Requires COVID-19 Vaccinations for Healthcare Workers by January 4
Cardiac MRI of Myocarditis After COVID-19 Vaccination in Adolescents
Small Number of Patients Have Myocarditis-like Illness After COVID-19 Vaccination
Overview of Myocarditis Cases Caused by the COVID-19 Vaccine
Case Study Describes One of the First U.S. Cases of MIS-C
NIH-funded Project Wants to Identify Children at Risk for MIS-C From COVID-19
---
If you enjoy this content, please share it with a colleague