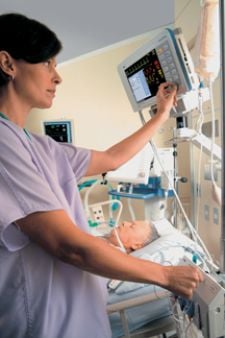 Since its clinical adoption in the early 1990s, anesthesia agent monitoring has evolved significantly from standalone units to modules that are used in multiparameter monitoring systems. According to the American Society of Anesthesiologists (ASA), over 40 million anesthetics are delivered each year in the United States, irrespective of the care setting. In every case, delivery management and monitoring of the process are crucial to the success of the procedures.
Demand Goes Enterprisewide
Today, in addition to anesthesia agents, arterial blood pressure, electrocardiogram (ECG), pulse oximetry (SpO2) and end-tidal CO2 (ETco2) are also closely monitored parameters in patients under general anesthesia. According to the ASA the routine monitoring of these parameters is crucial for ensuring the safety of patients during general anesthesia. Of the multiparameter anesthesia agent monitoring units, roughly three-quarters are available as components of patient monitoring systems, while the remaining are often components of anesthesia workstations.
As healthcare providers move towards enterprise-level monitoring solutions, anesthesia equipment is also developed to fit full enterprise solution models. The latest anesthesia workstation models offer a higher level of versatility and flexibility through seamless integration of different modules and applications.
Major patient monitoring vendors such as GE Healthcare, Philips Medical Solutions and Draeger Medical offer anesthesia workstations that encompass their advanced monitoring and ventilation technologies while simplifying clinical workflow through pre-configured integration into their respective clinical information systems.
Monitoring in Radiology Environments
Some innovations in anesthesia management are driven by niche demands presented by specific procedure limitations. The demand for patient monitoring technology in radiology environments such as Magnetic Resonance Imaging (MRI) has driven the development of systems that can function properly in magnetic fields without distorting the image quality or patient safety. In general, the medical devices developed specifically for MRI use are referred to as MR- or MRI-compatible.
Today, MRI of any body part can be performed under anesthesia, for pediatric or adult patients who have difficulty remaining immobile due to bodily pain, ventilator dependency or claustrophobia. Some studies have shown that about one in four people cannot tolerate being in closed MRI machines because they suffer from claustrophobia, and therefore require some form of anesthesia to help them through the experience. Administering anesthesia to a patient undergoing an MRI procedure allows the machine to take the best possible images free from any complications caused by the individual moving about.
Following is a list of possible complications solutions in anesthesia management during MRI:
Anesthesia Machines: Due to the high level magnetic field (up to 3 Tesla), compatible anesthesia machines are necessary to eliminate any effects on image quality. Also, the magnetic field can interfere with anesthesia machine functionality. MR-compatible anesthesia machine are built with special shielding material.
ECG Monitor: Electrocardiography leads can act as antennas and cause MRI image degradation. Also, the voltage induced in the wire leads can cause electrical shock hazards and burns to the patient. To address these adverse effects, non-ferromagnetic fasteners, electrodes and graphite copper cables with plastic springs are used which do not affect MRI image.
Pulse Oximetry: Magnetic fields can deactivate these monitors, therefore non-ferromagnetic or fiber optic wires are used to transfer the data to a monitor that is protected with shielding material.
Blood Pressure Monitoring: To measure the non-invasive blood pressure in patients during an MRI, extended tubing and plastic connectors connect the cuff to the oscillometric monitor place far from the magnet.
Respiratory Gas Monitor and Capnography: Similar to blood pressure, these monitors are interfaced with the patient via extended plastic tubing.
MRI-Compatible Equipment
Most patient monitoring companies offer monitoring solutions specifically designed to tolerate magnetic fields of 1.5 or 3.0 Tesla. In 2005, Medrad Inc. developed an MR vital signs monitoring system, Veris MR, which is compatible with 3 Tesla magnetic fields. Conventional patient-monitoring systems have to be placed outside the magnetically charged scan room due to the risk of getting magnetically attracted to the bore and giving false readings. The Veris monitor addresses this challenge with a shield made of specialized materials that prevent it from being magnetically attracted. Controls for the monitor are available at the patient's side, or a controlling unit can be set up anywhere at a convenient location. It also has an integral tray that is designed for cable management and accessory storage, thereby providing additional workspace.
Major anesthesia machine manufacturers such as GE Healthcare and Draeger Medical have developed MRI-compatible systems that offer the same high level of functionally as the anesthesia systems used in the ICU and operating rooms.
In August of 2008, Draeger Medical received FDA clearance for its Fabius MRI anesthesia machine. According to Draeger Medical, this system employs the same user interface as Fabius GS, Fabius Tiro and Apollo machines, creating a uniform and consistent interface for the anesthesia provider wherever anesthesia is required.
Overall, where there is challenge, there's opportunity. Unique healthcare environments such as the radiology suite or cath labs present tremendous opportunity for customized solutions. In the case of MRI, the powerful magnetic field presents the demand for compatible monitoring and anesthesia management solutions. Medical device companies that develop solutions to address such challenges can gain a major competitive advantage and entry to lucrative niche markets.

Mike Arani, MS, is a research analyst for Patient Monitoring at Frost & Sullivan.