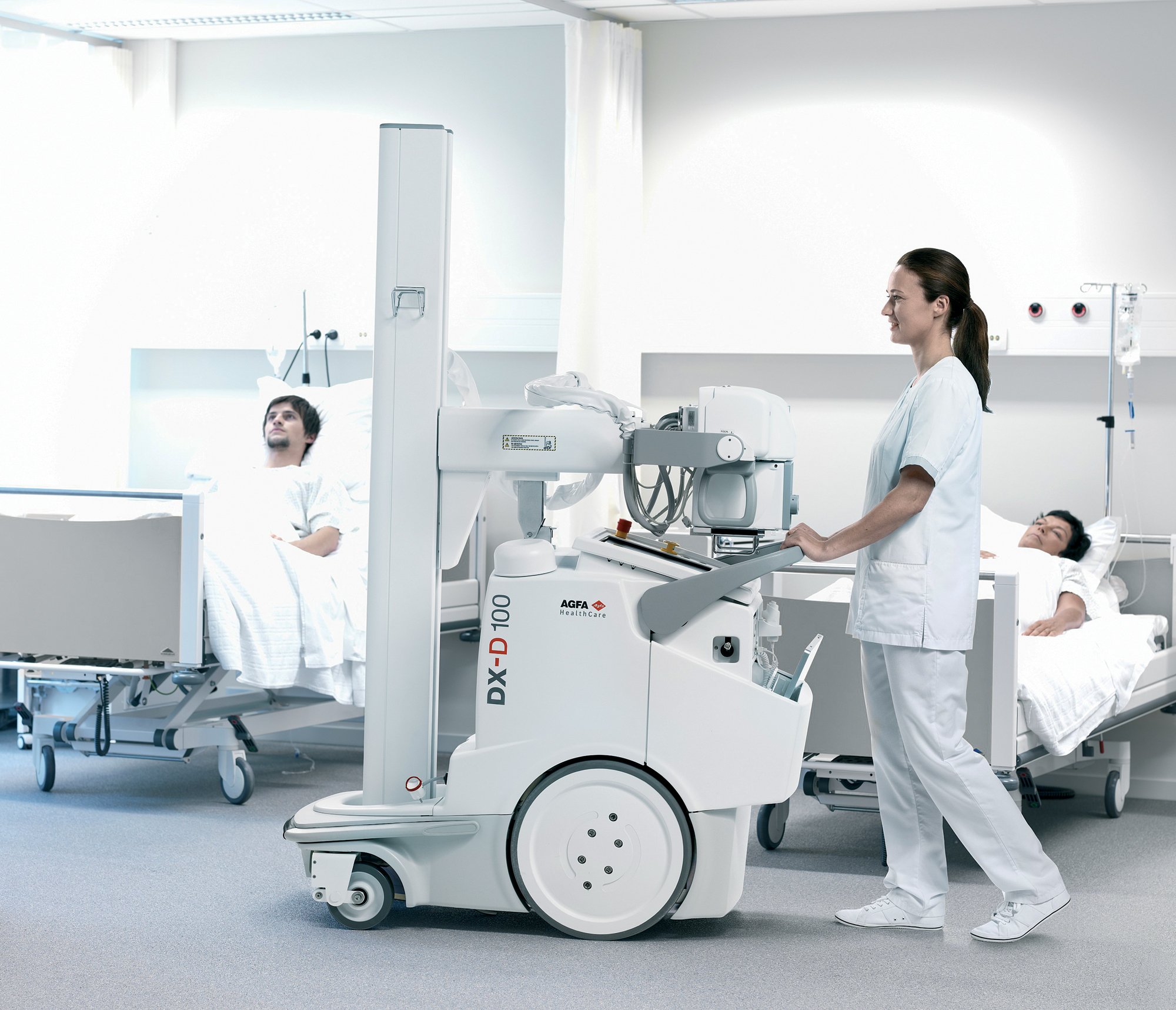 Photo courtesy of Agfa
As healthcare in the United States shifts focus to providing higher-quality care while keeping costs down, workflow efficiency is a guiding bedrock principle for providers. From this standpoint, few technologies have demonstrated greater promise for maximizing clinical and operational efficiency than mobile digital radiography (DR). Putting digital X-ray capability onto a mobile cart-based system allows healthcare facilities to bring the radiology department directly to the patient, allowing faster diagnosis, and in turn quicker exam turnaround and discharge times. As the the technology continues to evolve, vendors have focused on improving battery life, durability and wireless connectivity to further maximize the utility of these versatile systems.
Mobile DR Streamlines Hospital Operations
Mobile DR technology has proven particularly effective in high-volume areas such as the emergency department, where a large number of patients need to be diagnosed and treated as quickly as possible. These parts of a hospital can also be high-traffic, quickly becoming clogged with patients, physicians and medical equipment.
Ease of movement was one of the guiding principles for Carestream on its newest mobile DR offering, the DRX-Revolution Nano Mobile, introduced at the 2017 annual meeting of the Association for Medical Imaging Management (AHRA) in July. The system weighs just 200 pounds in total, making it the lightest mobile DR system on the market, according to Carestream. Most of the weight reduction comes from the carbon nanotubes that replace conventional X-ray tubes, weighing just 5 pounds; by comparison, the X-ray tubes in the original DRX-Revolution weigh 40 pounds. Because the system is so light, operators can push it easily without the assistance of a motor.
GE Healthcare's Optima XR240amx, introduced at the Radiological Society of North America (RSNA) annual meeting last November, is only slightly heavier, weighing in at 900 pounds. The system does provide motorized assistance for maneuvering, according to Thomas Bennett, X-ray marketing and sales director for GE.
Several mobile DR units — including newer offerings like Canon's RadPro Mobile 40kW Flex Plus and Agfa's DX-D100 — also include telescoping columns to improve line of sight while the system is in transit.
High-Quality Images at Low Dose
DR systems in general offer dose advantages over computed radiography (CR) and analog.
The FDR Aqro, Fujifilm's newest mobile system introduced at RSNA 2016, was built to put all of the dose-saving features of a premium system on a mobile mini-cart. These include:
•    Virtual Grid image processing software, which can reduce dose techniques as much as 50 percent;
•    Irradiation Side Sampling (ISS); and
•    The new Dynamic Visualization II image processing, which provides improved contrast and density stability throughout the entire exposure region. Dynamic Visualization II also achieves improved anatomic structure visibility across a wider range of patient thicknesses, including bariatric patients.
As of this year, Virtual Grid and Dynamic Visualization II are also available as options on the FDR Go, which received FDA clearance in 2013.
To monitor dose data trends, Bennett said that the Optima XR240amx integrates with GE's DoseWatch radiation dose monitoring platform, introduced in 2015. The web-based, cloud-deployed solution provides an automated tool for dose data and analytics — tracking, analyzing and reporting on practice-level dose data — with no user-side IT integration required.
Battery Life and Charging
One of the drawbacks of mobile DR systems is that imaging on the go means they are not constantly connected to a power source like fixed DR systems. This means that as long as the system is in use, the onboard battery is being drained.
"Detector battery life is one of the biggest points of contention with the technology," stated MD Buyline analyst Rachael Bennett, RT(R)(T). "Having a tech who can go out on the floor and do 50 X-rays is great, but if the detector can only get through 10 and then you have to go back to the department and find a charger or another detector and that hinders your workflow."
Carestream put a variation on the traditional lithium-ion battery (LIB) in the DRX-Revolution Nano Mobile, which sports a lithium iron phosphate (FePO4) battery. This type of LIB has a greater power density (the rate at which energy can be drawn from it) than more common lithium cobalt oxide batteries, ensuring a longer life for the system. As an added benefit, lithium iron phosphate batteries are cheaper than lithium cobalt and more environmentally friendly.1
While extending the life of the battery is an improvement, several vendors have also introduced on-board charging capabilities so techs do not have to plug the system in as often. The FDR Aqro Mini Mobile System from Fujifilm charges the detector panel while it is in the storage area. When depleted, the panel can be charged in 15 minutes to allow another hour of operation, according to Rob Fabrizio, director of strategic marketing for Fujifilm.
GE Healthcare's Optima XR240amx features a dual in-bin adaptor that allows charging of two detector plates simultaneously. The system can also charge when it is in standby mode or when it is plugged into the wall. A fully charged battery allows six hours of continuous usage, according to Thomas Bennett.
Wireless Connectivity for Image Sharing and Support
Beyond enhancing workflow efficiency during image capture, many mobile digital radiography systems now feature wireless connectivity to help streamline processes after acquisition. Uses for wireless systems incorporated on mobile DR systems include but are not limited to:
•    Direct transmission of images to the picture archiving and communication system (PACS), electronic medical record (EMR) or other digital destination;
•    Allowing remote technical support in an effort to minimize system downtime; and
•    Scheduling future examinations.
In the case of Shimadzu's MobileDart Evolution MX7 — released in August 2016 and highlighted at AHRA 2017 — "the software is integrated directly into the system, so you can still use the computer while the generator is off," said Scott Thomas, general X-ray RC sales specialist for Shimadzu. In this case, the vendor purposely chose to have the system and the generator operate separately so technologists can still work without draining excess power for image acquisition later.
New Detector Panels
Outside of the technology in the mobile system itself, many vendors are also incorporating wireless connectivity into detector panels. In many cases, panels can be shared between mobile and fixed systems, a huge economic efficiency that also helps minimize system downtime across the radiology department.
Rayence introduced its C-Series wireless detectors at RSNA 2016, including a 10 x 12-inch and a 14 x 17-inch plate. Both panels offer user-activated internal storage of up to 200 images, and can even perform image acquisition when there is no computer or network connection available. Techs can register the panels across multiple workstations, and auto-triggering technology signals the start of image capture without direct X-ray generator integration. 
At AHRA 2017, Canon showcased its new CXDI-710C and CXDI-810C wireless DR detector panels. Both models are lightweight with an IPX7 rating for submersion in water up to 1 meter for 30 minutes, according to the company. Durability is an ever-present concern when it comes to detector panels, as vendors must try to anticipate potential sources of daily wear-and-tear. In an interview with itnTV at RSNA 2015, MD Buyline clinical analyst Lori Webb, BAAS, RT, explained that as the industry has switched from CR to DR, there was an expectation that drops would be the most common accidents, but surprisingly that has not been the case. "It's amazing that most of the surprise insurance claims and service claims have actually been related to liquid damage versus drops," she said.
Reference
1. Hadhazy, A., "A Better Battery? The Lithium Ion Cell Gets Supercharged." Scientific American, March 11, 2009. Accessed Sept. 10, 2017.