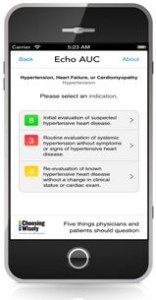 July 3, 2014 — The American Society of Echocardiography Foundation (ASEF) launched the second version of its free mobile Echo AUC app at the ASE Silver Anniversary Scientific Sessions in Portland, Ore., last week. The app, made possible by a grant from the ABIM Foundation and supported by the Robert Wood Johnson Foundation, was designed by physicians to assist other healthcare practitioners to follow appropriate care guidelines when ordering cardiovascular imaging tests, as part of the Choosing Wisely initiative.
The original version of the app was launched in the fall of 2013, and included all 98 indications for transthoracic echocardiography (TTE) from the 2011 Appropriate Use Criteria (AUC) document. Version 2.0 adds the remaining 104 indications, which encompass three additional echo modalities: transesophageal echo (TEE), stress echo (SE) and contrast echo (CE). Plus, there are six new algorithms for stress echo that help guide physicians in additional detail to determine if stress echo is appropriate in various scenarios.
"Adding the indications for three new modalities, especially SE, is an extremely valuable and important update for the Echo AUC app," said David Wiener, M.D., FASE, director of clinical operations at the Jefferson Heart Institute. "Stress echo tends to be ordered quite often by non-cardiologists, and there is a great need for education regarding appropriate ordering in this modality. Also, many clinicians underutilize contrast echocardiography for various reasons; the updated app reminds us that contrast should be used any time we cannot clearly see two or more contiguous LV segments."
ASE supports the use of contrast to assist practitioners in reducing sub-optimal images that will ultimately reduce duplicative testing.
The latest version of the Echo AUC app also includes new "Five Things Physicians and Patients Should Question" lists developed by ASE and other participating specialty societies as part of the Choosing Wisely campaign. These lists are evidence-based recommendations that can be utilized to help make wise decisions about the most appropriate care based on a patient's individual situation.
For more information: www.asecho.org