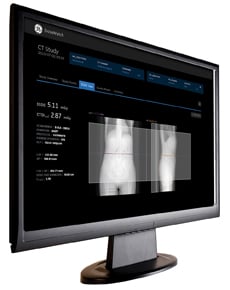 Physicians have used radiation in medicine for more than a century. The use of radiation in diagnostic imaging, including computed tomography (CT), fluoroscopy, angiography, mammography, computed radiography (CR) and digital radiography (DR), as well as in nuclear medicine, has aided greatly in the diagnosis and treatment of cancer and other diseases. 
In the past 30 years, however, the use of ionizing radiation has increased tremendously. "If we look at the average per capita exposure to a typical resident of the United States, it has jumped about three-fold since 1980. Most of that increase in per capita exposure is attributable to medical imaging," said William O'Connell, Dr.Ph., senior medical physicist, GE Healthcare. 
As data about radiation exposure has increased, researchers have understood better the detrimental effects it can cause. Exposure to small doses of radiation over time is associated with changes in blood chemistry, nausea, burns, fatigue, vomiting, hair loss, diarrhea and the development of cancer.1 Exposure to high doses of radiation has also been associated with damage to the central nervous system, loss of consciousness and death.1 As legislation springs up around the nation, hospitals, physicians and vendors are looking for ways to lower radiation exposure while maintaining clinical quality.
Increasing State Mandates
A few states have passed legislation — or have legislation pending — to help decrease unnecessary radiation exposure. Senate Bill 1237 requires California hospitals and clinics that use CT for diagnostics to record radiation dose administered during exams in patient medical records and on the report; however, this excludes small and rural hospitals. The bill also requires that these facilities report radiation dose to the State Department of Public Health, the patient and the patient's treating physician when required.2 
The Texas Department of State Health Services (DSHS) updated the Texas Administrative Code 289.227, "Use of Radiation Machines in the Healing Arts," to include regulations for fluoroscopy and new mandates for radiation management protocols. According to the updates, "Programs must record radiation output on all CT and fluoroscopy exams (using CTDI, DLP or air kerma). After instating dose thresholds, programs must report to the DSHS any overdose incidents."3 
Connecticut also introduced Bill 6423, which is similar to California's legislation. The bill is currently under committee review by the Connecticut General Assembly, and if passed would require CT radiation dose to be recorded in radiology reports and "mandate five days for reporting to the state and referring physician […] when dose thresholds, to be established by the Commissioner of Public Health, are exceeded."3 
User Knowledge and Radiation Management
Although there are currently only a handful of states with dose recording legislation, the prediction is that all states will eventually have some kind of legislation. It is this projection that has many medical practices around the nation getting a head start on implementing their own dose protocols. One of the ways that physicians and hospitals are tackling radiation dose management is from a user standpoint. By making sure that users are trained properly — improving the techniques with which modalities are used and ensuring that equipment is used in a way that maximizes potential — users can limit the amount of radiation delivered to organs outside of the target area. 
At the 2013 Radiological Society of North America (RSNA) annual meeting held last December, Douglas E. Pfeiffer, a consultant for Radcal Corp., spoke about managing radiation dose using geometry, among other things, in his presentation, "Patient Radiation Dose: Reduction and Recording." He said that technicians could easily limit dose exposure by using the longest source image receptor distance available and moving the patient as close to the detector as possible, or vice versa.4
With fluoroscopy, Pfeiffer said that knowing, for example, if the system allows for automatic filtration and using this feature could reduce skin dose by more than 70 percent. He also noted that many fluoroscopy systems have exposure rate controls — low, medium and high.4 Some other tips that could aid technicians when conducting fluoroscopy included knowing that increasing magnification typically increases exposure rate, and that changing view angles while avoiding overlap during longer cases limits dose to skin.4
According to William P. Shuman, M.D., FACR, vice chair and medical director, department of radiology, professor of radiology, University of Washington Medical Center, there are also many ways that operators can lower dose when using CT. "By paying careful attention to how you do the scan as opposed to the technology within the scanner, you can reduce dose substantially by double digit numbers," he said. "For example, limiting the amount of the body you scan, being very careful that the patient is dead center in the scanner and shielding the patient appropriately."
Managing Dose
In the RSNA 2013 presentation "CR and DR Dose Reduction and Clinical Management," by Charles E Willis, Ph.D., FAAPM, associate professor, department of imaging physics, division of diagnostic imaging at the University of Texas MD Anderson Cancer Center in Houston, Willis explained that physicians could help to manage the amount of radiation dose that patients are exposed to by being smart about the modalities chosen for examinations. According to O'Connell, CT is probably the single most largest contributor to the increase in radiation exposure. Knowing this, physicians can select alternative modalities when possible. If this is not possible, a simple way to manage radiation exposure is by reducing the number of views taken per exam. 
Willis also stated that a big part of radiation dose management could be tackled if radiologists and referring physicians collaborated more closely.5Radiologists can aid the dose management pursuit by educating referring physicians as to what examination is best given the diagnostic task, and making sure to avoid exams they know will have no benefit to the patient — thus preventing unnecessary testing and exposure.5 
Dose Monitoring Solutions
In response to physicians and hospitals seeking to better manage dose across patient populations and prepare for future mandates, many vendors have begun to offer dose monitoring solutions. At RSNA 2013, several explained that there was a lot of interest in dose monitoring and management software. "Utilizing a dose monitoring solution is the most efficient way to collect and visualize the huge volume of data concerned with dose reporting," said Ian Judd, product manager for Sectra DoseTrack.6
At RSNA 2013, GE Healthcare showcased the latest version of its DoseWatch software, which retrieves, tracks and reports radiation dose administered to patients during medical exams. The software also automatically organizes data so that physicians and hospital management can monitor it. The newest version of the software has a new user interface; a dose comparison analysis tool where users can compare doses between facilities, across systems and among protocols; and IT enhancements.
Sectra also showcased its Web-based dose monitoring solution, DoseTrack, at RSNA 2013. According to the company, DoseTrack ensures that doses are kept as low as possible by automatically collecting, storing and monitoring data from all connected modalities, saving valuable time and facilitating analysis. The software is a certified American College of Radiology (ACR) software partner. 
Implementing Dose Monitoring Software
Many hospitals are already using dose monitoring solutions within radiology. The University of Washington Medical Center in Seattle uses GE's DoseWatch to connect all of the center's devices to a single database. "We have about 60 different radiation producing devices scattered throughout the hospital, which are all sending data in real time to one server and telling it the amount of radiation per exam, per patient, per protocol, per day," Shuman said.
This information, over time, allows physicians at the center to notice if one particular scanner seems to be using more radiation than others, if one particular protocol seems to be higher than would be expected in radiation dose or even if one particular patient got more radiation than expected. With this information hospital leadership can find the causes for these particular cases and work to see if radiation exposure can be lowered without sacrificing diagnostic quality. If so, adjustments in protocol can be made. "If you keep reviewing things on a regular basis — we review weekly, but we sit down as a group and review monthly and adjust — then over time you're gradually, iteratively lowering dose throughout the institution," Shuman said.
The university has been running the program for about a year and is in the process of expanding the protocol throughout the entire system, which consists of five major hospitals and four freestanding outpatient clinics in Seattle. "Eventually we will have every device at every site reporting data to a single data repository in real time," he said.
Creating Dose Management Programs
Utilizing dose tracking software as well as the other dose management techniques mentioned has lead to the creation of dose management programs. Radiation protocol programs will definitely gain widespread implementation across the United States as physicians and hospital leaders are seeing just how helpful they can be in managing dose. "Since implementing a dose management program […] St. John's has seen a 30-40 percent reduction in CT dose compared with the dose used on CT before the implementation," said Jan Casselman, M.D., St. John's Hospital, Belgium, in a press release from GE in December. "The system means that we are not only increasing awareness, but we are also starting to drive behavioral change. Going forward, all hospital personnel know that when they administer an exam, it is being monitored and that adopting low dose behavior is now the rule, not the exception."
According to Schuman, every hospital can develop a program to pay attention to and reduce dose over time without it having to be overly sophisticated. "It just means that every radiology department and every hospital administration makes a commitment to pay attention to dose as best as they can in their environment and to use whatever information they have to make sure that they are reducing dose without compromising their diagnostic capabilities," Shuman said. He noted that hospitals could look at this as a component of their overall safety protocol. "I think all hospitals in today's world are interested in patient safety, but I think radiation safety is a key component to an overall safety program for any
hospital," he concluded.  
References:
1. Radiation Protection, U.S. Environmental Protection Agency, www.epa.gov/radiation/, accessed Jan. 9, 2014.
2.  Summary of the California Senate Bill, American College of Radiology, http://www.leginfo.ca.gov/pub/09-10/bill/sen/sb_1201-1250/sb_1237_bill_…, accessed Jan. 9, 2014.
3. Lauing B, "Radiation Dose Legislation: Is Your State Next," The Reading Room, The Advisory Board Co., June 2013
4. Pfeiffer D, "Patient Radiation Dose: Reduction and Recording," session presented at RSNA 2013
5. Willis C, "CR and DR Dose Reduction and Clinical Management," session presented at RSNA 2013
6. Häger S, "Leverage ACR's Dose Index Registry by Utilizing a Dose Monitoring Solution," http://www.itnonline.com/article/leverage-acr%E2%80%99s-dose-index-regi…, accessed Jan. 9, 2014.
---
If you enjoy this content, please share it with a colleague