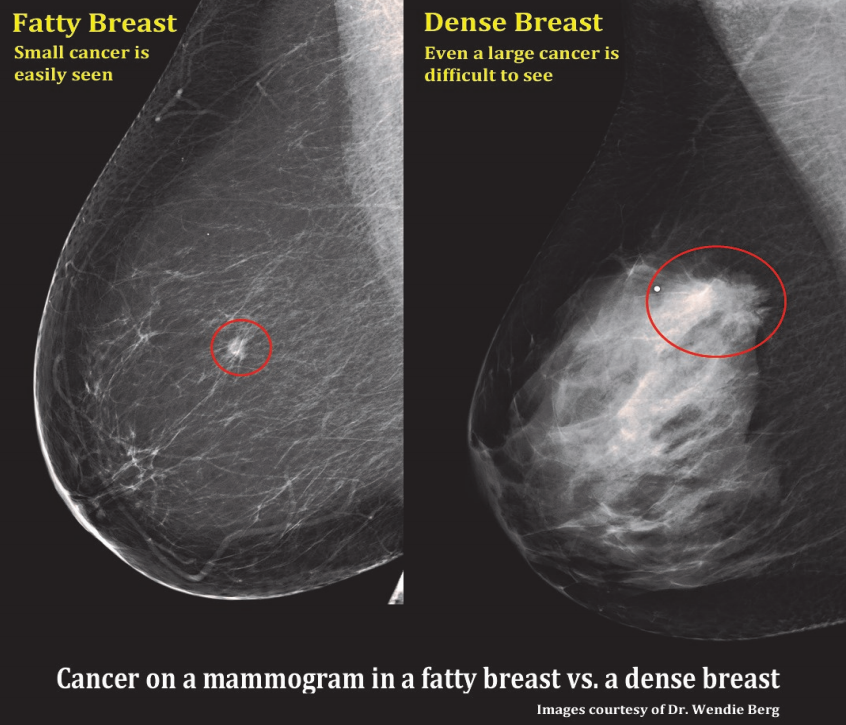 A comparision of a small breast cancer found in a patient without dense breast tissue (left), and a tumor found in a woman with dense fibroglandular tissue. For more information visit DenseBreast-info.org.
Mammograms have long been the first line of defense in detecting breast cancer, which continues to be one of the most common diseases in women today. Within the last decade, however, concerns have arisen over the reliability of mammograms to detect cancer in women with dense breast tissue (fibroglandular density). 
Breast tissue is classified into one of four categories, according to the American College of Radiology (ACR) Breast Imaging-Reporting and Data System (BI-RADS): 
• Fatty tissue
• Scattered fibroglandular density
• Heterogeneously dense
• Extremely dense 
Roughly 40 percent of women of mammographic age (40 and older) fall into the last two categories, which are collectively considered dense. As density increases, it becomes more difficult to distinguish tumors and other masses from the surrounding tissue. Apart from this masking effect, dense breast tissue is itself a risk factor for developing breast cancer. Statistical evidence indicates that women with dense breasts are four to six times more likely to develop breast cancer than women with fatty tissue; they are also 17 times more likely to develop interval cancer (detected or presenting less than 12 months following a normal mammogram).
Consumers Left Unaware
While the impact of breast density has been commonly known in the medical community for nearly 20 years, that knowledge has been slow in filtering down to patients: A 2015 study from the Mayo Clinic found that only half of respondents (among 2,311 women age 40 to 74) had even heard of breast density, while just 49 percent knew that it impacts breast cancer detection.[1] Compounding the problem, only 43.1 percent of women say they have discussed their breast density with a healthcare provider.[2]
Prior to 2009, breast density was not a required element of mammography reports sent to patients post-exam. That year, however, Connecticut became the first state to change the practice by passing a breast density inform law. As of June 2015, 22 states have enacted similar laws. North Dakota, Ohio, Missouri and Massachusetts joined the ranks this year, and seven other states have introduced bills during the last legislative session.[3] Nancy M. Cappello, Ph.D., founder and director of Are You Dense Advocacy, said that those 22 states encompass 60 percent of the population of women falling within the mammographic age range. 
"We realize that density reporting or having a law does not replace education, communication and conversation between a patient and her healthcare providers," said Cappello. "The density reporting is really giving information about the product we're consuming so we know the risks and the benefits."
Getting A Second Read
Mammograms are just one method available to the public for breast cancer detection. While they have long been the standard for breast cancer detection, the issue of breast density and its masking effect cannot be ignored. That is why many healthcare professionals recommend a combination of tests for the most confident assessment. 
At present, there are three main modalities used in tandem with or as follow-up to traditional 2-D mammograms: tomosynthesis, magnetic resonance imaging (MRI) and ultrasound.
Despite just being introduced to the market a few years ago, tomosynthesis, or 3-D mammography, has rapidly become an important resource for breast cancer screening. The X-ray-based technology takes pictures at different angles that are then viewed as slices; this technique reduces tissue overlap problems, and can detect an additional one to two cancers per 1,000 women screened.[4]
Tomosynthesis has seen widespread adoption since being introduced to the United States by Hologic in 2011. It is typically offered either as a follow-up to a traditional 2-D mammogram or in tandem to improve early-stage detection. "I think it's going to be a popular alternative to digital on the marketplace," said Cappello. She does caution, however, that it will still have limitations for women with the densest breasts because of its X-ray-based nature. 
Since the release of an American Cancer Society (ACS) guideline in 2007, MRI has largely been indicated only for women at high-risk of developing breast cancer. MRI has the highest sensitivity of any modality, according to Wendie Berg, M.D., Ph.D., professor of radiology at the University of Pittsburgh School of Medicine and chief scientific advisor to the educational website www.densebreast-info.org. "Even after doing mammography and ultrasound, we would still find another 10 cancers per 1,000, if not more," she said. 
In 2014, a group from the University Hospital of Aachen in Bonn, Germany, led by Christiane Kuhl, M.D., presented their work on speeding up the breast MRI scanning process, appropriately dubbed "fast MRI." Instead of the average 21-minute scan time, Kuhl and colleagues were able to cut the procedure down to just three minutes, with comparable accuracy to traditional MRI screening.[5] 
MRI is not always an option for high-risk women, however, for any number of reasons ranging from having a pacemaker or other metallic implant near a vital structure to kidney failure. Recent studies have also raised concerns about the long-term effects of contrast agents used in MRI exams, particularly gadolinium. A May 2015 study in the journal Radiology revealed that gadolinium can remain in the brain for years following an exam. Free gadolinium can be highly toxic, which is why contrast gadolinium is bonded with a chelating agent; to date, however, no studies have been able to determine the state of the leftover gadolinium.[6] 
Ultrasound has long been part of the repertoire for breast cancer detection, offering better visualization of invasive cancers than traditional mammography. At the same time, however, ultrasound has a higher capacity for false positives and handheld scanning is operator-dependent. 
To help improve reliability, several companies now offer automated breast ultrasound (ABUS) technology. These units sport a wider transducer in order to document the entire breast, "so it doesn't depend on who's looking at the breast and whether they decide to take the picture, which is the old way of doing things with handheld ultrasound," said Berg. ABUS exams can generate hundreds or thousands of images from a single exam, which is a positive from a diagnostic point of view; however, the radiologist will still need to go back and interpret all of the images, making the process somewhat inefficient. "Most facilities are still struggling with making that function work well in their workflow," Berg added.  
Taking the Guesswork Out of Density
Rather than focus on a single scanner solution for breast density, several vendors have released assessment software to aid in image analysis. The central tenet of these systems is objective, automated analysis of breast density, eliminating operator variability between what is a BI-RADS 3 or 4, or 2 or 3 rating. Advanced algorithms determine the area or volume of the dense tissue, and then arrive at a total percentage for the entire breast.[7]
Volpara Solutions is one such vendor, and released version 3.0 of its VolparaDensity tool at the 2014 Radiological Society of North America (RSNA) meeting in Chicago. It is designed to work with Hologic 2-D digital and 3-D tomosynthesis systems and Volpara announced plans to release a GE- and Siemens-compatible version sometime in 2015. The software utilizes the same algorithm for 2-D and 3-D analysis, providing volumetric data correlated to ACR breast density categories.[8]
Philips offers its own solution, incorporating the Spectral Breast Density Measurement Application into its MicroDose SI full-field digital mammography system. The spectral approach utilizes photon counting technology to simultaneously acquire spectral data on both adipose and fibroglandular tissue in each image pixel and using that information to calculate the total volume and volumetric percentage of glandular tissue in the breast. Philips initiated a study with the University of California-Irvine in March to determine the effectiveness of spectral breast density assessment.[9]  
Canadian startup Densitas debuted its flagship product, Densitas Research Edition, at the European Congress of Radiology (ECR) in Vienna, Austria. During a demonstration, the software analyzed density on 1,823 images, and the final calculations largely agreed with the radiologists' visual assessment.[10] Densitas Research Edition is currently available for research purposes only and is not approved for sale in the United States or Europe. 
M-Vu Breast Density offers a slightly different approach: In place of calculating volume to determine breast density, the software analyzes the structure, texture and dispersion of the tissue. Those areas with a denser appearance are quantified by M-Vu's algorithms and then categorized according to BI-RADS standards.[11] M-Vu Breast Density was introduced by VuComp in March 2014, but the company sold the software to iCAD Inc. this past April.  
"In some states, you only report to women who have heterogeneously or extremely dense breasts, and this is a phenomenal way of calling that out and being positive that you're not missing something because it's automatically determined," Cappello concluded.
Additional Resources on ITN for Breast Imaging and Dense Breast technology Information
VIDEO: Advances and Trends in Breast Imaging
Mammographic Breast Density — What It Means
Dense Breast Tissue: Supplemental Imaging
Breast Density: Are You Informed?
References
1. "Women's Awareness of Breast Density Varies Across the U.S."
www.itnonline.com, March 2, 2015. Accessed April 17, 2015. 
2. Rhodes, D.J., et al. "Awareness of Breast Density and Its Impact on Breast Cancer Detection and Risk," Journal of Clinical Oncology,
April 1, 2015. Accessed May 14, 2015.
3. "Georgia, Kentucky Introduce Breast Density Inform Bills,"
www.itnonline.com. Feb. 18, 2015. Accessed April 17, 2015. 
4. "Mammography/Tomosynthesis," http://www.densebreast-info.org/TechnologyMammography.aspx. Accessed May 11, 2015.
5. Castellino, A.M. "FAST MRI: A 3-Minute MRI for Breast Cancer Screening," http://www.medscape.com/viewarticle/830245.
Aug. 21, 2014. Accessed May 12, 2015. 
6. "Gadolinium May Remain in Brain After Contrast MRI,"
www.itnonline.com, May 5, 2015. Accessed May 6, 2015. 
7. "Density Assessment Software," http://www.densebreast-info.org/AssessmentSoftware.aspx. Accessed May 7, 2015. 
8. "Volpara Solutions Launches VolparaDensity 3.0 for 2-D and 3-D Breast Density Assessment," www.itnonline.com, Dec. 19, 2014. Accessed May 7, 2015. 
9. "Philips and UC Irvine Partner to Develop Standards for Breast Cancer Screening," www.itnonline.com, March 5, 2015. Accessed May 11, 2015. 
10. "New Breast Density Technology Debuts at ECR Conference,"
www.itnonline.com, March 5, 2015. Accessed May 11, 2015. 
11. "VuComp Releases New Version of M-Vu Breast Density,"
www.itnonline.com, April 15, 2014. Accessed May 12, 2015. 
---
If you enjoy this content, please share it with a colleague