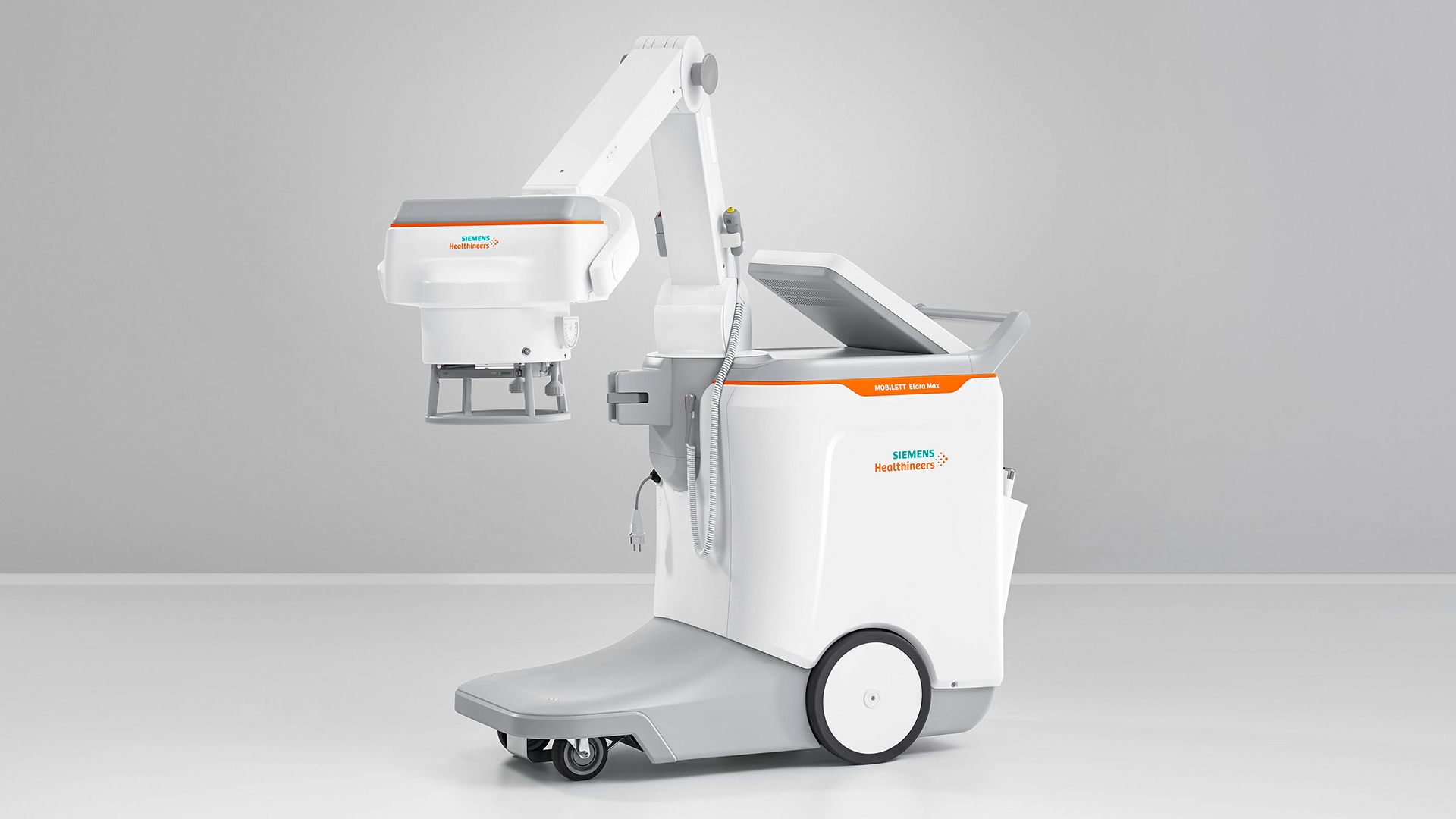 Siemens Healthineers earned FDA clearance in 2019 for the Mobilett Elara Max mobile X-ray system.
As medical imaging technology continues to advance, the evolution of digital radiography (DR) or X-ray has increasingly moved the modality into the mobile space. DR is one of the most commonly used modalities in the world, with applications from emergency departments to orthopedic clinics, doctor's offices and more. By putting digital X-ray capability onto a mobile cart-based system, providers are able to conduct imaging exams anywhere, even at the patient's bedside; this allows for quicker exam turnaround times, which in turn leads to faster diagnosis.
The following is a roundup of recent developments in the mobile DR space.
GE Brings AI to Mobile X-ray
In September, GE Healthcare received U.S. Food and Drug Administration (FDA) clearance for a new collection of artificial intelligence (AI) algorithms on the Optima XR240amx mobile DR system. Chest X-rays are the most common radiographic procedure, accounting for approximately 45 percent of total exam volume.1 One of the most common findings in chest X-rays is a pneumothorax, also known as a collapsed lung. With such a high exam volume, it is not uncommon for X-ray exams to remain unread, even those marked as high priority. Critical Care Suite was developed to identify and prioritize these types of exams.
When a chest X-ray is acquired with the Optima XR240amx, Critical Care Suite automatically analyzes the images to search for a potential pneumothorax. If a pneumothorax is suspected, an alert — along with the original chest X-ray — is sent directly to the radiologist for review via picture archiving and communication system (PACS). The technologist also receives a notification on the device to further increase awareness. GE said embedding the AI algorithm on the X-ray system avoids processing delays, eliminating any dependence on connectivity or transfer speeds.
"Clinicians are always looking for clinically proven methods to increase outcomes and improve the patient experience," said Rachael Callcut, M.D., associate professor of surgery at University of California, San Francisco (UCSF), a surgeon at UCSF Health and director of data science for the Center for Digital Health Innovation, who partnered in the development of Critical Care Suite. "When a patient X-ray is taken, the minutes and hours it takes to process and interpret the image can impact the outcome in either direction. AI gives us an opportunity to speed up diagnosis and change the way we care for patients, which could ultimately save lives and improve outcomes."
Israel-based Zebra Medical Vision also released an AI solution for detecting pneumothorax in chest X-rays this year, dubbed HealthPNX. Earning FDA approval in May, Zebra's solution also automatically scans chest X-rays to find indications of pneumothorax. In hospitals where Zebra-Med's "All in One" (AI1) solution is integrated into the radiologist's worklist, the scan is flagged so that the radiologist can address it in a timely manner. According to Zebra Medical, this can save physicians more than 80 percent of the time taken to diagnose the acute condition.
The chest X-ray AI network was trained using millions of images to identify more than 40 common clinical findings. The results of the Textray study demonstrate high rates of agreement between the algorithm and human radiologist experts.2
First U.S. Install of Mobilett Elara Max
Siemens Healthineers earned FDA clearance in 2019 for the Mobilett Elara Max mobile X-ray system. The most significant improvements on the Mobilett Elara Max compared to previous Siemens systems are focused on enhancing information security. The comprehensive security package of the system helps healthcare facilities handle cyberthreats, while its virtual workstation technology provides access to necessary patient information directly at the bedside.
The system's ergonomic design has an antimicrobial coating and fully integrated cables for an unobstructed front view that allows for smooth, safe maneuverability. Additionally, the Mobilett Elara Max delivers 180-degree lateral arm movement that maximizes positioning options to provide customers with robust imaging power for diagnostic confidence.
Fujifilm Keeps DR Compact
Fujifilm emphasized a compact, easily maneuverable design with its newest mobile DR systems, the FDR Go Plus and the FDR AQRO (also known as the DR-XD 1000), both reaching the market in 2017. The FDR Go Plus features a retractable column, at one of the lowest park positions on a full-size portable for easy visibility while traveling. The low profile helps safely navigate tight confined spaces like the emergency room (ER), trauma, operating room (OR) and neonatal intensive care unit.
The FDR AQRO is designed for dedicated departmental use. FDR AQRO combines Fujifilm's premium advancements in dose saving technologies in a light, maneuverable design. The system features Fujifilm's Hydro AG Antibacterial Coating to provide an added safety measure in infection controls.
Samsung Announces New Premium DR Platform
Samsung introduced its rebranded DR line at the 2019 annual meeting of the Association for Medical Imaging Management (AHRA). Now known as iQuia, the line includes both mobile and room-based X-ray solutions. As part of the rollout, Samsung announced a new detector panel, dubbed the iQuia Detector. Offered in two sizes — 14 x 17 inches and 17 x 17 inches — the company said the new panel bolsters improved performance in many key areas:
•    Increased distributed weight capacity of 882 pounds (400 kilograms) and 441 pounds (200 kilograms) point load and bend pressure, for the largest of patient sizes and weight-bearing capabilities;
•    Improved IP54 dust and water resistance, enhancing the reliability in case of liquid presence during routine clinical use;
•    Real-time shock sensing and automatic defect calibration at the S-station, ensuring increased utility throughout the day; and
•    Improved ergonomics, including easy carrying finger grips, a chamfered edge, and center engraving for detector alignment and positioning.
Additionally, Samsung also introduced Smart Center by iQuia, an enterprise-level quality and asset monitoring solution that continuously aggregates multiple Samsung DR devices' data into one easy-to-use platform.
References
1.    Information for Patients. www.chestx-ray.com. Accessed Oct.11, 2019.
2.     Laserson J., Lantsman C.D., Cohen-Sfady M., et al. TextRay: Mining Clinical Reports to Gain a Broad Understanding of Chest X-rays. arXiv:1806.02121v1
---
If you enjoy this content, please share it with a colleague