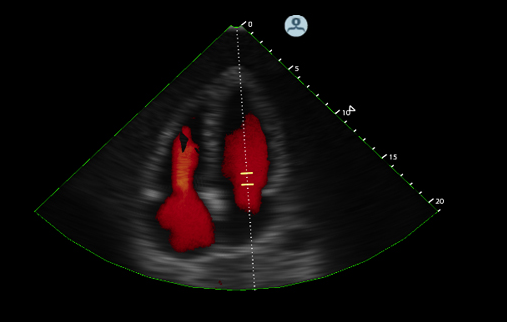 An echo simulator offered by Simbionix, part of 3D Systems.
More than 50 companies and organizations will display their latest products and services at the American Society of Echocardiography's (ASE) 26th Annual Scientific Sessions, June 12-16 at in Boston, Mass. ASE 2015 is the world's premier meeting for cardiovascular ultrasound practitioners, and promises a wealth of cutting-edge education, research, and the latest vendor technology. 
Products Highlighted on the Expo Floor 
ASE Headquarters (Booth #413)
will feature demonstrations of our new imaging quality improvement software application, "Echocardiography Test and Teach Application." This software is designed to ensure quality and consistency of cardiac ultrasound image measurements, as well as inform and educate users on interesting cases, new techniques and other changes. The software has been designed through the expert guidance of Harvey Feigenbaum, M.D., FASE, and will be made available to both individuals and institutions through an annual subscription software license. This exciting new product represents a hands-on, real-world training experience, without being tied to imaging devices. The ASE booth also offers all of the Society's new guideline-based products and educational materials, including ASE's latest textbook, Comprehensive Echocardiography.
The ASE Foundation (ASEF), located on Level 3 of the Convention Center, encourages attendees to learn more about the foundation's activities and initiatives, and how they can get involved.  Attendees and media can visit the booth for information on ASEF's upcoming humanitarian missions to Argentina and Vietnam in August 2015, as well as our work disseminating guidelines globally to standardize patient care; our growing list of translations currently includes Spanish, Mandarin, French, and Portuguese, with more on the way. The Foundation has also provided travel grants and scholarships to over 190 early career practitioners, totaling over $240,000, since its first Annual Appeal in 2011. Together, ASE and the ASE Education and Research Foundation have expended over $5 million to support echocardiographic research activities since 1996.
3D Systems' (Booth #723) Simbionix
U/S Mentor VR simulator offers an Advanced Echo module for the training of in-depth cardiac assessment for transthoracic echo (TTE) from step-by-step protocol performance to evaluating adult and pediatric virtual patient scenarios. The realistic environment is enhanced by multiple educational aids and incorporates advanced diagnostic tools alongside numerous measurements and auto calculations. A procedure restricted mode is available for competency demonstration and testing. The TTE training is complemented by a transesophageal echo (TEE)  module, including cases in which they can be used alternately. Also being shown is a new benchmarks system integrated via the MentorLearn simulator management system, which allows setting detailed proficiency benchmarks to easily monitor the learners' advancement towards the selected competence level.
http://simbionix.com/simulators/us-mentor/us-library-of-modules/us-adva…
Studycast by Core Sound Imaging (Booth #414)
will be showcasing its new cardiac SmartWorksheet reporting. Illustrative of Core Sound Imaging's agility and responsiveness, this echo reporting update integrates the 2015 ASE guidelines for cardiac chamber quantification, including the ability to display gender/BSA/age-based normal ranges. Studycast's efficient SmartSearch feature offers abnormal value alerts and layout personalization. Additionally, the Studycast pediatric SmartWorksheet update features nearly two dozen measurements that are indexed by BSA and/or include full Z-score calculations and data.
www.corestudycast.com/news/echo-smartworksheet-update
Digisonics (Booth #922), a cardiovascular information system (CVIS) solutions, will showcase its new Business Analytics Package with data mining features for productivity and automation. The Business Analytics Package provides powerful tools including management reports (such as volume and turnaround time reports), productivity reports (such as time interval reports), and automation for searches.  The Business Analytics Package empowers users to quickly explore large amounts of data, transforming it into valuable information, measuring current and past performance and optimizing future strategic planning.
Echo Research and Practice (Booth #822), the journal of the British Society of Echocardiography, has launched a new online journal-based learning program to support education and keep practitioners up-to-date with the latest knowledge in the field. Selected articles now include questions that are written in collaboration with experts in the field. Learners will get real-time scores, including explanations of the correct and incorrect answers, and will also be able to download formal certificates of completion, which can be uploaded to individuals' NHS ePortfolios to demonstrate learning. The program is completely free to use. To participate in an activity, register at bioscientifica.knowledgedirectweb.com. 
Elsevier (Booth #421) offers the new ASE's Comprehensive Echocardiography, Roberto Lang, M.D., and his expert colleagues provide everything you need to assess cardiac anatomy and function and obtain clinically useful, noninvasive information for more accurate diagnosis and evaluation of heart disease. Echocardiography Review Guide: Companion to the Textbook of Clinical Echocardiography is a companion to Dr. Catherine Otto's Textbook of Clinical Echocardiography teaching and testing in one convenient volume. 
Epsilon Imaging (Booth #615), a provider of workflow enhancing solutions for cardiology, is transforming cardiac diagnostic workflow with a vendor neutral suite of visualization and analysis software applications designed for echocardiography. The company will highlight EchoInsight, which provides clinical applications for improved quantification assessment and monitoring of the heart with clinical strain imaging and semi-automated guideline-recommended volumetric, area and linear measurements. Applications assist clinicians to enhance, standardize, and streamline interpretation and monitoring of echo studies. Initial applications include cardio-oncology, RV and stress echo, along with a comprehensive research application.
Fujifilm Medical Systems (Booth #808)
will demonstrate its latest generation of Synapse Cardiovascular, V6.0, a total re-engineering of Fujifilm's solution for echo reporting. New, standards based reporting workflow debuts a streamlined measurement package, a new user interface, and enhanced clinical intelligence. The offering highlights new adult, pediatric, and fetal capabilities; for more information
http://cardiovascular.fujimed.com/
.
GE Healthcare (Booth #701) invites attendees to discover the next-generation of cardiovascular imaging. Learn how new ultrasound technologies will shape the future of cardiovascular care and impact the clinician's decision-making process. This includes innovative review, analysis, reporting and archiving tools. Experience GE's full line of Vivid ultrasound systems designed and engineered specifically for echocardiography.
Hitachi Aloka Medical (Booth #1000) is showcasing our HDAnalytics collection, along with our newest release of the Arietta system, providing exceptional performance and advanced analysis at an affordable price. HDAnalytics offers vector flow mapping (VFM) to evaluate flow dynamics in the heart and vessels in a whole new way, LV eFlow defines LV borders for evaluating overall left ventricular function in the technically difficult patient, and Dual Gate Doppler lets you see Doppler and/or TDI waveforms from two separate locations during the same heart cycle eliminating beat to beat variability. In addition, the vendor will debut CV Linq, its new cardiology workstation providing all the tools you need to review, quantify, and create comprehensive reports for your exams.
The Intersocietal Accreditation Commission (IAC) (Booth #422)
, in keeping with their continued commitment to streamlining and simplifying the accreditation process, will display proposed changes to the IAC Standards and Guidelines for Adult Echocardiography Accreditation, which the public has the opportunity to comment on until June 15, 2015 by visiting
http://intersocietal.org/iac/comment_period.htm
. The IAC Standards for both Adult and Pediatric Echocardiography are scheduled for publication on Aug. 1, 2015.
Inventive Medical (Booth #520) will showcase the new HeartWorks TTE Mobile simulator for scenario training and HeartWorks START for student assessment. When three leading cardiac anaesthetists from University College Hospital London met with animation software designers from award winning special effects agency, Glassworks. A high fidelity, animated, beating heart that is unrivalled in the teaching of cardiac anatomy, supports mannequin simulation providing educators with a practical and realistic solution for teaching both TTE and TEE echocardiography. The new HeartWorks TTE Mobile for scenario training and HeartWorks START for student assessment are the latest additions to the HeartWorks portfolio.
Lantheus Medical Imaging (Booth #507)
offers attendees interactive case studies with real-life clinical outcomes and patient management scenarios. On Sunday, June 14 at 11:45 a.m., Lantheus will host a panel presentation and discussion chaired by Rajesh Janardhanan, M.D., University of Arizona Health Network; Jonathan Lindner, M.D., Oregon Health and Science University; and Lissa Sugeng, M.D., Yale School of Medicine. The panel, "Contrast Echo: See the Difference, Experience the Impact," will address clinical utility, optimization, operational efficiency and selection of echo contrast. A case study in echo lab conversion and performance will also be presented.
www.lantheus.com
Mayo Clinic Cardiovascular Self Study (Booth #718) Mayo Clinic's Division of Cardiovascular Diseases strives to provide individualized education in an effort to meet the needs of any learner.  The self-study selections will offer an opportunity for providers to stay abreast with advances in the cardiovascular field in an effort to improve the care of all patients. Our library of self-study tutorials provides an overview of cardiovascular diseases as well as clinical pearls, technical skills, and management strategies for patients with various cardiovascular disorders. View these presentations to enhance learning and obtain credit.
Merge Healthcare (Booth #412), a leading provider of clinical systems and innovations that seek to transform healthcare, invites attendees to view the latest version of our imaging and information management system, Merge Cardio. Merge Cardio, named best in KLAS in Cardiology for 2013 and 2014, supports adult and pediatric echo, noninvasive vascular ultrasound, and structural heart to improve cardiology workflow.
Mindray (Booth #916) is introducing the TE7 Touch Enabled Ultrasound System for rapid cardiac evaluation at the bedside. Intuitive gesture controls and focused exams maximize efficiency at the point of care. The TE7 offers a rich application suite, including extended cardiac functionality, Echo Boost cardiac image optimization, and a TEE transducer.  For comprehensive cardiac studies, Mindray is also demonstrating the M9 Premium Compact Ultrasound System, with single crystal technology for deeper penetration and higher resolution, even in technically difficult patients.  The system's advanced features include premium image quality, Echo Boost, contrast LV opacification during stress exams, and tissue tracking with quantitative analysis.
PCI Medical, Experts in High-Level Disinfection (Booth #525)
has developed and manufactured high-level disinfection systems for 20 years: GUS Disinfection Soak Stations, found in over 6,000 facilities. PCI will showcase GUS Storage Systems and an upcoming automated disinfection system for TEE probes, pending FDA clearance. GUS Storage Systems' features include specialty shelves that store probes upright and uniquely keep cables separated from disinfected probes, a true HEPA filter, and a low noise fan that provides continuous air flow. Our upcoming automated disinfection systems' features include a barcode reader, fully automated data logging, choice of disinfectants, and very low cycle costs.
www.pcimedical.com/ultrasound-probe-storage-cabinet/
Philips Healthcare (Booth #900) will introduce its HeartModelA.I., a new Anatomically Intelligent Ultrasound (AIUS) tool that brings advanced quantification, automated 3-D views and robust reproducibility to cardiac ultrasound imaging. Using AIUS - a rich database of anatomical structural models and adaptive system technology - HeartModelA.I. has access to advanced clinical information that automatically adapts to variability in patient anatomy. Providing heart modeling, image slicing and proven quantification, users can quickly, easily and confidently assess anomalies and disease states, determine treatment and guide related interventions and therapies.
ScImage (Booth #321) will be demonstrating a landmark improvement in workflow for echo and nuclear reporting linked with stress testing. Stress echo reporting and nuclear stress reporting - trying to get the stress data into the imaging report, as required by the Intersocietal Accreditation Commission - are productivity nightmares.  ScImage has a solution for that, using automation! ScImage's PICOM365 Enterprise PACS can accommodate the entire cardiology service line in one database, with imaging, reporting, ECGs and analytics.
TomTec Imaging Systems (Booth #710) will showcase its next generation 4D RV-Function and AutoStrain applications.  4D RV-Function overcomes the challenge of complex right ventricular geometry by utilizing a 3-D surface model in conjunction with defined 2-D landmarks, and provides a comprehensive evaluation of the right ventricle including volumes and strain analysis. AutoStrain, the automated strain analysis for quantitative visualization of left ventricular function, offers you automated and reproducible triplane left ventricular strain analysis. Longitudinal strain parameters, derived from 2-D speckle tracking algorithms, are visualized with color-coded regional strain-time curves and a bull's-eye plot. AutoStrain is fully integrated in the clinical workflow and provides immediate and reliable strain analysis to track subclinical markers.
Toshiba America Medical Systems (Booth #816) will showcase its new premium cardiovascular platform the Aplio 500 Platinum Series CV and Aplio 300 Platinum Series CV, which expand the clinical utility of echocardiography by allowing providers to consolidate multiple lines of care onto a single platform. The Aplio Platinum Series' wall motion tracking software, with speckle tracking technology, has the ability to reliably calculate regional and global parameters such as strain, strain rate and displacement. The technology, along with its user-friendly interface, supports providers in the use of cardio-oncology echo protocols.
The University of Washington (Booth #314) will be demonstrating a vascular Doppler ultrasound simulator. This is the latest addition to their line of diagnostic ultrasound simulators, which already includes simulators of TTE and TEE. All of the simulators developed by the University of Washington provide metrics for assessing both cognitive and technical skill. Skills assessment is an important adjunct to training to provide feedback to physicians and sonographers so that they can gauge their progress in acquiring skill in ultrasound.
Wolters Kluwer Health-Lippincott Williams & Wilkins (Booth #409) will showcase a preview of the newest edition of Echocardiography in Pediatric and Adult Congenital Heart Disease. Expert clinicians at the Mayo Clinic and other leading institutions provide a comprehensive review of echocardiographic evaluation and diagnosis of congenital heart disease in both pediatric and adult patients. Covering the full range of congenital abnormalities as well as valve prostheses and the transplanted heart, this respected cardiology reference provides you with all the state-of-the-art knowledge you need to successfully assess challenging cardiac lesions and defects. This new edition comes with an interactive eBook, for on-the-go access.
Science and Technology Theatre
In addition, four Science and Technology Theatre sessions will offer the latest information from an industry perspective.  These special luncheon sessions are not part of the official ASE 26th Annual Scientific Sessions, as planned by the Program Committee, but showcase industry advances.  On Saturday, June 13, Bracco Diagnostics Inc. presents Enhancing the Value of Echocardiography; on Sunday, June 14, Lantheus Medical Imaging presents Contrast Echo: See the Difference, Experience the Impact; on Monday, June 15, Philips Healthcare presents Using Echo Anatomical Intelligence to Help Meet Standards in Today's Ecosystem; and on Tuesday, June 16, Abbott Vascular presents Emerging Transcatheter Mitral Valve Technologies: What is the Role of Echo?
As the largest global organization for cardiovascular ultrasound imaging, the American Society of Echocardiography (ASE) is the leader and advocate, setting practice standards and guidelines. Comprised of more than 16,000 physicians, sonographers, nurses, and scientists, ASE is a strong voice providing guidance, expertise, and education to its members. The Society has a commitment to improving the practice of ultrasound and imaging of the heart and cardiovascular system for better patient outcomes.