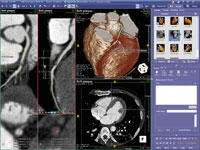 Computer-aided detection (CAD) software constitutes a set of algorithms which, using a pattern-recognition technique, aids the radiologist in detecting potentially diseased regions and lesions. It uses clinical images obtained from various imaging modalities. CAD has long since left behind its branding as a mammography tool and has now widened its application areas, becoming a valuable tool for detection and diagnosis in cardiology.
The prevalence of coronary artery disease is increasing at an alarming rate throughout the world. More than 115 million people worldwide suffer from coronary artery disease, and around 89 million noninvasive imaging procedures are done every year. Early detection is crucial for identification and classification of patients at risk of developing atherosclerosis. This leads to demand for modern and more efficient noninvasive diagnostic imaging methods that will enable timely diagnosis and treatment planning.
Various tools, including coronary computed tomography angiography (CCTA), single photon emission computed tomography (SPECT), positron emission tomography (PET), magnetic resonance (MR) and echocardiogram, have been perfected to serve this purpose. A CCTA provides anatomical insight into the heart's anomalies, whereas the electrocardiogram (ECG) provides a functional overview of the cardiac system. Multimodal imaging like SPECT/CT and PET/CT are gaining momentum to add a comprehensive understanding of the vascular system.
These noninvasive diagnostic methods give us a peek into the structural and functional facets of the heart. Use of CAD solutions, along with modern 3-D and 4-D imaging systems, will immensely increase the quality of prognosis. CAD software has evolved from its original role, not only providing diagnostic assistance, but also acting as a superior conceptual tool. It helps simplify massive imaging datasets into an indicative output to help in clinical decision-making. It also helps reduce the time a radiologist or cardiologist spends analyzing large quantities of data.  The success of cardiac CAD, as with any other CAD solution, depends vastly on the corresponding imaging modality, be it MR or CCTA.
The need for automatic workflow integration drives the market's growth. The transition to electronic health records (EHRs) and digitization, as well as the development of cardiac CAD-compatible operating platforms like picture archiving and communication systems (PACS), act as enabling technology drivers for the market. Stand-alone CAD solutions offered are not as robust when compared to CAD packages that are integrated as part of a workstation. Integration into a PACS also is gradually becoming more popular.
Growth has been seen in the cardiology CAD market as the PACS market expands, with more than 60 percent of hospitals upgrading their existing systems over the next two years. With the introduction of advanced imaging techniques like 3-D and 4-D imaging, more and more cardiologists are shifting to noninvasive diagnostic methods for better accuracy. This boosts the growth of the integrated-visualization software markets. Compliance with standard protocols like digital imaging and communications in medicine (DICOM) helps grow the imaging software market in cardiology. 
 
Finding Regions of Interest
CAD solutions help in the risk stratification and triage of patients in a high-volume or low-resource availability setting. Cardiologists use CAD as an assisted reader in confirming the region of interest. Automated stenosis detection, followed by a manual check, is also employed by some cardiologists. 
Cardiac CAD systems used as second readers do not benefit the experienced cardiologist or radiologist significantly. However, these systems do improve the sensitivity of diagnosis for inexperienced readers enormously, improving their sensitivity by almost 100 percent.
Experienced cardiologists reap negligible benefits from utilization of CAD software. However, several randomized clinical studies proved that employing cardiac CAD improved the specificity per vessel from 10 percent to 20 percent. A 100 percent negative predictive value and 100 percent specificity per patient were also observed. However, the diagnostic accuracy still needs to be validated for proven increase in the positive prediction value and reduced false-positive predicament. Several large-scale, long-term clinical studies need to be done to effectively validate the efficiency and accuracy of CAD in cardiology.
CAD plays an important role in detection of both coronary artery disease and congenital heart disorder. Clinical integration of CAD to the imaging system helps clinicians detect potentially diseased regions faster, easier and with more confidence. Advanced cardiac visualization software inspects the regions of coronary stenosis. Research and development in the CAD space has helped its evolution into not just a detection tool, but also a one-stop solution providing prior, during and post-surgery treatment planning. It also influences clinical decision-making to a large extent.
 
Limiting Factors to Adoption
In addition to the limits of how CAD can help experienced radiologists, reimbursement issues are also an obstacle to the adoption of CAD in cardiology. Traditional invasive diagnostic methods are the standard for reimbursement in many countries, obstructing the widespread utilization of cardiac CAD. Under the current economic scenario, the reduction in the investment in healthcare infrastructure is unfavorable for the adoption of cardiac CAD.
CAD for oncology is increasingly being integrated into imaging modalities  by original equipment manufacturers (OEMs). But, cardiac CAD vendors will need to prove the potential of their product before entering into a distributor agreement with the larger OEMs.
 
The Future of CAD
Today, CAD applications are chiefly used for mammography, colonoscopy and thoracic CT applications. The principle market trend for CAD includes new realms of clinical applications, like neurology, cardiology and ancillary aspects of oncology. CAD for cardiology is in its niche stage and is influenced by various factors, such as:
•  Need for proven diagnostic accuracy
•  Dependence on associated modality and, thereby, its relationship with the OEMs
•  Alleviating dosage and technological concerns of the respected modality and imaging platforms
•  Retaining patent rights in an OEM-dominated market
•  Compliance with political and regulatory mandates
•  Investment restraints under the current economic scenario
With the U.S. Food and Drug Administration (FDA) approval of TeraRecon's Centerline Crossline Analytics plaque analysis software and Qi/Ziosoft's CAD software module in 2011, exclusive imaging software becomes a reality. Extensive development of user-friendly, Web-based cloud computing applications to hone communication networks is constructive for enhanced utilization of cardiac CAD imaging solutions.  
About Frost & Sullivan
Frost & Sullivan, the Growth Partnership Company, enables clients to accelerate growth and achieve best-in-class positions in growth, innovation and leadership. The company's Growth Partnership Service provides the CEO and the CEO's Growth Team with disciplined research and best-practice models to drive the generation, evaluation and implementation of powerful growth strategies. Frost & Sullivan leverages 50 years of experience in partnering with Global 1,000 companies, emerging businesses and the investment community from more than 40 offices on six continents. For more information: www.frost.com.
---
If you enjoy this content, please share it with a colleague