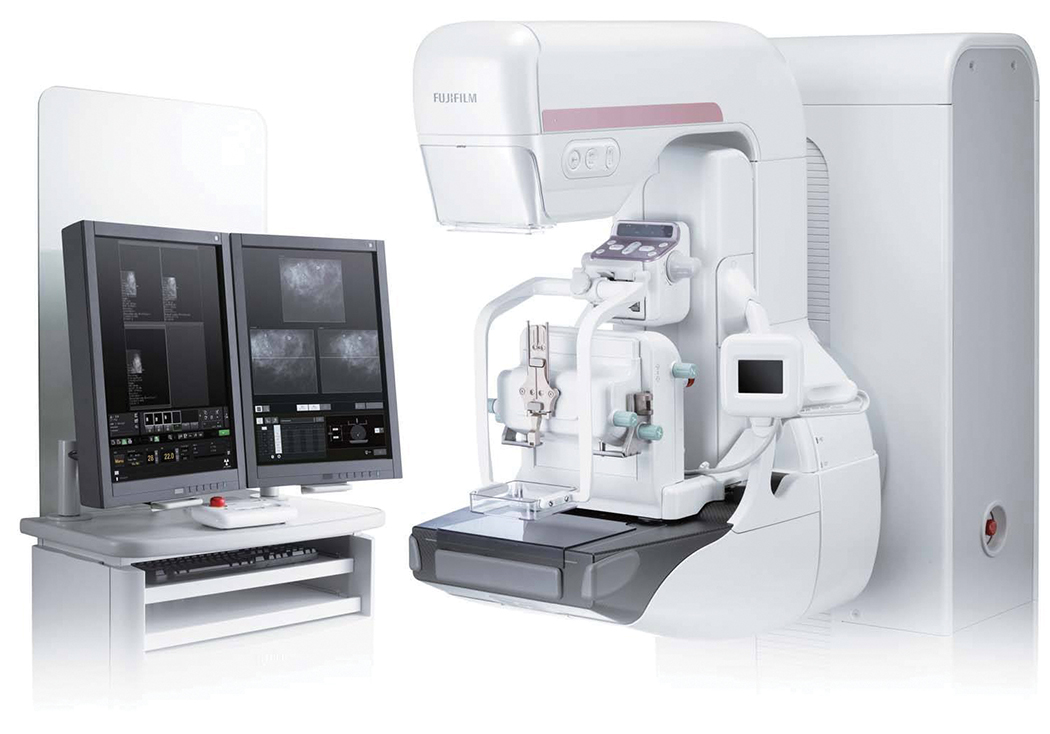 Fujifilm introduced a DBT option to the Aspire Cristalle full-field digital mammography (FFDM) system in 2017 following FDA approval for the upgrade.
In the world of breast imaging, digital breast tomosynthesis (DBT) is a relative newcomer, only being adopted into clinical practice in the last 8 years. The benefits of DBT, also known as 3-D mammography, are generally understood — improved cancer detection over traditional 2-D mammography due to the ability to scroll through different slices of the breast to see lesions undetectable in two dimensions. While the evidence for DBT has been mounting, new data reveal the technology has seen explosive growth in the last 18 months.
The U.S. Food and Drug Administration (FDA) tracks statistics on certified mammography facilities and systems across the United States under the directive of the Mammography Quality Standards Act (MQSA), and in June 2016 the FDA began monitoring certification of breast tomosynthesis systems. At that time, out of 8,740 mammography facilities in the U.S., just 2,444 (about 28 percent) had 3-D mammography systems (for a total of 3,362 DBT machines). As of Dec. 1 of last year, however, FDA data showed a total of 5,394 systems in service at 3,866 centers.
"There is still plenty of lingering confusion caused by screening guidelines that were developed with 2-D technology in mind, which is having a negative impact on the adoption of tomosynthesis in some areas," said Tracy Accardi, global vice president of research and development, breast and skeletal health division at Hologic. Accardi attributed the rapid growth of DBT to expanding clinical evidence, as well as several recent state and national payer updates that she said have brought the total population of women ages 40 to 75 covered for tomosynthesis to 90 percent.
Tomo Vendors Remain Limited
Currently, Hologic is one of only four DBT manufacturers in the market, joined by Siemens, Fujifilm and GE Healthcare.
Hologic was the first to bring tomosynthesis to the commercial market when it received FDA approval for the Selenia Dimensions system in 2011. Its newest premium DBT system, 3Dimensions, provides high-quality 3-D images with Clarity HD High-Resolution 3-D imaging to clearly reveal subtle lesions and fine calcifications, regardless of a patient's breast size or fibroglandular breast density. The 3Dimensions system also features Intelligent 2-D mapping technology that allows radiologists to instantly move from suspicious areas on the 2-D results to the point of interest on the 3-D slice, optimizing workflow. Clarity HD High-Resolution 3-D imaging and Intelligent 2-D technology are both pending FDA approval.
Siemens Healthineers made the most recent introduction to the market, debuting its newest premium digital mammography system, Mammomat Revelation, at the 2017 Radiological Society of North America (RSNA) annual meeting last November in Chicago. The Mammomat Revelation features 50-degree 3-D HD Breast Tomosynthesis, which Siemens says is the widest scan angle in the industry. In addition, the system adds an HD Breast Biopsy feature that allows the acquisition and scanning of biopsy samples at a single station (rather than two separate systems as is custom) in 20 seconds or less, significantly streamlining workflow. Technologists can target a suspicious area in a scan with one click, down to ±1 mm accuracy. The Mammomat Revelation is still pending FDA approval.
Fujifilm introduced a DBT option to the Aspire Cristalle full-field digital mammography (FFDM) system in 2017 following FDA approval for the upgrade. Unlike other mammography systems, the detector on the Aspire Cristalle uses a hexagonal close pattern (HCP) design, which Fujifilm says improves the efficiency of signal capture and results in a higher-quality image. The system also features advanced image processing and image acquisition workflow to optimize patient dose.
GE Healthcare put the emphasis on patient comfort with its latest mammography system release, the Senographe Pristina, which debuted at RSNA 2016 and was cleared by the FDA in September last year. The system takes what is often the most uncomfortable part of the mammography exam for patients — breast compression — and literally puts it in the patient's hands with the Dueta remote control. The patient can gradually increase compression after initial setup from the technologist until adequate compression is achieved.
Hologic also brought the idea of patient-centered care to the new 3Dimensions system via the SmartCurve breast stabilization system (which is still pending FDA approval). This compression plate features a curved surface that mirrors the shape of a woman's breast to reduce pinching and allow better distribution of force over the entire breast. 
---
If you enjoy this content, please share it with a colleague