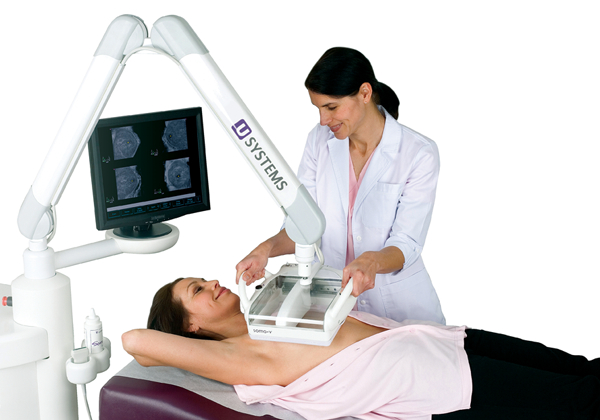 November 12, 2012 — GE Healthcare announced it has acquired U-Systems Inc., which recently gained U.S. Food and Drug Administration (FDA) clearance for the somo•v Automated Breast Ultrasound System (ABUS). It is the first ultrasound system on the market for breast cancer screening as an adjunct to mammography for asymptomatic women with greater than 50 percent dense breast tissue and no prior breast interventions. Financial terms were not disclosed.
The issue of breast density has become a national healthcare concern, as dense breast tissue makes it very difficult to detect early cancers. In addition to missed cancers, dense tissue is often misinterpreted as cancer, resulting in large numbers of needless breast biopsies. In addition, several states have enacted or are discussing legisation requiring doctors to notify patients if they have dense breasts. New screening systems, such as ABUS, are being introduced as an adjunct to mammagraphy for women with dense breast tissue. 
"The combination of U-Systems Inc. and GE Healthcare uniquely positions GE to offer U.S. healthcare providers and their patients the most comprehensive portfolio of breast care innovations on the market — from screening to diagnosis to monitoring," said Tom Gentile, president and CEO of GE Healthcare Systems. "In addition to digital mammography and breast MR [magnetic resonance], GE can now offer breast screening ultrasound technology to our customers to help in early detection, which provides for more treatment options."
According to a published study in the New England Journal of Medicine, women with dense tissue in 75 percent or more of the breast have a risk of breast cancer four to six times greater than the risk among women with little or no dense tissue (Boyd, et al. New England Journal of Medicine 2007;356:227-36M). Since dense breast tissue decreases mammography's effectiveness in detection, the somo•v ABUS has proven to be an advancement in the visualization of cancer-hiding tissue in dense breasts.
??"What 3-D ultrasound will allow us to do is help us use the information that we get from mammography and integrate that information together with the information we get from ultrasound to find more cancers," said Rachel Brem, M.D., principal investigator of the SOMO-INSIGHT clinical study examining whether full-field digital mammography (FFDM) along with the somo•v could improve breast cancer detection when compared to mammography alone in women with dense breasts. "Mammography is an effective tool at finding breast cancer, but it doesn't work equally well in everyone. Recently completed studies demonstrated with the addition of somo•v ABUS, we find about 30 percent more cancers in women who have a normal mammogram, normal physical examination and dense breasts. For the more than 40 percent of women who have dense breasts, this is a significant advancement in their breast healthcare."
"We are very excited to become part of GE Healthcare's team," said Ron Ho, U-Systems president and CEO. "The worldwide resources of GE Healthcare will allow us to expand and accelerate our efforts to commercialize the recently FDA-approved somo•v ABUS. With our combined resources and capabilities, we have the opportunity to make a significant impact on breast cancer detection and patient outcomes around the world. We are thrilled to have the opportunity to continue to develop new technologies, products and applications for breast cancer screening."
The somo•v ABUS received FDA approval in September 2012 for breast cancer screening in the United States, and has also been indicated for screening in Canada and the European Union.?? U-Systems has operations in Sunnyvale, Calif., and Phoenix.