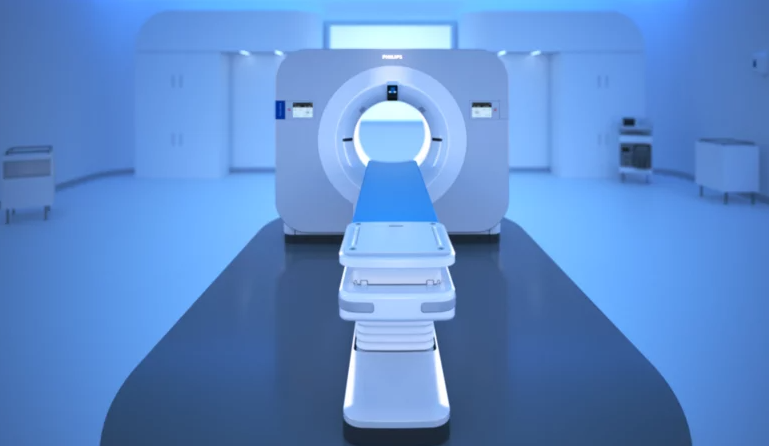 The computed tomography (CT) market was valued at $6.7 million in 2020, and it is expected to reach $9.5 million by 2026, with a compounded annual growth rate (CAGR) of 5.76 percent during the forecast period of 2021-2026, according to Mordor Intelligence.
With increasing incidences of cancer and the persistence of COVID-19, the demand for CT scans continues to rise. To meet this demand, manufacturers are focusing on key functional and productivity issues to improve their systems. Some of the recent trends in the technology seen this past year include:
•Quality, dose and workflow come together to deliver valuable clinical insights.
•Artificial intelligence (AI) technologies that automate and simplify time-consuming tasks to increase operational efficiency and free up time for clinicians to deliver more personalized care to more patients.
•Intelligent user interface to standardize and streamline workflows as well as provide optimal image quality at a low dose.
•Accuracy, precision and speed to provide clinicians with the latest technology for accurate simulation across treatment plans.
Several systems were granted U.S. Food and Drug Administration (FDA) approval this past year.
You can view the Computed Tomography (CT) comparison chart here.
Quality, Dose and Workflow
Philips Healthcare released Spectral CT 7500, which has regulatory clearance in Europe and from the FDA. It uses intelligent software to deliver high-quality spectral images on every scan 100 percent of the time without the need for special protocols. Philips said the system aims to improve disease characterization, reduce rescans and follow-ups while using the same dose levels as conventional CT scans.
The time-saving workflow is fully integrated, enabling the technologist to get the patient on and off the table quickly. Spectral chest and head scans take less than one second, and a full upper-body spectral scan can be completed in under two seconds. The system features a fast scanning table that can accommodate patients up to 727 lbs., and offers an 80 cm bore.  
Artificial Intelligence Technologies
GE Healthcare's Revolution Ascend with Effortless Workflow offers clinicians a collection of AI technologies that automate and simplify time-consuming tasks to increase operational efficiency and free up time for clinicians to deliver more personalized care for more patients. The system's new 75 cm wide-gantry, 40 mm detector coverage and lower table position are designed to accommodate high body mass index (BMI) patients, as well as trauma cases that would otherwise be too delicate to maneuver in a smaller size gantry.
To help address workflow speed, Revolution Ascend incorporates GE Healthcare's Effortless Workflow, a new suite of AI solutions that personalize scans accurately and automatically for each patient, and requires significantly less effort from the CT technologist. They can use the system's attached bar code reader to scan the patient's chart or tag and personalize each exam. This automatically pulls up the patient's information and suggests relevant protocols. The technologist can then initiate Auto Positioning, which uses real-time depth-sensing technology to generate a 3-D model of the patient's body and uses a deep learning algorithm to determine the correct table elevation and cradle movements to align the center of the scan range with the isocenter of the bore. Then, intelligent tools embedded in the Clarity Operator Environment provide optimal scan range settings, dose and image quality for each patient, helping to deliver greater efficiency and more personalized medicine across clinical care areas. 
Intelligent User Interface
The FDA recently approved the Siemens Healthineers Somatom X.ceed, a premium single-source CT scanner that combines high-speed scanning capabilities and a level of resolution previously unseen in other single-source CT systems with a new hardware/software combination to simplify CT-guided interventions. The scanner, with an 82 cm bore, is designed for all diagnostic procedures.
Key features include a fast rotation speed of 0.25 seconds to ensure a high native temporal resolution and reduce motion artifacts when scanning, moving structures such as the heart. Its scan speed at 262 mm/sec provides consistent image quality across the entire field of view, and the scanner's small focal point, 0.4 x 0.5, enables increased spatial resolution to better detect deep-seated small and medium lesions. With its 1,300 mA power reserves, it has high power, enabling a high level of image quality for larger patients while expanding the utilization of low dose and low contrast media techniques, such as low kV imaging.
A key feature of the Somatom X.ceed is myNeedle Companion that combines hardware innovations and intuitive software to coordinate the planning and guidance of percutaneous needle procedures. Established myExam Companion user guidance software employs artificial intelligence to help simplify and standardize scanner operation for each user. It also provides a new decision tool for trauma imaging. The new myExam Satellite feature allows immediate assessment of CT perfusion results, which can be very valuable in emergency radiology. 
Accuracy, Precision and Speed
Canon Medical Systems USA Inc. received FDA clearance for its Aquilion Exceed LB CT system, giving clinicians the opportunity to see more during radiation therapy planning for accuracy, precision and speed. It supports fast and efficient radiation oncology workflows without compromising on patient position, image quality or reproducibility. Features include a large bore opening (90 cm), edge-to-edge extended field-of-view (90 cm) reconstruction and wide detector coverage (4 cm). AI powers its contouring, providing sharp, clear and distinct images from Canon Medical's Advanced intelligent Clear-IQ Engine (AiCE) Deep Learning Reconstruction (DLR) technology.  
---
If you enjoy this content, please share it with a colleague