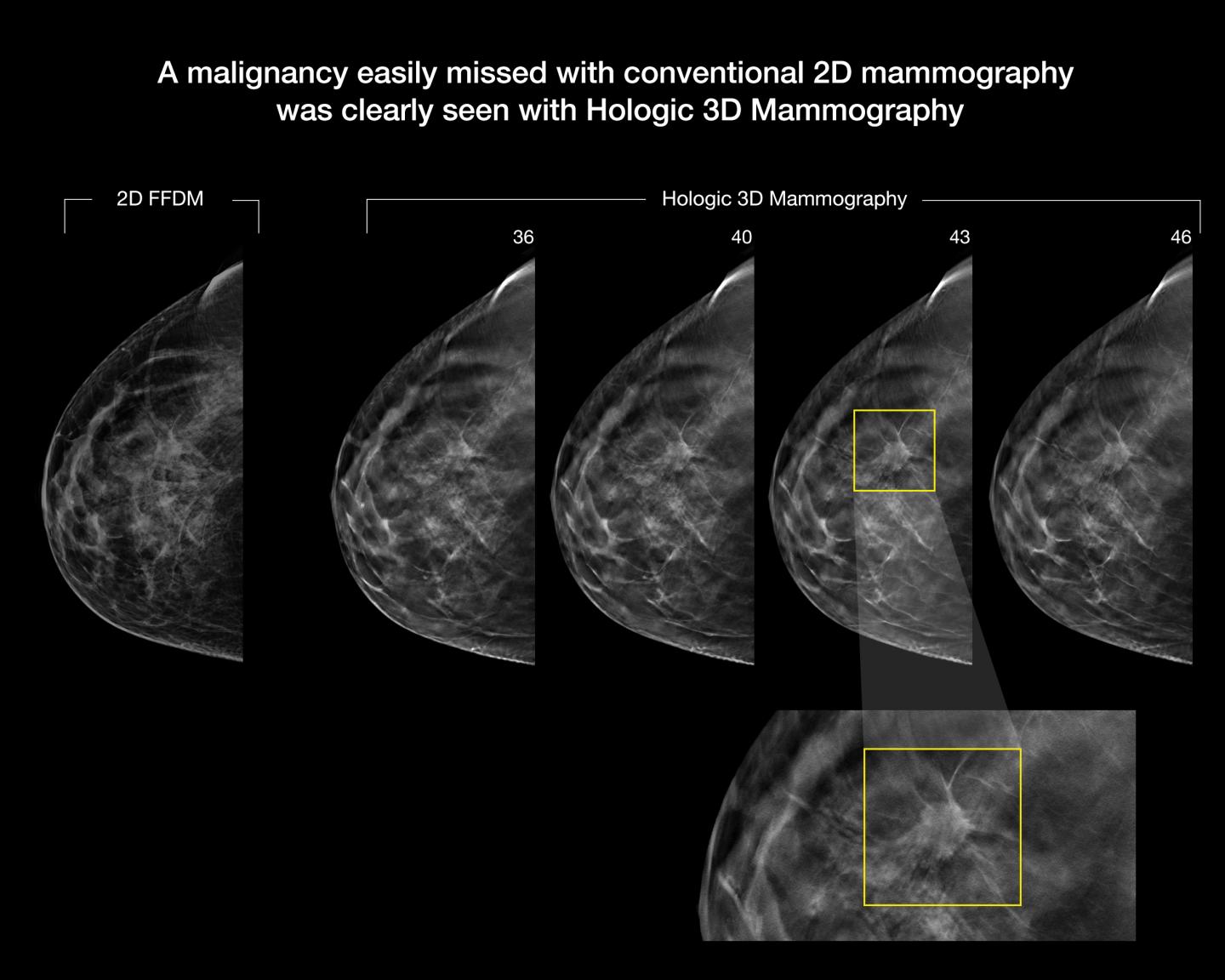 Image courtesy of Hologic
New research presented by Stephen Rose, M.D., chief medical officer of Solis Mammography and president of Rose Imaging Physicians Group, Houston, at the 2016 Radiological Society of North America (RSNA) annual meeting found recall rates, cancer detection and invasive cancer detection for women under age 50 were significantly improved with the addition of digital breast tomosynthesis (DBT) to mammography.1
However in January 2016, the U.S. Preventive Services Task Force (USPSTF) sparked controversy when it changed its recommendations, advising women to start their mammograms at age 50. This reversed the previous standard set by the American Cancer Society (ACS) in October 2015 in its "Breast Cancer Screening for Women at Average Risk: 2015 Guideline Update" that advised women to be screened by age 45 and then every two years after age 55.2 It also seemed to ignore the fact that the men and women who were key in making these policy changes were not peer-reviewed radiologists, used 2-D mammography research and did not consider the benefits of DBT. They also did not take into account that according to the American Cancer Society's Breast Cancer Facts & Figures Report,3 in 2015, 20 percent of women diagnosed with invasive breast cancer were under the age of 50 when diagnosed. In addition, women under the age of 50 tend to be more likely to have dense breast tissue, which increases the potential for a false negative result.
DBT is defined as multiple low-dose full-field projection images of the breast obtained from different angles that form an arc. The images are then used to reconstruct a 3-D image of the breast, resulting in a clearer view without the distraction of overlapping tissue.
For the study, Rose and Solis Mammography collected data from Jan. 1-Dec. 31, 2015, from a network of community-based screening centers of women 40-49 to investigate if the addition of DBT to mammography could improve screening performance outcomes for women under the age of 50. 
As reported at RSNA 2016, the effects of adding DBT in women under 50 were decreased recall rates by 6 percent; increased cancer detection rates by 67 percent; and increased positive predictive values for recall by 56 percent. Other conclusions from the study noted that the addition of DBT to mammography in women 40-49 shows improved outcomes in recall rates and cancer detection rates; that DBT addresses a primary concern regarding screening women in their 40s by reducing recall rates; and adding DBT to mammography takes about the same amount of time as digital mammography, and captures around 60 pictures (radiologists can now see cancers as early as Stage 0 with tomo).
"Our study is confirming the benefits of tomosynthesis. For a disease with no known form of prevention, early detection is key and the earliest detection is with tomosynthesis, especially in women under 50 years old with dense beast tissue," said Rose in a statement released by RSNA. 
The Players in the 3D Breast Tomosynthesis Market
Today there are four tomosynthesis systems on the market. Hologic's Selenia Dimensions mammography system offers earlier detection of breast cancers, clearer lesion images and reduction in the number of unnecessary biopsies, minimizing patient anxiety and unnecessary costs.
GE's SenoClaire 3-D breast tomosynthesis offers clarity at a low dose using a short X-ray sweep around the compressed breast with only nine exposures. SenoClaire is an add-on feature to existing Senographe Essential and Senographe Care platforms.
Siemens Mammomat Inspiration Prime with Tomosynthesis Option is a breast tomosynthesis add-on for its Mammomat Inspiration digital mammography platform. The premise of the technology is that it shoots multiple images and creates a 3-D dataset that produces multiple slices, between 40-140, at 2 mm each, that can be rolled through and looked at in different sections.
New to the market is Fujifilm Medical Systems U.S.A. Inc.'s DBT software upgrade for its Aspire Cristalle digital mammography system, which recently received premarket approval (PMA) from the U.S. Food and Drug Administration (FDA). The optional DBT upgrade is now available in the United States. According to Fujifilm, radiologists using the Aspire Cristalle full field digital mammography (FFDM) system with DBT will realize enhanced clinical efficiency compared to using FFDM alone. This includes superior diagnostic accuracy and lower recall rates for non-cancer cases. Known as Amulet Innovality outside of the United States, the optional DBT upgrade has been widely available in Europe, Asia and Latin America since May 2013. The Aspire Cristalle FFDM system with DBT combines Fujifilm's hexagonal close pattern (HCP) detector design, advanced image processing and image acquisition workflow to optimize patient dose while maximizing image quality.
Looming on the horizon is the Planmed Clarity 3-D DBT system, which is FDA-pending and has received the CE mark and is currently available for sale in the European Union and other countries where the CE mark applies. Planmed's new method is said to significantly improve image accuracy and allows even the smallest details to be captured with great precision.
Coverage Issues With 3-D Mammography
A recent report from market intelligence firm Infiniti Research discussed the growth of DBT in the United States, highlighting the benefits and acknowledging the barriers to continued adoption. The report states that despite all of the benefits of this technology, many have been unable to take advantage of them. In the United States, numerous health insurance companies will not cover procedures that use this new technology, despite its effectiveness. While Medicare and Medicaid do cover it, private insurers do not, forcing patients to settle for a 2-D mammogram even when it is not the best option.
Some states are fighting this, however. According to Infiniti Research, Connecticut has brought in a new law this year that requires insurers to cover 3-D mammograms if the patient asks for them. "While the state's Insurance Department argues that this will be very costly to implement, supporters of the law disagree. Although the initial cost of acquiring new equipment will be high, the accuracy of these tests will eliminate the need for many 2-D tests. The costs should also fall as the equipment and tests become more prevalent," according to the report.
Find links to numerous related articles, videos and comparison charts in "New Technology and Clinical Data in Breast Imaging."
 
References:
1. Rose, S. "Tomosynthesis Impact on Screening Patients 40 to 49." Radiological Society of North America 2016 Scientific Assembly and Annual Meeting, Nov. 27 - Dec. 2, 2016, Chicago IL. archive.rsna.     org/2016/16015111.html Accessed Feb. 7, 2016
2. Kevin C. Oeffinger; Elizabeth T. H. Fontham,; Ruth Etzioni; et al. JAMA. 2015;314(15):1599-1614. doi:10.1001/jama.2015.1278
3. American Cancer Society. Breast Cancer Facts & Figures 2015-2016. Atlanta: American Cancer Society, Inc. 2015.
---
If you enjoy this content, please share it with a colleague