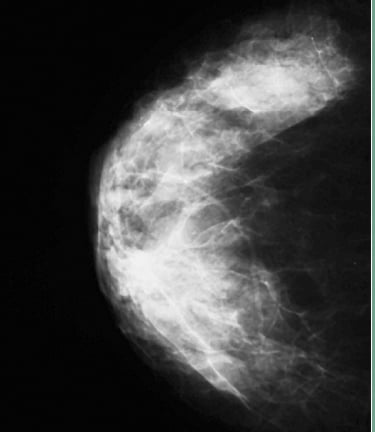 July 18, 2014 — A bill introduced in the U.S. House and Senate July 17, the Breast Density and Mammography Reporting Act, would improve breast cancer detection by requiring mammogram reports to include whether a woman has dense tissue. This information could be used so patients can discuss options with their doctors if they choose to seek additional breast cancer screening. 
Women with dense breast tissue may receive normal mammogram reports even if cancer is present because dense tissue can obscure cancer. Currently, there is no federal standard requiring women to be informed if they have dense tissue.
The bill would set a minimum federal standard, as designated by the Secretary of Health and Human Services (HHS), for notification and recommend women discuss with their doctors whether additional screening is necessary. The bill also directs HHS to study improved screening options for women with dense tissue.
Several states have developed their own versions of dense breast tissue inform laws, requiring mammograms to explain to their patient that they have dense breast tissue, which can reduce the ability of mammograms to detect cancer. Other options for breast imaging are available, which can help detect breast cancer, even in women with dense breast tissue. However, each varies in what it requires. There have been calls from women's health advocates for a federal law so all states are on the same page.
The legislation was introduced in the Senate by Senators Dianne Feinstein (D-Calif.) and Kelly Ayotte (R-N.H.). Reps. Rosa DeLauro (D-Conn.) and Steve Israel (N.Y.) introduced similar legislation in the House of Representatives.
"Early detection of breast cancer is key to survival, and women must be given every available resource to make informed health care decisions," said Senator Feinstein. "By requiring that patients be informed if they have dense tissue, this bill allows women to make potentially lifesaving choices about their care."
"Preventative screenings are critically important to early detection of breast cancer, and they help save lives," Ayotte said. "It's also important that women have the information they need to be able to make informed decisions about their health care, and our bipartisan bill would ensure that women are informed about their relative breast density after a mammogram – giving them the option to discuss additional screenings and tests with their doctor."
Approximately 40 percent of women have breast tissue categorized as dense, meaning relatively little fat and more connective and glandular tissue. Dense tissue can compromise the effectiveness of a mammogram and has also been cited as an independent risk factor for the development of breast cancer. As the American Cancer Society notes in Breast Cancer Facts and Figures, 2013-2014, "The risk of breast cancer increases with increasing breast density; women with very high density have a four to six fold increased risk of breast cancer compared to women with the least dense breasts."
Breast density is also a topic of increasing awareness outside of the United States. Canada has introduced bill C-314, an act respecting the awareness of screening among women with dense breast tissue, and the U.K. has seen the emergence of a patient advocacy campaign.
There are now 19 states with their own versions of breast inform laws, including Massachusetts, Connecticut, Texas, Virginia, New York, California, Hawaii, Maryland, Tennessee, Alabama,  Nevada, Oregon, North Carolina, Pennsylvania, New Jersey, Arizona, Minnesota, Rhode Island and Missouri.
The Breast Density Mammography and Reporting Act is supported by the American Cancer Society Cancer Action Network, Breast Cancer Fund, Susan G. Komen and Are You Dense Advocacy.
According to the Centers for Disease Control and Prevention, breast cancer is the leading cause of cancer deaths for Hispanic women and the second-leading cause of cancer deaths for white, black, Asian/pacific islander and American indian/Alaska native women.