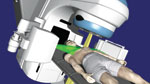 The ACR Commission on Quality and Safety is developing a dose registry to standardize dose use. Photo courtesy of Varian.
MITA is working to implement dose alerts in CT systems. Photo courtesy of Philips Healthcare.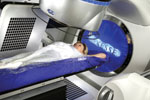 ASTRO recommends developing a national database to report linear accelerator accidents. Photo courtesy of Elekta.
Exposing patients to radiation for diagnostic imaging or radiation therapy is standard medical practice.
However, recent medical events, in which excessive radiation doses were delivered during CT examinations and radiation therapy treatments, have cast a shadow of doubt over the safety of radiation in medicine.
Overexposure
Two feature stories published in The New York Times Jan. 24 and 27, 2010, exposed several adverse events that occurred at U.S. hospitals during radiological procedures. The articles highlighted the potentially grievous consequences of radiation errors and lax regulatory climate for preventing them.
The sources of the problems in these cases were many, including improperly trained or poorly qualified personnel on the user side, buggy software, and computer input errors. In many of these cases, mistakes may have been caught had basic checking protocols been followed, had safety measures accounted for new technology, and had facilities not been understaffed.
For radiation therapy procedures, Medicare strictly requires a radiation oncologist to be present or nearby during more complex treatments, such as intensity-modulated radiation therapy (IMRT) and image-guided radiation therapy (IGRT), and within voice distance during brachytherapy. However, for general external beam radiation therapy, the rule regarding the radiation oncologist's presence at the site during treatment varies from state to state, said James Stubbs, Ph.D., chief science officer, Cianna Medical.
In one of the cases cited in The New York Times article, the physician was out of the country while a therapist treated a patient for prostate cancer. The therapist didn't realize the collimator leaves were not functioning properly, and as a result, radiation severely damaged the surrounding healthy tissue, leaving the patient incontinent.
Despite the serious risks associated with radiation use, medical physicists are not required to have a license or to register in 16 U.S. states and the District of Columbia. In eight states, technologists perform medical imaging, excluding mammography, without any credentials or educational requirements.
The articles and public concern prompted the Energy and Commerce Committee's Subcommittee on Health to call for a hearing, "Medical Radiation: An Overview of the Issues," Feb. 26, 2010, to examine the errors.
Are Rules too Lax?
In light of the reported errors, the subcommittee wanted to examine what protocols for radiation safety are in place, and how they are being implemented.
At the hearing, E. Stephen Amis, M.D., FACR, chair of the American College of Radiology (ACR) Task Force on Radiation Dose in Medicine, affirmed that ACR accreditation of diagnostic modalities and the joint ACR/ASTRO accreditation program for radiation oncology facilities can significantly reduce the odds of such events.
To tighten regulations, the Centers for Medicare and Medicaid Services (CMS) will require accreditation of all facilitates that bill for advanced imaging (MRI, CT, PET and nuclear medicine exams) under part B of the Medicare Physician Fee Schedule, effective Jan. 1, 2012. However, this requirement does not apply to hospital providers of these services and does not include radiation oncology. Dr. Amis said facility accreditation could improve the safety of radiology procedures, and he advocated for mandatory accreditation of all facilities providing advanced medical imaging and radiation therapy. In addition, Dr. Amis emphasized that expanded use of ACR appropriateness criteria can help ensure that patients get appropriate care.
The Medical Imaging & Technology Alliance (MITA) proposed the use of a "reference dose" alert to reduce medical imaging radiation. MITA also stressed the need for substantive and standardized manufacturer education for radiation therapists and technologists who operate equipment.
Several experts who testified at the hearing said the passage of the CARE bill, which stands for Consistency, Accuracy, Responsibility and Excellence in Medical Imaging and Radiation Therapy, will help ensure the quality, safety and accuracy of medical radiation procedures.
In addition to the CARE bill, Sandra Hayden, B.S., R.T. (T), vice speaker of the American Society of Radiologic Technologists (ASRT) House of Delegates and a member of the ASRT Board of Directors, also advocated for the development of a mandatory method of reporting, investigating and tracking medical radiation errors.
To this end, the American Society of Radiation Therapy (ASTRO) recommended a national database to report linear accelerator errors.
"Mistakes must be reported and investigated so others may learn from them," Hayden told the House subcommittee. "By learning how errors occur, we can implement safeguards to prevent them."
Shake Up
The medical community acknowledges there are safety concerns related to radiation exposure to patients during imaging exams, in particular when using computed tomography (CT), positron emission tomography (PET) and other nuclear medicine systems. However, it contends that the benefits of medical imaging far outweigh the risks, as long as doctors and technicians follow appropriate protocols already in place.
Still, the congressional hearing shook up the community, and was the hallway topic of discussion at the American College of Radiology annual meeting, said Robert Kuske, M.D., radiation oncologist, Arizona Breast Cancer Specialists.
"There is concern that the public could misinterpret this and view our specialty as being a dangerous one when we are saving lives and preventing cancer growth and doing so much good that if there is an overreaction to this, and patients forego an effective treatment out of fear, then it may do more harm than good," explained Dr. Kuske.
However, Dr. Kuske recognized a lot of good may come out of the hearings. "We need to shine a light on the problems so we can all learn from our mistakes, but the key is to keep it in perspective and realize there are over a million patients in the United States that receive radiation therapy annually for cancer, and that means there are an estimated 29 million treatments given per year in the United States," he said.
"So it's not surprising there are mistakes considering the sheer number of treatments given and the increasing technology that we're all using now," he added. "The key is how do we make ourselves better, if we put in quality control measures to prevent the mistakes from happening. If that happens, it's for the good, but if patients forego treatments out of fear that it's going to happen to them, that's bad."
Tighter Controls
In the wake of the congressional hearing on radiation safety, there has been an increased emphasis on the importance of quality and safety accreditation programs provided by the ACR. But these programs have been in existence for more than 15 years, pointed out Paul A. Larson, M.D., chair of the ACR Commission on Quality and Safety. The functioning ACR accreditation programs are on mammography, radiation oncology, breast ultrasound, CT, MRI, nuclear medicine, PET, stereotactic breast biopsy, and ultrasound.
Over the last few years, the ACR expanded the CT accreditation program to include radiation dose level measurements in abdomen and head exams, and other anatomical regions.
"As always, we need to do our exams based on the ALARA principle (as low as reasonably achievable) and make sure we are doing the appropriate exams," said Dr. Larson.
To verify that facilities are properly implementing safety and quality protocols, the ACR and ASTRO conduct joint accreditation surveys.
"The accreditation survey process is an onsite review of a physician and a physicist looking at the appropriateness of the care, treatment techniques, dose of radiation delivered sparing nearby critical organs and other structures," explained Patrick Conway, M.D., chair of the ACR Radiation Oncology Accreditation Committee. "The physics aspect is a review of the compliance of the linear accelerator quality assurance protocols. It's a means of educating departments on where their opportunities are to improve and to demonstrate that they are meeting the mark in terms of being accredited."
He added, "Is accreditation going to eliminate treatment errors? No. But it is a tool to assure that they are meeting guidelines and standards and heighten their awareness of detecting potential error before treatment is given. We're looking to modify, update guidelines annually."
Some of the steps the ACR/ASTRO accreditation programs will take to set standards for safety in radiation is to review guidelines and the accreditation process.
Dr. Conway also noted the committee will explore areas where some of the errors that have shown up in recent departments.
"We are looking at developing and adjusting our data collection tool so that when we do accreditation surveys, we are probing in areas of new technologies, such as HDR, brachytherapy, stereotactic radiotherapy, radiosurgery, and image-guided radiation therapy," Dr. Conway said.
The Trouble with Standards
Some of the biggest challenges with setting standards for radiation dose levels in medical imaging is determining what you can measure and what you should measure.
"In individual patients we really can't measure the precise dose they are receiving," said Dr. Larson. "We are looking at estimates. There are tremendous differences just based on the size of the patient."
"So when we are testing, that's often based on the use of phantoms, which simulate standardized patients based on given size. From our standpoint, we have to decide how many measurements are reasonable and meaningful," said Dr. Larson.
A significant obstacle to measuring dose is the limited data available on how much dose is typically used for a CT exam of chest, abdomen, head or spine across the United States.
"We are in the process of developing a dose index registry, which has been fairly slow to develop because of the way dose is reported by various vendors and made available. Data retrieval varies from vendor to vendor and even model to model within a product line. That is why there is an increasing push to standardize from both us and now with congressional involvement. I think we are going to see some great improvements," said Dr. Larson.
"It would be extremely helpful from the ACR accreditation standpoint to have data that you could look at with the distribution of dose estimates from a given exam from a large number of facilities," he said. "Then using that information for us to choose threshold values that would be pass or fail in some cases, or another perhaps lower value to be used as a goal to be at or below that level. But again, it has to be based on a standardized patient measured perhaps through a phantom."
Rule Oversights
While there are several rules in place for safety and protocols for radiological procedures, Dr. Kuske noted sometimes the rules are bypassed. To address this problem, he believes every department has to foster a culture that questions every step in radiological procedures.
"You need to have a culture of self-doubters, and every time you push that green button to treat a patient, you should ask yourself is this the right patient, is this the right side of the body, is this the right dose, does this make sense to me?" he said. "Then have another person, who is also self-doubting, double-check your procedures. Before you sign your signature that it's OK to press that green button, your signature means you have double checked on many levels, and you are certain this is going to be the correct treatment. You have to have the many-layers approach from the therapist running the machines to the physicist to the radiation oncologist, and even the nurses, who can alert you to a problem."
He added, "It really comes from leadership that enfranchises the staff so that they all work together to make sure medical mistakes are minimized."
Another contributing factor is an overworked staff. "If you have a therapist working 10 or 12 hours, there are going to be errors," said Dr. Kuske.
A national policy with brachytherapy mandates a physician has to be in voice distance of the brachytherapy unit. For routine external beam radiation therapy (EBRT), a radiation oncologist is not required to be present, however, with more advanced treatments, such as intensity modulated radiation therapy (IMRT) and image-guided radiation therapy (IGRT), a physician has to be present. Dr. Kuske noted that in the case referenced in The New York Times article, the physician was in Europe while a technician delivered IMRT on his patient.
"That is totally unacceptable. We should police ourselves with individual policies because one mistake can ruin a patient's life and a career," he said.
Manufacturers' Input
There are also several ways manufacturers can help control dose levels and set standards.
On Feb. 25, MITA announced it is working with member manufacturers on the reference dose, which will be developed for use with the CT system. The alert is designed to provide a clear indication to healthcare providers when radiation dose adjustments made for a patient's exam would result in delivering a dose higher than the facility's predetermined dose threshold for routine use. This dose threshold level at which the new alert will appear will be set by clinicians.
The association added that manufacturers will also include an additional safeguard that will allow hospitals and imaging facilities to set maximum radiation dose limits that would prevent CT scanning at higher, potentially dangerous radiation levels. This feature is designed to prevent the use of hazardous levels of radiation that could lead to burns, hair loss or other injuries.
According to Dr. Larson, one of the biggest steps manufacturers can take is to make it easy to access the dose estimate information, although there is still controversy over what is the best measurement and if there is in fact a single best measurement.
"There has been talk about the manufacturers having to set up safeguards to alert you if you are exceeding the dose estimate before the system automatically does the scan. It would be necessary to have reasonable data on which to base this reference dose. You want to make sure [the reference dose] is appropriate for each patient. Many [systems] have suggestive protocols based on patient size, and for children based on their size or age. That is very helpful."
Risks of Radiation
What adds to the challenge of setting safety standards is that the extent of the risks associated with CT, PET and other X-ray radiation remains unclear.
"There is a lot of uncertainty surrounding that question," said Dr. Larson. "Some recent papers have estimated that, for example, if you received 200 milliseverts (mSv) over five years, is it the same if you get that all in one exposure, or if you have 200 exposures of one mSv? These may not be identical, and we do not know that and perhaps [it] is not knowable."
"It's difficult to determine if a cancer is related to radiation. You would need tens of millions of people studied over 50 years to conduct a study. You can only do modeling and make estimates based on speculation of what the risk is, and a lot of that goes back to the atomic bomb data. It's very speculative."
If there is one thing the medical community agrees on, said Dr. Larson, it is that "we have to assume there is some risk, and we have to keep the radiation dose as low as we can. At the same time we recognize there are great benefits from imaging, and we don't want to not do imaging or do it poorly because we are afraid of a small risk of appropriately used radiation. More people would be harmed by not getting the studies and not getting the diagnosis made, and not getting the treatment."
According to Dr. Larson, "there is a moral imperative to use radiation appropriately. And the accreditation programs can help provide a check that we are using radiation appropriately, particularly in the CT area where we do have the three mandated exams and there are pass fail levels of that."
What most facilities discover when they check their dose measurements while in the accreditation program, is they find they are already doing an excellent job, said Dr. Larson.
"If not," he added, "hopefully they will apply a more appropriate dose to their machines, and that's obviously a benefit."
References:
1. Bogdanich, W., and Ruiz, R. "Radiation Bills Raise Question of Supervision," New York Times. Feb. 25, 2010.