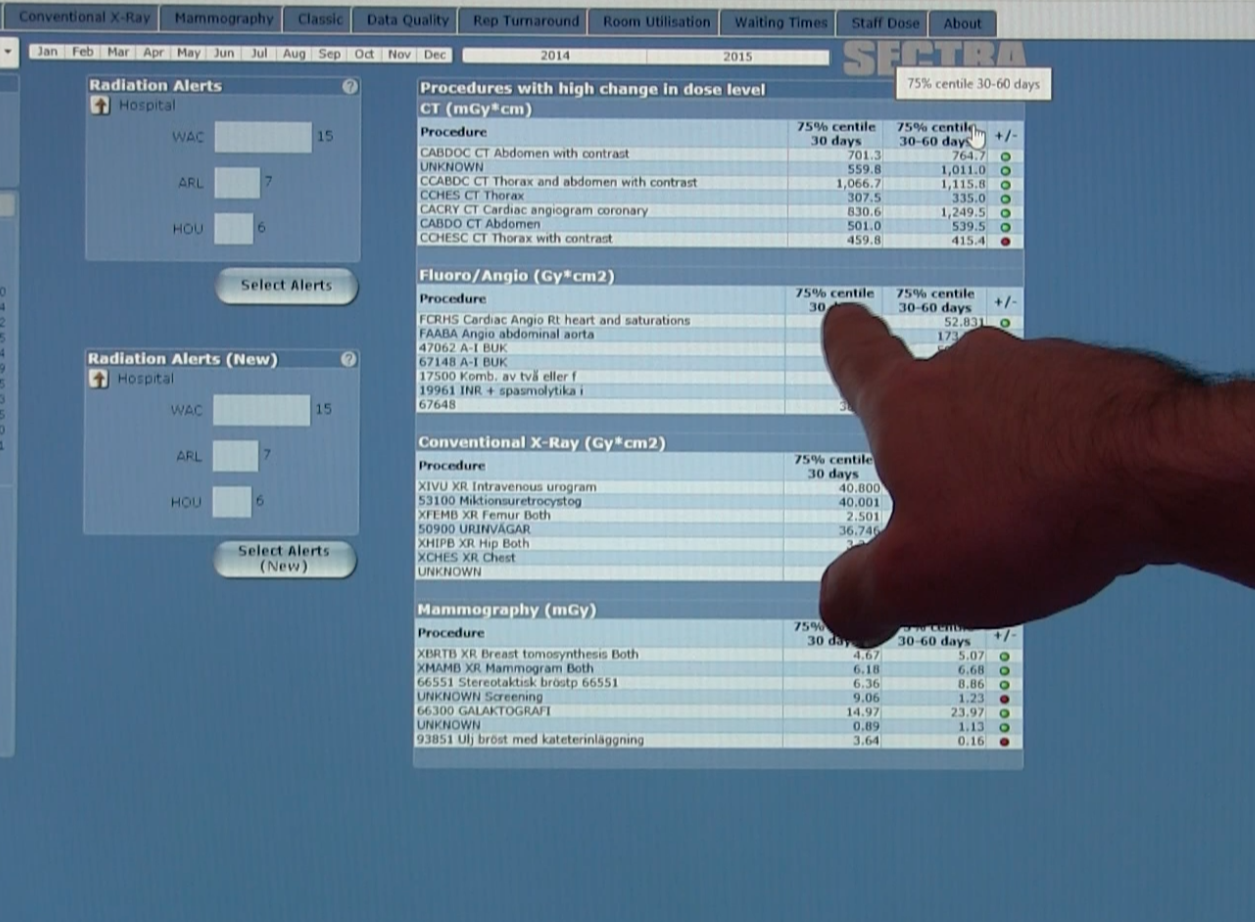 An example of radiation dose monitoring software from Sectra, which offers robust analytics to look at dose by modlaity, exam type, specific scanners and operators. The software also can red flag dose outliers for a closer look.
ITN Associate Editor Jeff Zagoudis spoke with Richard Morin, Ph.D., Brooks-Hollern Professor of Medical Physics, Mayo Clinic, Jacksonville, Fla., and co-chair of the Image Wisely committee, about the latest efforts in computed tomography (CT) dose reduction: 
Q: What are the latest standards related to CT radiation dose?
A: Standards is a bit of a tricky word, because there is no real national legislation with regard to CT imaging. The use of the equipment is governed by states and so it varies from state to state. 
The most recent issue is XR-29 from the Medical Imaging and Technology Alliance (MITA). They had a number of things that vendors were going to have to have in place by this year — such as structured dose reporting — so they captured dose indices such as volume CT dose index (CTDIvol) and dose length product (DLP). They also must have alerts if the scan, the way it is set up, is going to exceed some threshold they've established. 
Q: How are dose registries like the American College of Radiology Dose Index Registry impacting dose reduction efforts? 
A: The idea is, once set up, the dose indices information is automatically fed to the database and then quarterly (or more often), facilities get a report and can compare their exams with everybody else. This has been extremely useful, and there have been papers written that have shown the typical dose for scans have gone down. Some of them have gone down nationally by as much as a factor of four. 
Some places are seeing that if they have four or five CT scanners and one of them is a little bit older, those dose indices, when compared with the registry, are sometimes higher, like over the 75th percentile. So some institutions are using that as an argument to go to their administration. And that does become a persuasive argument to a lot of administrations to say, "OK then, we need a new scanner." 
Q: Are more institutions buying new CT scanners or upgrading existing systems? 
A: The feedback that we have had is there is a mix of both. Some vendors do have an upgrade pathway that could swap out a detector or change things with regard to the reconstruction algorithm, for instance. 
Also it might vary because some places, if they're large enough and do certain scans on certain scanners, sometimes you don't need quite the spatial or contrast resolution that you do for other exams. This is particularly true for places that follow chronic patients, such as oncology patients; when you're doing the follow-up on those cases, you already know there's a tumor there because it's been diagnosed. 
I think the other thing is that many places we've heard from — including mine — have a regular standard meeting to look at their protocols, see if there are any above the 70th percentile, and set up a plan that we're going to try some other changes and techniques. They will then address this project with a team. 
Q: How often do you have these dose meetings and how do you decide who is involved? 
A: Originally our meeting was monthly, but now we do it on a quarterly basis. You want to have enough scans done over that period of time to be significant. There are some scans we don't do as frequently as others, so it kind of depends which one you're looking at. 
There should be a radiologist in the area of the exam you want to take a look at. We just have one radiologist, but we have seen as many as three. The physicist is bringing the knowledge of the physics and what parameters affect dose and image quality. You want to have technologists, who are important because physicists might say, "OK, the way to do this is that we'll reduce the maximum mA that the machine can drive down to this number."  You might hear the technologist say, "Well, on that scanner you can't do that. You have to do this," because they understand the software. You need to have these three groups together because they all bring different things to the table. 
Q: What are some of the key technologies being used to manage dose? 
A: Vendors are using different materials for detectors. The quality of the materials allows them to capture more X-rays as they come through the patient, so you don't need as many entering the patient because you're more efficient on the back end. There also are electronic things that they do in terms of combining the data acquisition.
On the hardware side, there are two big things that are important. One is the modulation of the beam as it goes around the patient. Some of the vendors now are continuously monitoring the radiation that gets through because the detector is a radiation detector, so if you take a look at it that way it tells you the amount of radiation that's getting through, and so based upon that in real-time it modulates the beam. 
On the software side there are several things. One is the way in which the projection data is processed to eliminate discontinuities, and that helps take care of artifacts. There are also different reconstruction algorithms, and the hottest one right now is iterative reconstruction because they can use less radiation and still get a high-enough quality image for interpreting. There is also denoising associated with that. 
Overall, all of the vendors have less radiation now than they did 5-10 years ago. 
Q: Where are we at with dose reporting standards?
A: It's a controversial issue. California and a couple other states mandate dose indices be put into radiology reports. Well, No. 1, the radiology report, in some cases, is barely read by the clinician because some like to look at the images themselves and they don't scan those reports that carefully. Secondly, if he or she sees at the bottom of the report "the CTDIvol was this and the DLP was this," they wouldn't know what that has to do with anything. 
It is hard to understand how just putting it in the report is going to change what happens at that institution. The people who need to know how much radiation they're using are the people who are doing the exam. Either that or there needs to be a complete model change where the referring physician just gives the signs and symptoms and lets the radiologist — the expert in imaging — make the decision about what exam to do and what modality to use. That would be a major, major shift in the way in which work is done. 
The fact that standards like XR-29 make it mandatory to produce a dose report, that's helpful. By having the data on dose indices, you now have an opportunity for people to participate in registries, for a consultation with physicists and radiologists so at least they know what's going on now. 
Related ITN Content for CT System Innovations
Access the most current version of the ITN CT Systems Comparison Chart (www.itnonline.com/content/computed-tomography-systems). This will require a login, but it is free and only takes a minute to complete the form.
What to Consider When Buying a New CT Scanner
VIDEO: What to Consider When Comparing 64-slice to Higher Slice CT Systems
RSNA Technology Report 2015: Computed Tomography
Technology Improvements in Current Generation CT Systems
VIDEO: The Future of Cardiac CT in the Next Decade
Discussion on CT Dose Reduction
Key Cardiac CT News and Trends From SCCT 2016
Related Radiation Dose Management Content
Read the article "Regulatory Requirements The Impact on Cardiac Imaging and Dose Management."
VIDEO: Eye-tracking For Dose Reduction in the Cath Lab
VIDEO: Radiation Dose Monitoring in Medical Imaging
Read the article "States Making A Difference in Radiation Safety."
---
If you enjoy this content, please share it with a colleague