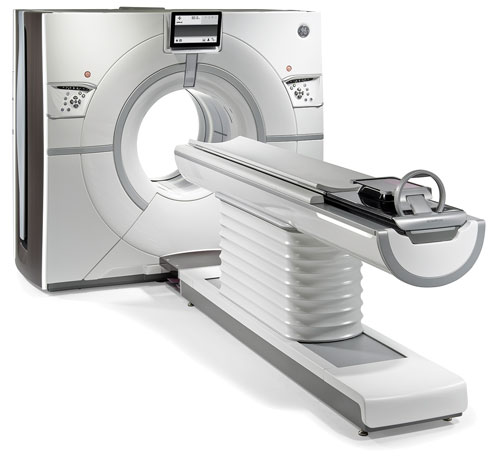 GE's Revolution SE is targeted specifically for use in the emergency department.
Computed tomography (CT) has evolved significantly since its debut in the 1970s. While the basic principles have stayed the same, manufacturers have been able to expand on these principles to offer enhanced performance and image quality, as ITN contributing editor Greg Freiherr discovered during the 2015 Radiological Society of North America (RSNA) annual meeting, Nov. 29-Dec. 3 in Chicago. Freiherr found several key themes as he walked the show floor at McCormick Place. A feature video, available on itnTV (http://bit.ly/1mJaVy3), shows what leading vendors are offering.
Higher Efficiency at Lower Cost
Current healthcare reform efforts have radiology departments trying to make the most of their current systems to increase productivity while keeping costs down. In some cases, this may mean they are not able to purchase the most up-to-date, high-end scanners that boast the premium features. Vendors are recognizing this, however, and working to give their customers some of those same capabilities at a lower price point. 
Toshiba embraced this concept with the new Aquilion Lightning CT system, introduced at RSNA. The 16-detector, 32-slice scanner packs numerous premium features into a more condensed gantry that can occupy a smaller exam room. Aquilion Lightning includes Toshiba's Adaptive Iterative Dose Reduction (AIDR) 3-D and SEMAR metal artifact reduction technologies. It can also accommodate larger patients thanks to a 78 cm bore and a 660 lb-capacity couch. "It gives you all the same dose reduction that premium-tier scanners bring,"  Tim Nicholson, senior manager, CT market development, told Freiherr in the itnTV video.
Hitachi showcased high-efficiency CT scanners for both the entry-level and mid-tier markets at RSNA with the Supria and the Scenaria SE, respectively. The Supria is a 16-slice system designed to fit in an exam room as small as 200 sq ft; at the same time, it features a 500 lb-capacity table and a 75 cm bore. 
The Scenaria SE is offered in a 64- or 128-slice configuration, and was envisioned as a high-volume workhorse for the mid-tier market segment. Mark Silverman, CT marketing director for Hitachi, told itnTV the company increased image reconstruction speed by 40 percent, and it can now process up to 50 images per second. Multiplanar reconstruction (MPR) speed was boosted by automating several normal operator functions, and Hitachi added an instant preview reconnaissance mode. All Scenaria SE models are compliant with the MITA XR-29 Smart Dose standard.
Advances in Spectral Imaging 
Spectral CT is a relatively new concept in diagnostic imaging, allowing physicians to use CT scanning to assess the material composition of the target area. This can be accomplished at the scanner or in the course of post-processing; both methods were on display at RSNA 2015.
Siemens was one of the first to introduce spectral imaging, which it calls dual-beam CT, with the use of two independent X-ray tubes scanning at different energies and arriving at two separate detectors. For those healthcare organizations where the cost of a dual-source CT scanner is untenable, the company introduced a single-source configuration on the Somatom Definition Edge, unveiled at RSNA 2014 and highlighted again this year. Instead of using two alternating-energy scanners, the single detector splits the X-ray beam into two energies feeding into a single detector. 
Philips was the first to introduce single-source spectral imaging when it debuted the IQon Spectral CT scanner at RSNA 2013. The X-ray beam is filtered through the NanoPanel Prism detector to create the high- and low-energy beams that combine to generate the original grayscale image. Spectral analysis is accomplished in the picture archiving and communication system (PACS) using the Magic Glass visualization tool, which upon activation will generate the spectral data side-by-side with the original grayscale image. 
"It's a fast, lightweight viewer allowing for rapid, interactive problem-solving during routine scans on PACS," Sondra Miller, head of strategy, CT, for Philips, told itnTV. "It's easy to use, requires no training, and brings and enhances spectral CT to those people who have limited experience with it." 
Tackling New Challenges with CT
The continuing evolution of CT technology is allowing manufacturers to offer new solutions for handling some of the most challenging applications and patients. 
One area where CT is seeing increased use is in the emergency department (ED): Up to 37 percent of a hospital's CT scans are done in the ED, where quick scans and interpretation are critical to deliver immediate care, Scott Schubert, general manager, global premium CT for GE Healthcare, told itnTV. For this reason, GE expanded its Revolution CT product family with the Revolution SE, targeted specifically for use in the emergency department. Sporting an 8 cm aperture, the system can complete a full head-to-toe scan in under
5 seconds, helping decrease turnaround time
and increasing patient throughput. 
GE also highlighted the Revolution family's enhanced capabilities for cardiac imaging. For example, capturing a high-quality image can be difficult on patients with a high or variable heart rate. The 512-slice Revolution, however, is able to freeze the motion of the heart during acquisition, allowing clear visualization of coronary plaque as well as myocardial perfusion. 
Carestream is developing a cone beam CT system designed specifically to image the extremities that is small enough to fit in a physician's office, an imaging center or a hospital. The central premise is to increase workflow, generate more accurate patient assessment and reduce the time from diagnosis to treatment. 
The system, which is still deemed experimental, is uniquely suited to conduct full weight-bearing exams of the lower extremities, with a built-in door and support arms for easy patient positioning during the 25-second acquisition. The bore can be positioned automatically or manually, including the ability to do seated exams. 
The system addresses one of the other major challenges with orthopedic imaging. "If you have any kind of metal from a brace or a total knee replacement, we're able to take the artifacts from the metal out of the image such that the anatomy can be seen much better," James Burns, chief technology officer X-ray and ultrasound for Carestream, told itnTV.   
A new CT innovation is also being employed to reduce the need for breast compression during mammography, a procedural aspect greatly disliked by patients. Koning Corp. offers a novel solution to the problem with its Koning Breast CT (KBCT) system, which does a full 360-degree rotation around the breast to perform isotropic imaging without compression; this is decidedly different than tomosynthesis, which performs a limited sweep and thus requires compression, according to David Georges, senior vice president, sales and marketing, for Koning Corp. Radiation dose for the procedure is within the range accepted for diagnostic mammography. 
"This is true multiplanar reconstruction with 3-D reformatting," Georges told itnTV. "If we understand on the mammogram that there's an obvious area of concern, when we put 360-degree isotropic imaging into play, we're able to identify that not only does that one area of concern show up, but behind that you'll see a second diseased area that the radiologist would have clearly missed if he only had the reference to that one mammogram." 
The system has been cleared by the U.S. Food and Drug Administration (FDA) as a diagnostic imaging tool. Koning Corp. plans to submit for a screening indication pending clinical trials. 
The makers of CT equipment are stepping off the trodden path and taking the medical community with them. Ahead is a world of changing workflows, decreasing times from diagnosis to treatment and improving patient care.  itn
Editor's note: Watch the video "RSNA Technology Report 2015: Computed Tomography" for additional information on advances in computed tomgraphy at http://bit.ly/1mJaVy3.
Related ITN Content for CT System Innovations
Access the most current version of the ITN CT Systems Comparison Chart (www.itnonline.com/content/computed-tomography-systems). This will require a login, but it is free and only takes a minute to complete the form.
What to Consider When Buying a New CT Scanner
VIDEO: What to Consider When Comparing 64-slice to Higher Slice CT Systems
RSNA Technology Report 2015: Computed Tomography
Technology Improvements in Current Generation CT Systems
VIDEO: The Future of Cardiac CT in the Next Decade
Discussion on CT Dose Reduction
---
If you enjoy this content, please share it with a colleague