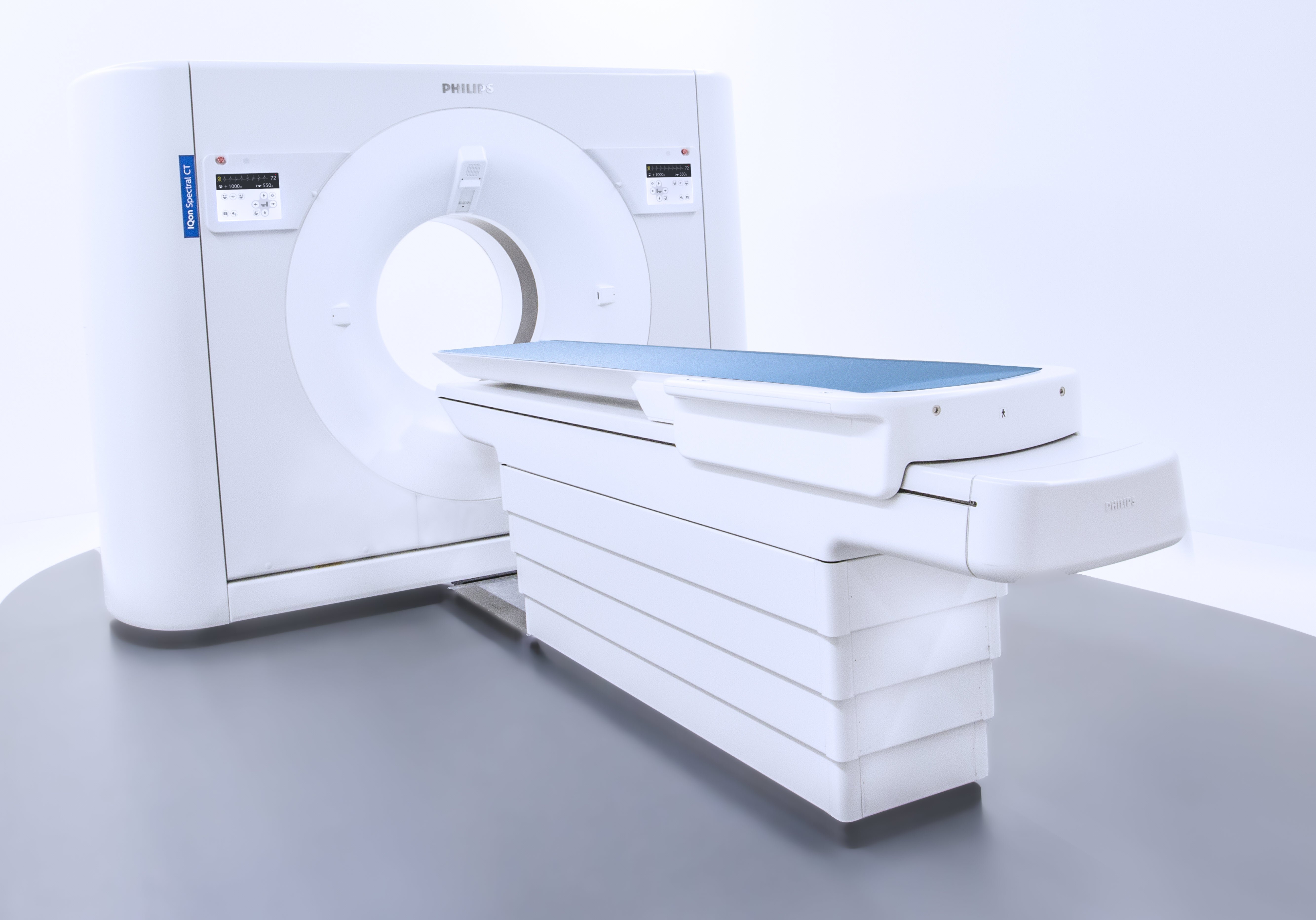 Image courtesy of Philips Healthcare
As hospitals begin replacing their first-generation 64-slice computed tomography (CT) scanners after a decade of use, there are several considerations evaluation teams should think about when looking at the newer-generation scanners. Chief among these is the idea that more slices makes for a better scanner — which CT experts say is not necessarily the case, and there are costs versus benefits to consider when looking at high-slice systems.
"The way you need to look at this is that the CT scanner is a tool, and you need the right tool for the right job, so it will depend on the hospital and what they plan to use it for," said Claudio Smuclovisky, M.D., FACC, FSCCT, director of South Florida Imaging Cardiovascular Institute, Holy Cross Hospital, Ft. Lauderdale, Fla., and an expert in cardiovascular CT imaging systems.
"CT is on the precipice and is really starting to accelerate in growth," said Leslee Shaw, Ph.D, FACC, FASNC, FAHA, co-director of the Emory Clinical Cardiovascular Research Institute. "If you blink your eyes, you have missed several very prominent, randomized trials that support the utility of CT … We have more than just the pretty picture, we have seen dramatic growth in the technical aspects of CT with better image quality, better resolution, and we can go on and on."  
Coverage Area Versus Slices
Smuclovisky said there is a misunderstanding that more slices on a CT scanner means better images. He said a better measure is actually detector area coverage, which is the measurement of how much of the anatomy is being imaged at once. The more image area that can be covered determines if stitching several sets of images is needed to image an entire organ. This can lead to stitching artifacts and may require more time to reconstruct and review images, he said. This is especially true with movement from the heart or lungs. 
Detector area coverage can vary between scanners with the same number of slices, because Smuclovisky explained the size of the detectors vary on each machine. In the case of 64-slice systems, he said they can range between 19.5 to 40 mm (4 cm) for detector area coverage. He said a system is considered a wide-area detector if it has 8 cm coverage or greater. 
Wide detector systems tend to have a higher sensitivity, offer better iterative reconstruction software to improve both contrast and spatial resolutions, and they tend to have more powerful workstations, Smuclovisky explained.  
"Most physicians don't have detailed knowledge of the physics or the technology that is involved. So, a slice war started 10 years ago because people believed that if you had more slices, you would have better quality images. But, there are other components when you are doing high-end CT imaging. I tell people it is like looking at an airplane, where for the airplane to fly, it is not just how big the wings or fuselage are, it is the sum of all of its components. This includes the engines and the experience of the pilots — everything needs to fit together nicely and work together in a workflow so that plane can fly. So, it is not just about the slices, it is about many other components that go into a
CT scanner."
Rotation Speed
One key feature of scanners is the rotation speed of the gantry, which translates into faster temporal resolution to reduce motion blur, which is especially important with the heart and areas near the lungs. Today, rotational speed is under 300 milliseconds in some of the newer scanners, but it was 400-500 with older-generation systems. Smuclovisky said the slower speeds of the older systems meant that even a first-generation 320-slice scanner with a rotation rate of 500 milliseconds did not capture the best possible images because of motion blurring. 
Reducing Dose 
There have been a number of studies showing the rapid increase in the public's radiation exposure mainly due to increased use of medical imaging, particularly CT. A handful of high-profile cases in mainstream media about radiation poisoning and burns due to extremely high CT doses have also made dose a major concern. Vendors have responded by introducing technologies to greatly reduce CT dose. 
Cardiac CT exams have historically had the highest dose of any CT exam performed, with average doses of 15 millisievert (mSv) or higher. These scans can now be performed with doses of 1 mSv or less on the latest equipment in some patients. "But in patients who are symptomatic for cardiac disease, I don't think it is wise to compromise image quality for dose," Smuclovisky said. From that perspective, he said it might be more reasonable to expect average doses below 5 mSv. His center has an average dose of about 3 mSv for cardiac exams. Shaw said a target dose range for cardiac CT with the newest scanners should be around 3 mSv or below. 
Image Resolution is Improving
Smuclovisky said detailed images of smaller anatomical structures are dependent on the spatial resolution of the CT system being used. Today, the spatial resolution of most scanners is about 0.50, but vendors are working on detector/software combinations to reduce this. At SCCT 2016, Toshiba showed images from a prototype scanner that has a spatial resolution of 0.25. At a 0.50 resolution, radiologists can tell there is a stent in a vessel, but it is often very blurry. With the 0.25 images, individual stent struts are visible and a reader can tell the specific vendor's stent used and may be able to see broken stent struts. 
The type of iterative reconstruction software is also important. Smuclovisky said the latest model-based iterative reconstruction software can help boost both spatial resolution and the contrast.
Related ITN Content for CT System Innovations
Access the most current version of the ITN CT Systems Comparison Chart (www.itnonline.com/content/computed-tomography-systems). This will require a login, but it is free and only takes a minute to complete the form.
What to Consider When Buying a New CT Scanner
VIDEO: What to Consider When Comparing 64-slice to Higher Slice CT Systems
RSNA Technology Report 2015: Computed Tomography
Technology Improvements in Current Generation CT Systems
VIDEO: The Future of Cardiac CT in the Next Decade
Discussion on CT Dose Reduction
Key Cardiac CT News and Trends From SCCT 2016