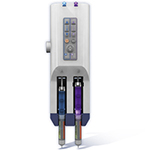 The global contrast media injectors market is expected to reach $1.4 billion by 2025, growing at a compound annual growth rate (CAGR) of 5.8 percent, according to a new report by Grand View Research, Inc., a research firm based in San Francisco. Rising demand for minimally invasive surgical procedures is a major factor expected to boost the market during the forecast period. These devices assist surgeons in accurate insertion of contrast agents with reduced human errors, thus increasing the accuracy and efficiency of surgical procedures. They play a crucial role in intra-operative computed tomography (iCT), intra-operative magnetic resonance imaging (iMRI) and interventional cardiology. Availability of advanced injector systems for diagnosis and intra-operative imaging has boosted adoption of these systems.
Technological advancements, such as automated contrast media injectors and double-head injectors, are also among major factors supporting the growth of the market. Automated contrast media injectors provide improved patient safety, accuracy and enhance image quality. Also, double-head injectors allow a large and rapid initial bolus of contrast, which is required in several imaging procedures.
Minimally invasive surgical procedures provide various advantages, such as smaller incisions, rapid wound healing, shorter hospital stays, less pain and minor surgical wounds. Minimally invasive surgical procedures with contrast media injectors deliver high-quality real-time imaging of the surgical site, and ensure that surgeons are treating the appropriate area. Thus, adoption of these products for minimally invasive surgeries is rising gradually and expected to fuel growth.
Increase in prevalence of several chronic diseases, such as cancer, as well as cardiac, neurological and orthopedic diseases is expected to boost the market. According to the American Cancer Society (ACS), an estimated 1.7 million new cancer cases were diagnosed in 2017 in the U.S. The ACS also stated that 28.4 million adults were diagnosed with heart disease in 2015. Thus, there is growing demand for advanced products for diagnosis and treatment of chronic diseases, which is projected to drive growth.
CT Injector Insights
In 2016, the CT injector systems segment was the largest revenue-generating segment of the market due to widespread application of these systems in cancer surgery, neurosurgery, cardiovascular surgery and spinal procedures. In addition, high adoption of minimally invasive surgeries is expected to boost the market.
The rising prevalence of chronic diseases, including cancer, neurological disorders and arthritis, is expected to propel demand for this product segment. According to the World Health Organization (WHO), cancer is the second largest cause of death, and around 14 million new cases of cancer were diagnosed worldwide in 2012.
The MRI injector systems segment is expected to exhibit the highest growth over the study period owing to technological advancements such as 3-D isotropic imaging, high efficiency in tumor detection, higher quality visualization and exquisite quality imaging.
Type Insights
In 2016, the single-head injectors segment accounted for the largest revenue share of the market because it is most widely used for angiography, CT and MRI. In addition, the low price of these products as compared to other systems is expected to drive demand in emerging economies, such as China, India and Brazil. The launch of new products is expected to boost this segment.
The syringeless injectors segment is expected to grow with the highest CAGR during the forecast period owing to its advantages, such as user-friendliness, high efficiency and minimum wastage of contrast media. Several leading players are focusing on development and launching of syringeless injectors, which is projected to drive the growth of the segment.
Availability of well-established healthcare infrastructure and high healthcare expenditure in developed countries, including the U.S., Japan, France, Germany and the U.K., is expected to boost the market. According to the Centers for Medicare and Medicaid Services, U.S. healthcare expenditure was around $3.2 trillion in 2015 and accounted for approximately 17.8 percent of the gross domestic product. These factors are expected to support market growth.
Application Insights
The radiology segment held the largest share in the market because it is primarily for diagnosis of various diseases including heart conditions, breast cancer, colon cancer, broken bones, gastrointestinal conditions and blood clots. In addition, this segment is projected to grow at a lucrative rate owing to rise in demand for noninvasive medical imaging techniques.
The U.S., Japan, Germany, U.K. and France are estimated to account for the maximum usage of contrast media injectors. Rise in the burden of several chronic diseases, growing investments by governments to improve healthcare infrastructure and availability of expert radiologists in these countries is projected to contribute toward growth. 
Grand View Research is a U.S.-based market research and consulting company, registered in the State of California and headquartered in San Francisco. The company provides syndicated research reports, customized research reports and consulting services. Grand View Research database is used by the world's renowned academic institutions and Fortune 500 companies to understand global and regional business environment.
---
If you enjoy this content, please share it with a colleague