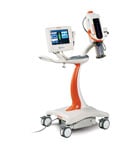 The new Mark 7 Arterion angiographic injector is small, light-weigh and easy to use.
Medical devices employed for injecting radio-opaque contrast media into the body to enhance the visibility of tissues for a medical imaging procedure are known as contrast injectors. Over the years, with ever-increasing technological sophistication, these contrast injectors have evolved from manual injectors having manifolds with stop-cocks to automated versions, providing added accuracy and advantages. These automated versions are known as autoinjectors. Autoinjectors are capable of controlling the amount of contrast media injected, utilization rate, and are also able to increase dosage to keep pace with fast medical imaging scanners as well as alert the physician of potential hazards, such as air embolisms or extravasations.
The average price range for these injectors is almost in the same range internationally, however, U.S. contrast injectors have a lower price in the range of $10,400 to $13,000.
Introduction and Market Trends
The market trends observed in the contrast injector market in Europe are quite varied and product specific. The peculiar characteristics seen for any particular type of injector need not affect the other injectors as explained briefly below. 
CT Injectors – Contrast injectors that are used for injecting computed tomography (CT) iodine-based contrast agents are known as CT injectors. Europe has experienced an immense increase in the number of imaging modalities. This is due to considerable growth in the number of imaging procedures. Awareness about healthcare has always been on the rise and thus the number of CT scanner installations has also increased. Hence, the market for CT contrast autoinjector in Europe is relatively stable. The rise in the relative number of injectors can be accounted for the rise in scanners and procedures. 
Another trend observed in the European market is the end-user preference toward combination systems capable of multiple applications. These injectors are capable of injecting contrast media for varying imaging procedures. For example, the same autoinjector could be used for CT and angiographic procedures.  This helps the end-user in investing in only a single product rather than a wide range of products for each modality. Combination systems offer benefits in terms of price; however it also becomes a challenge for manufacturers since it can also reduce the product sales of the stand-alone autoinjectors. The disadvantage of combination systems is overlapping of procedures in departments, which could be a problem.
Cardiovascular/Angiography Injectors – They form an integral part of the cardiac imaging and analysis system and can be combined with an injector reporting system, making them interoperable with software that connects the modality for efficient high-quality results and diagnosis. 
The market for these injectors shows a slower amount of growth in comparison to the CT and MR injectors market. In fact, many physicians still feel that manual injectors are the best for cardiac or angiography injections, as these are procedures that require greater precision as well as experienced personnel. 
MR Injectors – Magnetic resonance imaging (MRI) is considered amongst the safest medical imaging procedures as it does not involve the use of any harmful imaging agents. The MR contrast injector market in Europe is directly proportional to the relative number of modality installations. Hence, the MR autoinjector market is relatively stable, but has a slightly lower growth rate in comparison to the CT injector market.  
However, the MR injector market is yet to be revolutionized by some MR-exclusive features, unlike the CT autoinjector market. Currently, there are only features that are generic. However, now end-user requirements have changed and more features are being demanded. This is the primary reason why the cost of the injector has slightly increased. Like CT injectors, the need for software module incorporation could also be expected in newer generations of contrast injectors, thereby making the system completely digital and simplifying workflow integration. Another feature that could be expected is the introduction of combination systems similar to CT injectors where the same syringe can be used for several procedures.
Ultrasound Injectors – The ultrasound injector market behaves in a very different manner in comparison to the other contrast injectors. This is owing to the niche market segment of the ultrasound imaging market and also that the sale of an ultrasound unit does not equate to the sale of an ultrasound injector. An ultrasound machine could be purchased by any department that might not require an injection for the procedure.  The market for the ultrasound autoinjectors is smallest among all the segments. These contrast agents must be delivered precisely for best results, and many physicians prefer to do it manually. Automated injections are only used in contrast enhanced ultrasounds where the injector is generally bundled with modality and given with interoperable options.
Technology Trends
The components involved in the construction of contrast injectors are much fewer than those involved in the imaging modalities. Sophistication is brought about in contrast injectors by means of putting liquid crystal display (LCD) screens with touch-sensitive user interfaces that provide a clear readout of the patients' vital signs. A major priority currently for vendors is to incorporate software modules into their injectors that allow for better interface between injectors and imaging modality.
Another trend slowly taking form in the United States that can be adopted in the European market is the integration of healthcare IT systems into contrast injectors. This would involve connecting power contrast injectors with the hospital information system (HIS) or the electronic medical record (EMR). There are several advantages offered by doing the same, including:
Reduced Human Error – Contrast injectors that are connected to the hospital's IT systems directly access the patient data from the HIS or EMR systems and adjust the dose accordingly. However, non-IT-enabled systems would still need to be connected to the imaging modalities by a human operator.  The chance of an error could arise in this instance since a wrong protocol could be fed into the system at this stage. Although contrast injectors with software modules that connect injectors to scanners do provide some of the vital signs of the patient, the historical patient data cannot be displayed.  This is possible in IT-enabled contrast injectors that can pull data from the EMR or HIS database. The patient's reaction to certain contrast agents can be tracked and any medical condition, such as diabetes, can be provided, leading to increased patient safety. 
Some of the leading market players, such as Bracco Diagnostics and Medrad (Bayer), provide IT-enabled injector solutions via IRiSCT Decision Support System and Personalized Patient Proctocol Technology (P3T).
Personalized Patient Care and Cost Savings – IT-enabled solutions not only track patients' current conditions, but can also alert the physician for any adverse reactions, such as extravasations or allergic reactions. The solutions provided by Bracco Diagnostics via EmpowerMR and IRiSCT possess detection mechanisms that allow the injector to detect if it has accidentally punctured soft tissue and stops the injection to prevent damage. 
Costs savings offered by the use of these systems is possible as they automatically archive injection information, such as contrast and syringe usage, so radiology departments can more effectively identify and reduce waste.
Conclusion
The injector market for contrast media in Europe is the largest in Germany with a high number of imaging modalities and a good healthcare infrastructure. Other nations that follow Germany in the autoinjector market include France and the United Kingdom. With respect to technology trends observed, manufacturers are trying to provide better workflow integration between imaging equipment and injector reporting software modules. Many have also understood the importance of integrating their offerings with the hospital's IT infrastructure.  
Editor's note: Rohan Panda is a Frost & Sullivan Healthcare research associate focusing on healthcare IT and medical imaging.  
About Frost & Sullivan
Frost & Sullivan, the Growth Partnership Company, enables clients to accelerate growth and achieve best-in-class positions in growth, innovation and implementation. To join the Gowth Partnership, visit www.frost.com.
---
If you enjoy this content, please share it with a colleague