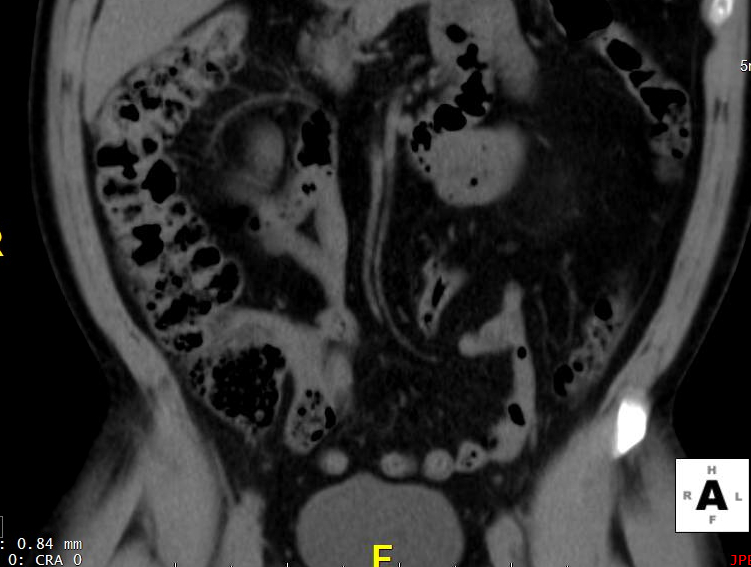 March 29, 2013 — As Americans celebrate National Colorectal Cancer Awareness Month (March), the Colon Cancer Alliance, Colontown — a survivor/patient support group for colorectal disease, including cancer — and the American College of Radiology (ACR) call on Congress to pass the Computed Tomography (CT) Colonography Screening for Colorectal Cancer Act (H.R. 991). Introduced recently by Reps. Ralph Hall (TX-04) and Danny Davis (D-IL), H.R. 991 would require Medicare to cover beneficiaries for CT colonography — otherwise known as virtual colonoscopy.
"Colorectal cancer is the third leading cause of death from cancer in the U.S. However, thousands of Americans, particularly minorities, who are at risk for developing the disease, forego screening every year. Increasing screening compliance is vitally important in the fight against colorectal cancer and virtual colonoscopy can attract those who can't or won't choose other forms of screening. I urge Congress to act now and support passage of H.R. 991," said Andrew Spiegel, chief executive officer of the Colon Cancer Alliance.
The Centers for Disease Control and Prevention estimate that up to 30,000 colorectal cancer deaths each year could be prevented if all those ages 50 and older were screened regularly. Studies at the Walter Reed National Military Medical Center in Bethesda, Md., and Naval Medical Center in San Diego, Calif., have shown that the availability of the virtual exam significantly boosted colorectal cancer screening rates — a vital step to saving more lives.
"A colorectal cancer survivor myself, I am a strong advocate for the early detection, effective treatment and prevention of this terrible disease. The fact that many of America's seniors don't have access to virtual colonoscopy is upsetting. Access to virtual colonoscopy can boost screening rates and ultimately save lives. I strongly urge Congress to pass H.R. 991. Many lives may depend on it," said Erika Hanson Brown, "mayor" of Colontown.
Virtual colonoscopy uses high-tech, low-dose CT to produce three-dimensional, moving images of the colon. The virtual exam is far less invasive than standard colonoscopy and does not require sedation. Afterward, people can go back to daily activities. The test is also safer for those Americans who are frail and may have other medical problems.
"Virtual colonoscopy is endorsed by the American Cancer Society as a recommended screening exam and covered by major insurers, including CIGNA, UnitedHealthcare and many Blue Cross Blue Shield plans. President Obama chose to have a virtual colonoscopy in his physical exam as commander-in-chief. Congress needs to pass H.R. 991 and cover seniors for this life-saving exam," said Judy Yee, M.D., chair of the American College of Radiology Colon Cancer Committee.
For more information: http://bit.ly/14CSPgA