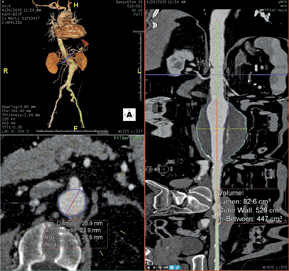 A big trend in advanced visualization is the creation of 3-D models from CT and MRI scans to help guide surgical and minimally invasive procedures. TeraRecon offers stent graft planning software to plan endovascular treatment of abdominal aortic aneurisms.
Historically, advanced visualization systems have been rigid, "one size fits all" products. However, recent developments have enabled fully customizable protocols and user interfaces, ensuring the system adapts to each user's workflow. Newer software also enables multi-modality applications that can manipulate computed tomography (CT), magnetic resonance imaging (MRI), positron emission tomography (PET) and other DICOM modalities. This has enabled easier, faster workflows while at the same time reducing the hardware footprint. Web and cloud-based software applications and processing are also making advanced visualization accessible to users anywhere in a hospital, healthcare system, or even at home or when they are on the road.
In recent years, advanced visualization has also become more accessible and prevalent. What used to be a niche technology, available only on dedicated and expensive workstations, has become very common. The software is now included in most image management systems, from workstations to multi-site picture archiving and communications systems (PACS).
Improvements in hardware performance, along with the increase of Internet speed, have allowed more users access to advanced visualization tools from remote locations outside the radiology department.
Advanced visualization software is also moving into more specialized applications requiring very unique post-processing. This includes apps for liver analysis, chronic obstructive pulmonary disease (COPD), oncology management, radiation treatment and surgical planning. It's also expected that users will start requiring vendors to provide specific applications, with U.S. Food and Drug Administration (FDA) clearances reflecting the ability to achieve reproducible and accurate results.
Mobile Access to Imaging
Over the past year, manufacturers say there has been a noticeable trend in the adoption of tablets computers (such as the iPad) and smartphones by the medical community. Physicians are using their tablets and mobile devices to review studies and share them with their patients and referring physicians.
This trend is expected to increase over time and will change the way physicians are reading the studies. They are moving away from the reading room to the patient's bedside, and from the physician's office and home, said Yael Gross, administration manager, Shina Systems Ltd.
3-D Surgical Modeling
A big trend in advanced visualization is the creation of 3-D models from CT and MRI scans to help guide surgical or minimally invasive procedures, said Rik Primo, director of marketing and strategic relationships, image and knowledge management, Siemens Healthcare. These models are created in one of three ways: doctors doing the work themselves because they are hands-on; a 3-D lab creates the images and sends them to the doctor or radiology; or 3-D reconstructions are outsourced and transmitted via the Web. Primo said Partners Healthcare is among those to provide outsourced 3-D services for other healthcare institutions.
Analysis of Motion
A major innovation in the past year has been the development of 4-D functional analysis of CT data sets of 18,000 or more slices using deformable registration. This software allows interrogation of organs, such as the heart, in motion. There are several companies and universities that are now developing deformable registration algorithms, primarily for research. Ziosoft used supercomputing technology to create the first commercially available deformable registration software for advanced visualization.
Deformable registration takes anatomy, such as the heart, that is moving and changing size and shape as it is captured along different time points. The software tracks, or registers, the changes in the anatomy from phase-to-phase, allowing true fidelity 4-D. This requires very complex supercomputing algorithms, which historically required significant computational time and power. However, advances in hardware and algorithm development now allow what used to take days or weeks of processing time to be achieved in hours or even minutes.
Ziosoft believes deformable registration offers several advantages, including a method of noise reduction, leading to better radiation dose management decisions. It also allows intelligent interpolation of voxels between frames for better motion coherence. It can serve as a gateway to functional analytics to analyze relations between structures. The software also offers better tracking of serial data to determine how a tumor is changing in volume and molecular structure over time.
Improved segmentation algorithms may also lead to new applications in cardiac imaging, such as valve function and electrophysiology evaluation. In oncology, the software might be used for serial tracking and management of lesions.
Advances in CPU resource allocation has allowed Aze of North America to render enormous volumes of data. The Aze Virtual Place Formula workstation can process several thousand CT slices at one time. This enables whole-heart 4-D analysis of heart valves in motion from data sets produced by a 320-slice CT scanner.
Impact of the Economy
The U.S. economy is still recovering from the recession, so hospitals, imaging centers and 3-D labs are looking for cost-effective solutions. Aze recently launched a pay-per-use model for customers who have an Aze workstation installed with no capital outlay. They pay a fee for each use of the workstation.
Moving Among the Clouds
The modern imaging professional operates not in an enterprise defined by four walls, but within an extended network of referring physicians, colleagues and partners, all of whom participate in the care of a patient, and are all connected by the Internet. In the past year, several companies have launched cloud-based workstation solutions that  use the cloud's computing power to host the application and run the software over a Web connection.
TeraRecon launched its iNtuition Cloud a year ago, which delivers full-featured advanced visualization software to individual physicians at any location with no up-front capital costs or long-term obligations. Sites with limited connectivity can relay images for distributed review during off-peak hours with lossless compression using intelligent routing capabilities, while making them available via remote thin-client access before the delayed transfer has occurred.
Radiation Dose Reduction
CT radiation dose awareness is also in the forefront of the minds of clinicians who are caught at the crossroads of delivering optimal diagnostic quality while using the lowest patient dose possible. Vendors have developed software algorithms to take typically noisy low-dose scans and improve the image quality.
An example of this is TeraRecon's iGentle suite of tools and optimizations that automatically combine image enhancement with the metadata extraction workflow to improve the quality and success rate of the advanced visualization algorithms.
---
If you enjoy this content, please share it with a colleague