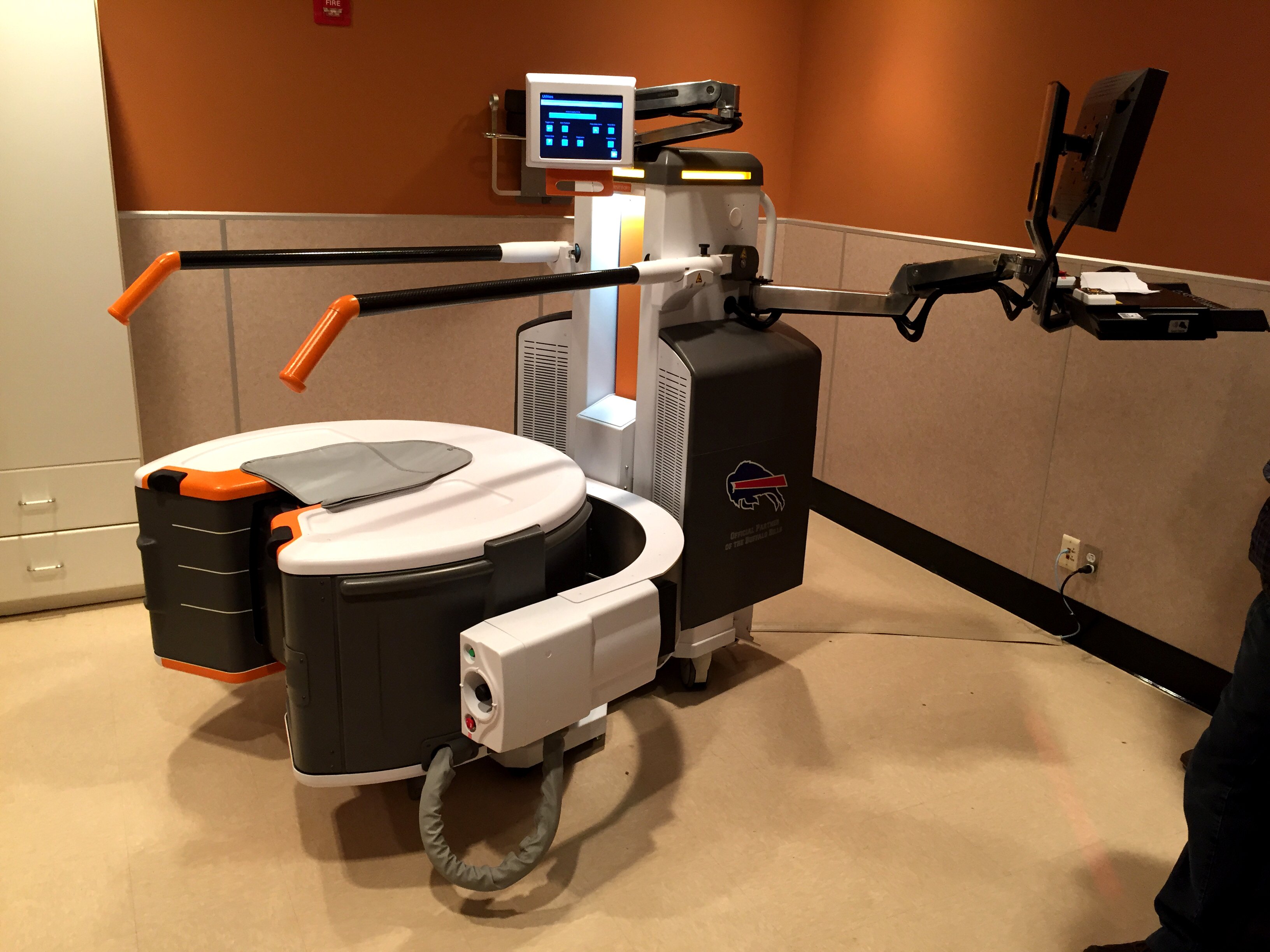 June 19, 2015 - Carestream and UBMD Orthopedics & Sports Medicine are conducting clinical studies on a new three-dimensional medical imaging system at the Erie County Medical Center (ECMC) for use in treating orthopedic conditions. These studies will help guide Carestream's development of new cone beam computed tomography (CBCT) systems with the goal of providing orthopedic solutions for hospitals, clinics and sports medicine providers that use less radiation than traditional CT; are compact and affordable; and could be used in a wide range of facilities.
Physicians from UBMD Orthopaedics & Sports Medicine - all experts in caring for patients with musculoskeletal problems - are working with Carestream researchers to explore the benefits of using CBCT technology for capturing images of patient extremities (knees, legs, feet, arms and hands). Musculoskeletal diseases affect more than one out of every two persons in the United States age 18 and over, and nearly three out of four age 65 and over.
With new digital CBCT technology, healthcare providers can acquire otherwise unavailable weight-bearing images of knees, legs and feet, which are of particular interest to orthopedic and sports medicine specialists. The CBCT system used in this study is investigational and not available for commercial sale. The two organizations plan to broaden their collaboration at a later date to study the advantages of digital imaging technology in treating other extremity conditions.
The Erie County Medical Center is an advanced regional medical center and major teaching facility of the University at Buffalo. A member of the Great Lakes Health System of Western New York, ECMC is the Adult Regional Trauma Center and operates 602 licensed beds located in Buffalo, New York.
"We think the novel capabilities of the Carestream CBCT scanner have broad application to the basic science and clinical practice of orthopedics and sports medicine. We are launching an initial clinical study that may help surgeons more accurately and objectively diagnose the degree of instability of the patella (knee cap)," explained John Marzo, M.D., a physician with UBMD Orthopedics & Sports Medicine, associate professor of clinical orthopaedics, School of Medicine & Biomedical Sciences, University at Buffalo, and former medical director, Buffalo Bills.
"A second collaborative project will validate the ability of the CBCT scanner to measure contact area inside the knee joint, which will be valuable in a host of clinical situations. We have several other projects in various stages of development to be performed over the next 2-3 years that establish a mutually beneficial relationship with Carestream Health," Marzo added. 
For more information: www.carestream.com