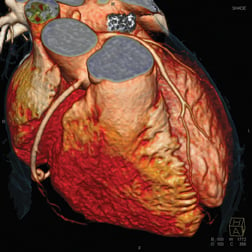 A 3-D rendering of a cardiac CT angiography imaged by a Siemens Somatom Definition Flash CT scanner.
Coronary computed tomography angiography (CCTA) is a noninvasive tool that can be used for identifying myocardial ischemia and coronary artery plaques. It acts as a proven prognostic/diagnostic tool for patients who are asymptomatic as well as in the mild- to medium-risk spectrum of coronary artery disease (CAD).
A CCTA is often misinterpreted as a stand-alone diagnostic method for CAD. In reality, CCTA acts as a supplement to a large number of existing tests, like electrocardiogram (ECG) stress testing, thallium scans, nuclear perfusion studies and cardiac catheterization angiography (also referred to as invasive coronary angiography). Heavy turf battles, radiation concerns and lack of reimbursement have all been consistent obstructions that impede the growth of the market. A typical cardiac CT angiography is done by injecting a radio-opaque iodine contrast dye through the coronary arteries and imaging the heart using a CT scanner. CCTA detects both hard and soft plaques. To accurately find the calcium score in the micro-calcifications present, a calcium scoring CT of the heart is done, which does not involve the injection of contrast.
Application-wise, CCTA can now be used on patients whose etiology of CAD is unknown, patients with a family history of CAD risk factors, patients with no known symptoms but reporting an abnormal ECG stress test, patients with angina-like symptoms whose ECG stress tests and thallium scans appear normal, and finally, for patients post-coronary bypass surgery or angioplasty. However, CCTA results for those who are highly obese or with a calcium score of 600 or higher cannot be relied upon.
Expanding the horizons of CCTA applications is now identified as a significant tool for increasing market size.  The CCTA market has had a highly dynamic lifecycle from the time it originated several years ago. When CCTA was launched as a noninvasive tool for effective prognosis of CAD, the technology was predicted to hold huge potential for altering the future of cardiovascular diagnosis, but, unfortunately, this potential has not been fully tapped. 
User statistics show that in spite of CCTA providing quantifiable information needed to decide the right treatment option, its usage and thereby the market, has been erratic. Figure 1 segments the number of procedures into those referred by the cardiologist and those done by radiologists. 
From the above data we can observe a sharp decrease in the number of CCTAs done in 2008 from the numbers of 2007, which implies there has been a decrease in the number of installations done, which explains its low penetration rate. The introduction of Current Procedural Terminology (CPT) codes for CCTA in 2009 by the American Medical Association (AMA) has led to a 7 to 12 percent increase in the numbers for the years 2009 and after. The setback of CCTA cannot be attributed to just a single factor; on the contrary, a combination of multiple factors has led to what it is today. The following reasons could be associated to the almost negligible growth of the CCTA market.
Radiation Dose
Many cardiologists still believe that CCTA is not just a "scan and read" procedure as it involves high radiation dosage due to prolonged scan times exposure, arguably higher than traditional catheter-based angiography. There is a certain amount of complexity in determining the standard radiation dosage for CCTA, as it is highly variable and dependant on the equipment and the techniques used. 
Prospective gating combined with techniques like step-and-shoot, axial, iterative reconstruction and efficient algorithms for CAD have helped reduce the dosage. In some cases, the radiation has been reduced by up to 90 percent of what it was a couple of years ago. Today, CCTA can have a significantly lower dosage than conventional coronary catheter angiography, without compromising the specificity and sensitivity of the image quality and, therefore, the diagnostic efficiency. The limitations of the procedure cannot be ruled out. This opens up a wide arena for prospective gating CCTA as a noninvasive, accurate diagnostic procedure for CAD detection and prognosis. This holds high importance in terms of expansion of the market, as radiation problems have long been the major obstruction stunting its growth in the past.
Various measures have mitigated the radiation dose concerns and there has been considerable interest in the market over the past few years in expanding the use of CT as the preferred imaging modality for many hospitals and clinics. Major hospitals and clinics are getting prepared to adopt CCTA as an ideal method for better visualization of coronary arteries.
Reimbursement Issues
In its nascent stages, CCTA was not recognized for the potential it held by the regulatory and reimbursement authorities. This accounts for the market's struggling growth. In October 2009, when the AMA released CPT codes for CCTA, the market welcomed this news as it held an opportunity for reimbursement facilitation in the United States. The reimbursement rates were brought in soon after, but to date there exists a debate over reimbursement patterns of CCTA in other regions like Europe and Asia Pacific. The ambiguity in reimbursement policies throughout the world has restrained the market from its growth opportunities. Reimbursement is a highly customized procedure that varies on a case-by-case basis, adversely affecting its adoption.
Hybrid Imaging  
Owing to the multimodal nature of the imaging field, there exists an urge for combining CCTA with other modalities to improve its efficiency and to overcome a multitude of disadvantages that impede the growth of the CCTA market. Myocardial perfusion imaging (MPI) using positron emission tomography (PET) or single photon emission computed tomography (SPECT) combined with a calcium scoring CCTA makes sense.  The combination allows MPI, which gives any significant anomaly in functional hemodynamics, to be validated using a calcium score obtained from the CCTA. This multimodality approach may pave the way for market expansion. 
Other Factors Influencing CCTA Adoption
Advances in detector technology and software and facilities upgrading to higher multi-slice CT scanners are also going to positively impact future growth in CCTA. Also, there will be more validity given to CCTA with further clinical validation studies. 
It is true that its growth has been hindered heavily, but with adequate validation, an increased awareness and recognized reimbursement policies, CCTA would be able to break all myths and emerge as a state-of-the-art, noninvasive, highly sensitive, specific and accurate tool that enables timely prognosis, staging and management of CAD. An aggressive shift to the CCTA procedure may well result in a booming market with abundant growth opportunities. 
Editor's note: Kaavya Karunanithi is a research analyst for Frost & Sullivan's global healthcare practice.  Her work focuses on medical imaging and devices, biotechnology as well as biomedical and biomaterials engineering.  Kaavya has a masters in biomedical engineering from the University of Sydney.
Frost & Sullivan enables clients to accelerate growth and achieve best-in-class positions in growth, innovation and leadership. The company's Growth Partnership Service provides the CEO and the CEO's Growth Team with disciplined research and best-practice models to drive the generation, evaluation and implementation of powerful growth strategies. Frost & Sullivan leverages 50 years of experience in partnering with Global 1,000 companies, emerging businesses and the investment community from more than 40 offices on six continents. For more information: www.frost.com. 
---
If you enjoy this content, please share it with a colleague