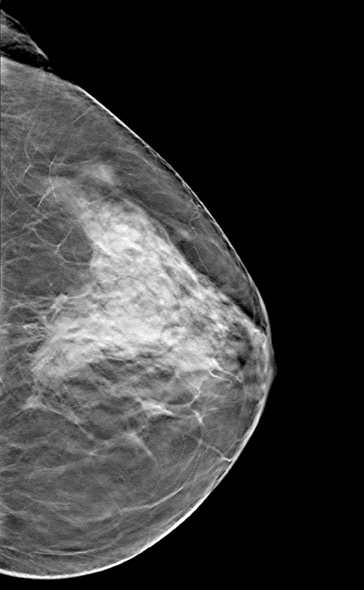 3-D breast tomosynthesis images in combination with conventional and synthesized 2-D images aid in the viewing of dense breast tissue.
Breast density notification is becoming a reality in many states across the nation by virtue of legislation. A detailed review of breast density is beyond the scope of this article, but there are a few points that bear emphasis.
The first is that breast density means radiographic density, or the way the breast appears in a mammogram. Breast density cannot be felt or found in any way other than by imaging. With dense breast tissue presenting both the problem of lowering the sensitivity of the screening mammogram by masking cancers and actually increasing the risk of an individual with dense breasts developing a cancer, it has become evident that we must look beyond the mammogram if we are to improve screening.  
Mammography still remains an excellent technology for women with predominantly fatty breast tissue. However, in women with dense breasts, supplementary imaging with a modality in which dense tissue is transparent is important.
For the vast majority of women, and even for their primary care physicians, breast density is a new concept. The biggest problem with the legislatively mandated density notification in Connecticut turned out to be confusion on the part of these two constituencies over the importance of density. The lesson breast imaging practices can take away from that experience is that education is of primary importance. Patients need information on the proactive efforts to improve early detection through supplementary imaging. Referring physicians need a more comprehensive understanding of the nature of breast density, its measurement and the implications dense breast tissue may have on the care their patients will receive.
Standardizing Breast Density Measurement 
An integral part of the education process is the assurance of an automatic and objective density assessment. The need for accurate, reproducible density measurement has been used as rationale for opposition to breast density inform legislation and was referenced in the American College of Radiology's (ACR) recent statement on breast density.  
Traditionally measured by radiologists comparing light and dark parts of a mammogram, breast density is the volume of dense tissue divided by the volume of the breast and then multiplied by 100 to get a percentage. Reported using the Breast Imaging-Reporting and Data System (BI-RADS) density categories, this provides a relative picture of density. However, this subjective assessment is operator-dependent and entirely qualitative. According to a 2006 study in Academic Radiology, agreement between interpreting physicians in estimating density is only about 60 percent in the middle-two BI-RADS density categories, in which the differentiating line between low and high tissue density is found.
Another challenge of the BI-RADS reporting system for tissue density is that it is two-dimensional and the breast is three-dimensional and varies dramatically in shape, size and composition between individuals. An area that appears almost white on a mammogram could be a single highly dense area or it could be several densities overlying each other. It is impossible to tell from simply viewing the 2-D images.
Using the "for processing" digital images from a mammogram and a state-of-the-art algorithm developed by some of the world's leading imaging scientists, Matakina International Ltd.'s Volpara software presents interpreting physicians with an assessment of the percentage of dense tissue contained within the breast and a mapping of that percentage to a Volpara Density Grade (VDG). The VDG is a number from 1 to 4, and the mapping has been set so as to optimize the relationship between VDG and BI-RADS breast density category.
To support an increased dependence on supplemental imaging, we must remove the subjectivity of physician assessment of density and give referring physicians and patients alike a sense of confidence in the density determination process. Volpara, one of two commercially available density software solutions, meets these criteria by providing an objective volumetric assessment of breast tissue density, and is cleared for use with all digital mammography units. Hologic's Quantra is the other breast density assessment software currently available.
If a woman is determined to have dense breast tissue, her physician may recommend some type of supplemental screening, such as ultrasound, magnetic resonance imaging (MRI) or positron emission mammography (PEM). As a convenience to the patient, this is often done on the same day. itn
Gerald R. Kolb's career in breast health spans over 20 years, and he currently is the vice president of business development for Matakina International Ltd.