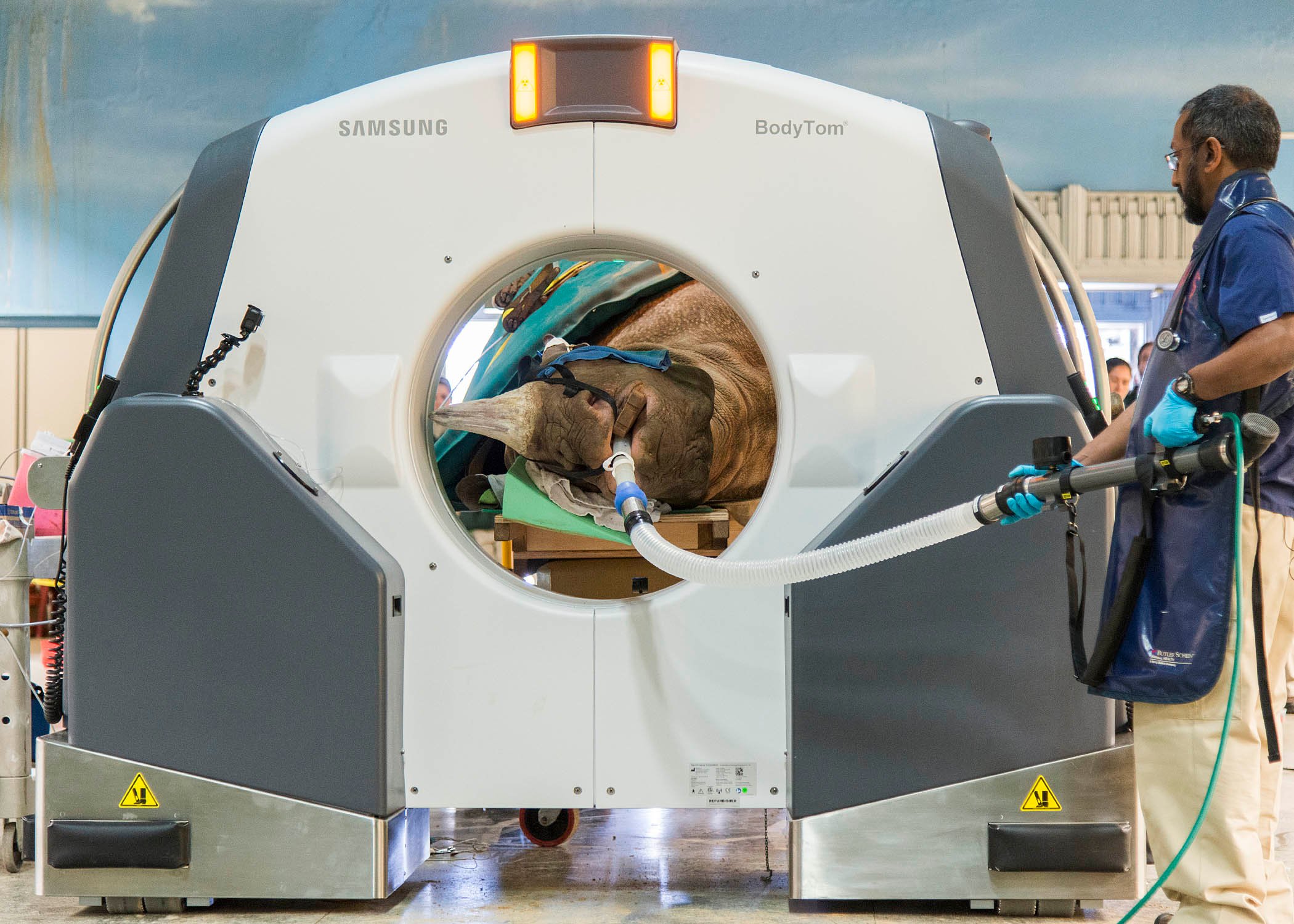 Layla the rhinoceros was given what is believed to be the first-ever CT scan of an eastern black rhinoceros at Brookfield Zoo on April 19, 2018. The scanner — a portable, battery-powered, 32-slice Samsung BodyTom — was brought into Layla's habitat. Image courtesy of Kelly Tone/Chicago Zoological Society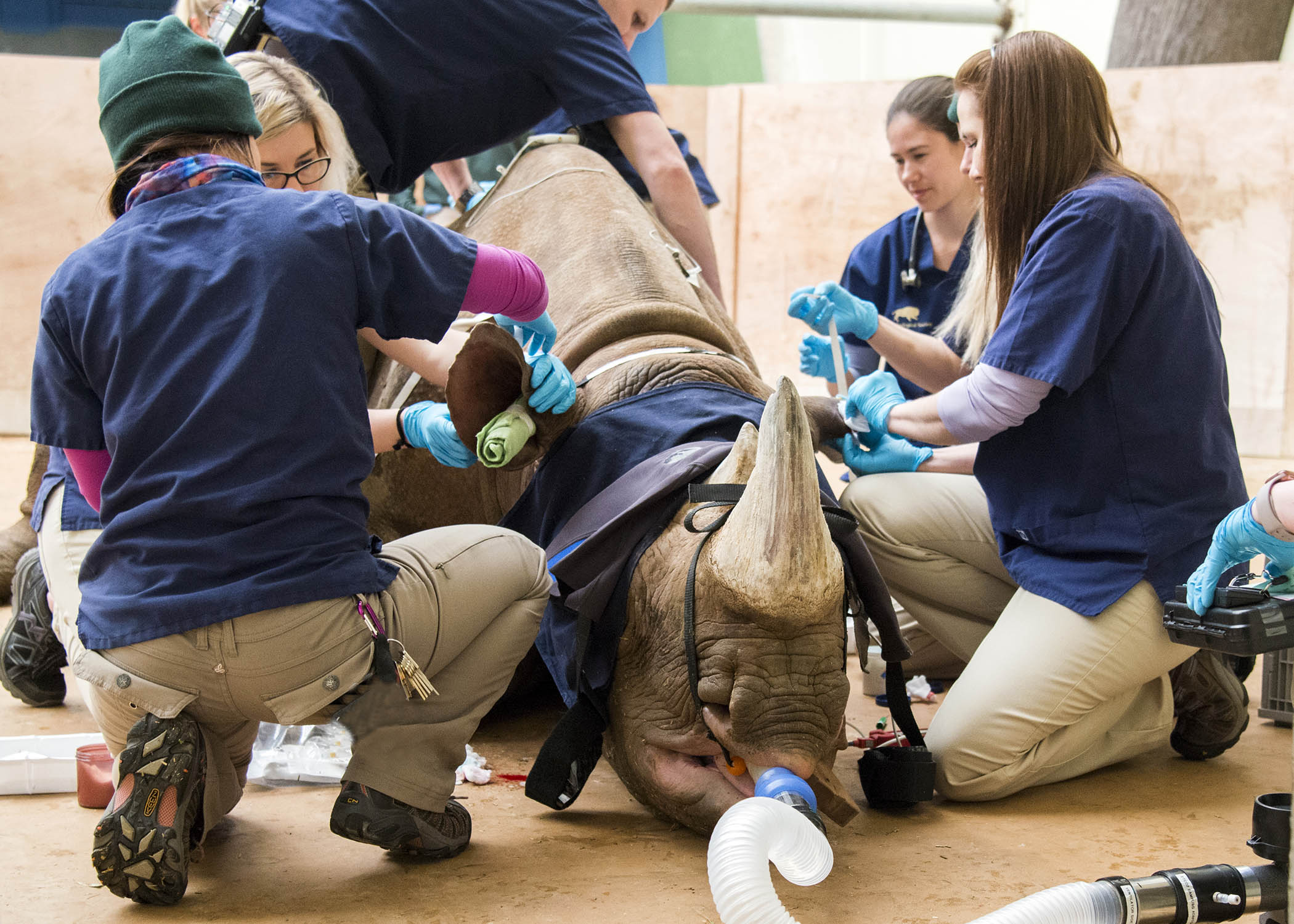 Image courtesy of Kelly Tone/Chicago Zoological Society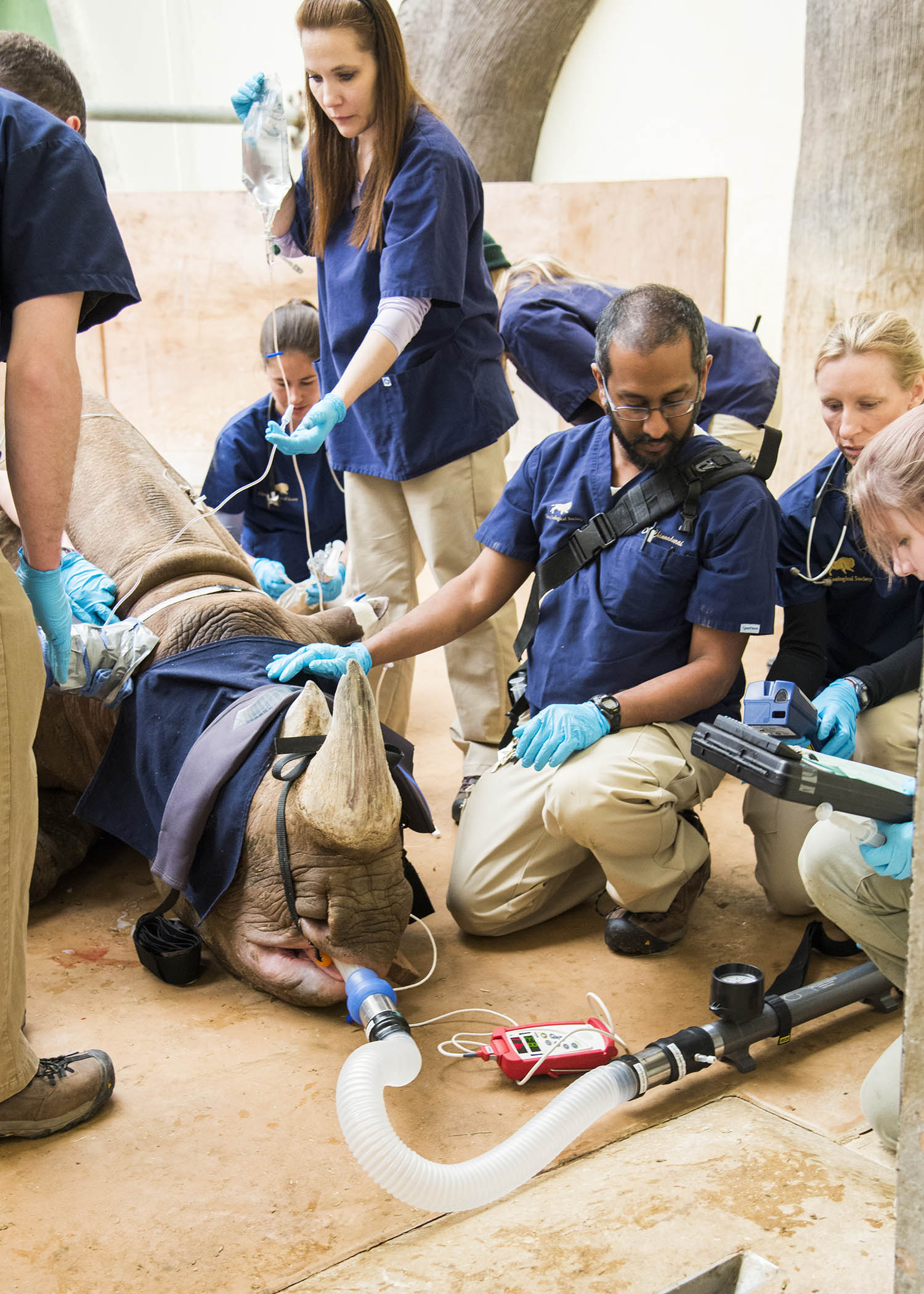 Image courtesy of Kelly Tone/Chicago Zoological Society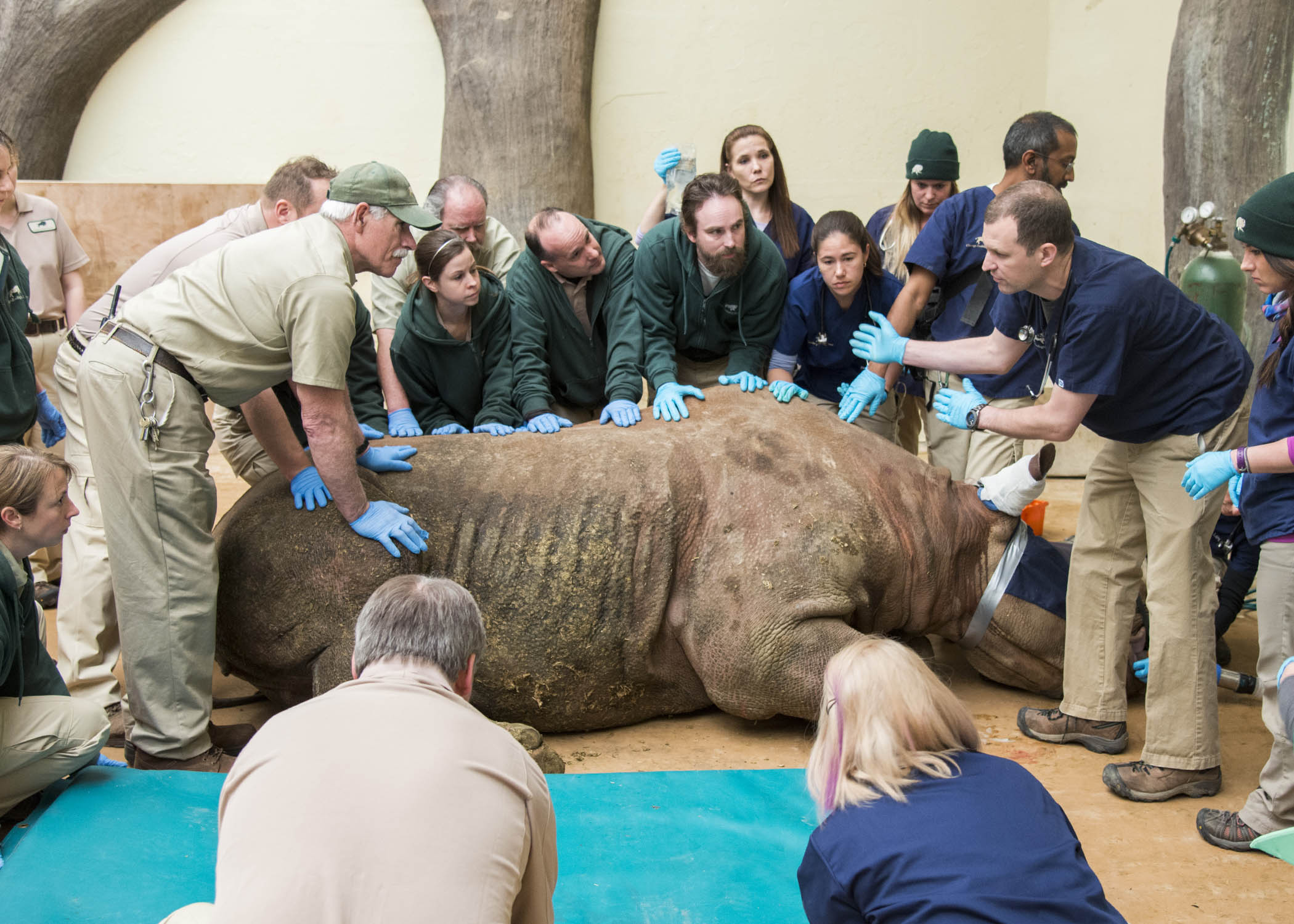 Image courtesy of Kelly Tone/Chicago Zoological Society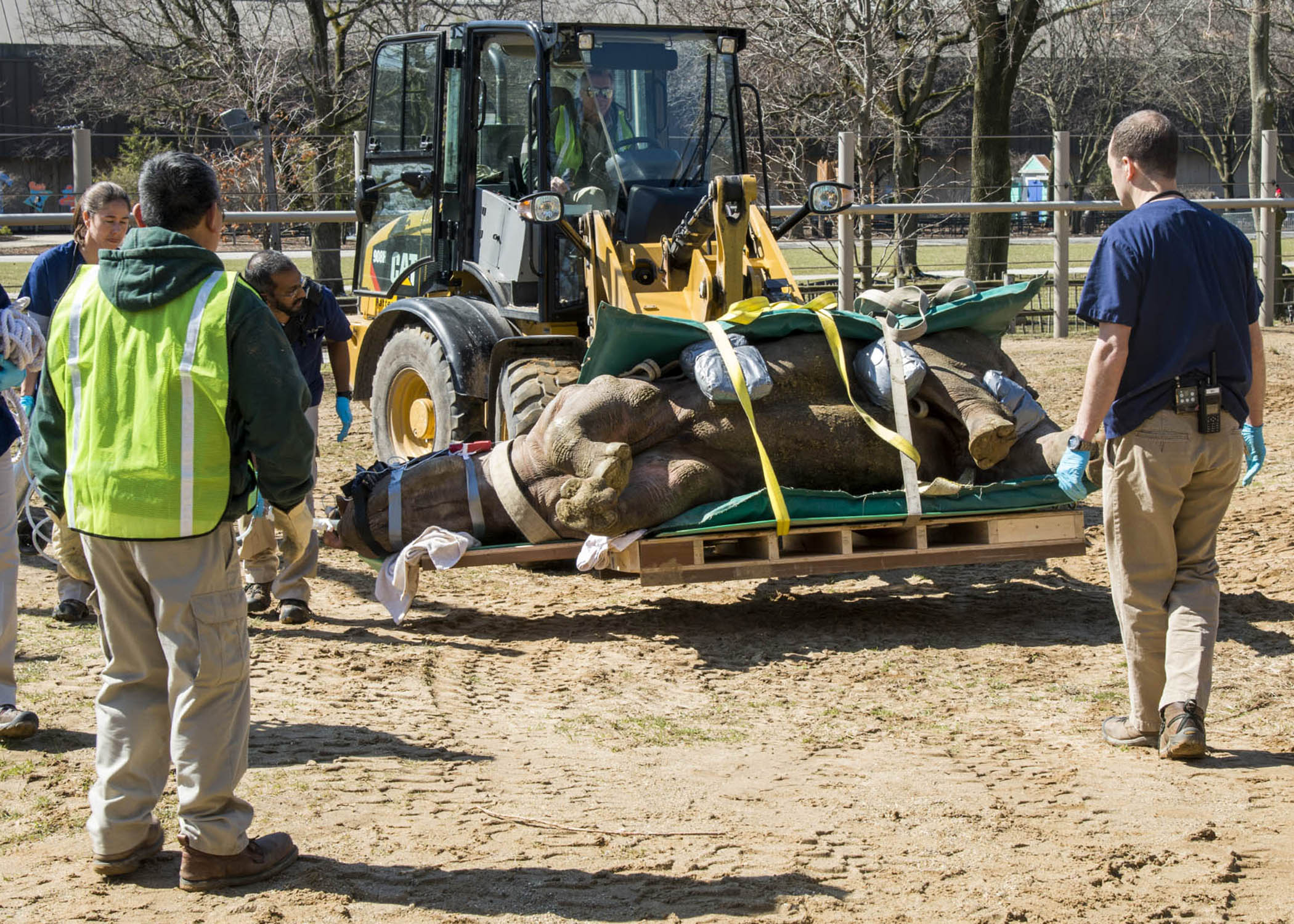 Image courtesy of Kelly Tone/Chicago Zoological Society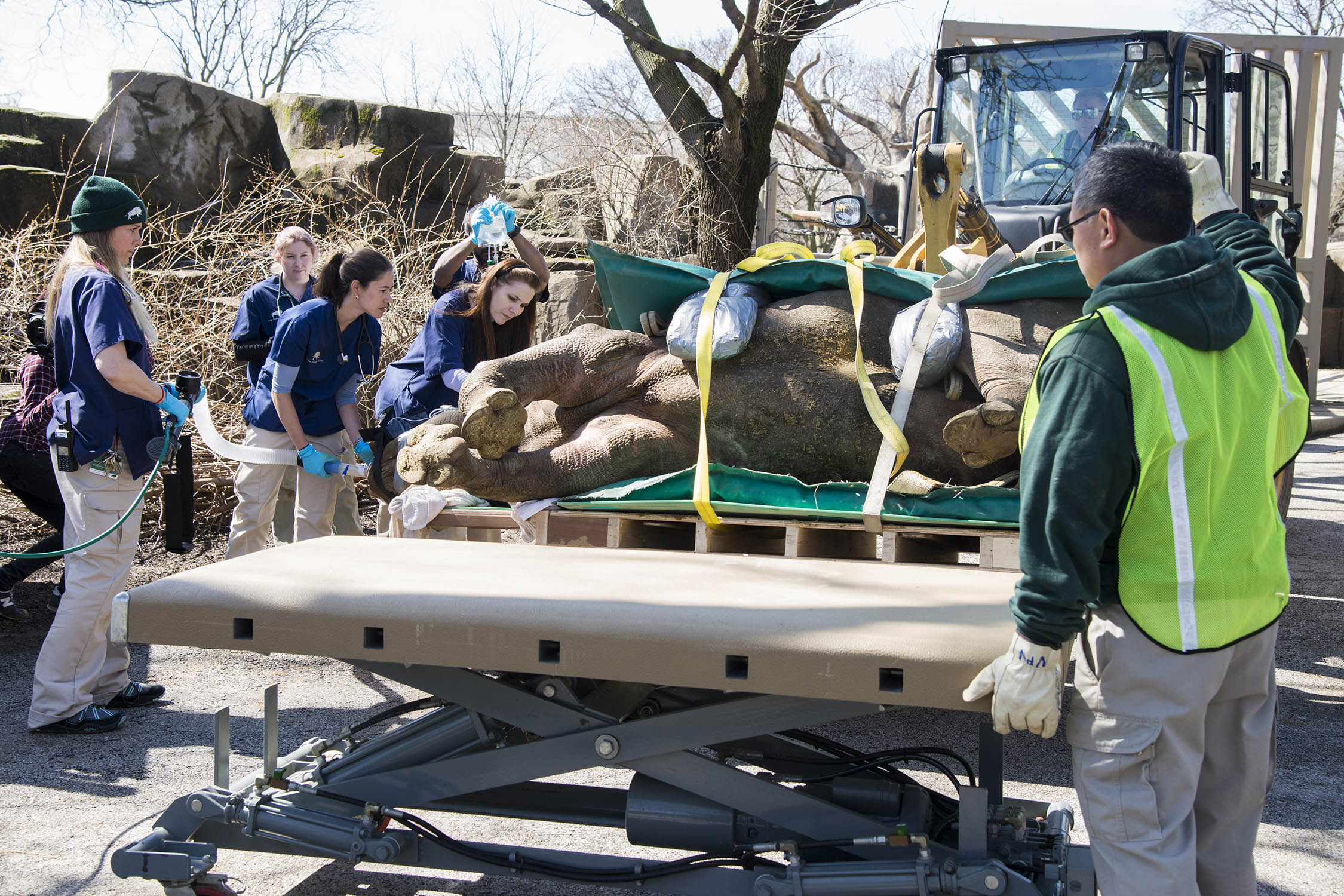 Image courtesy of Kelly Tone/Chicago Zoological Society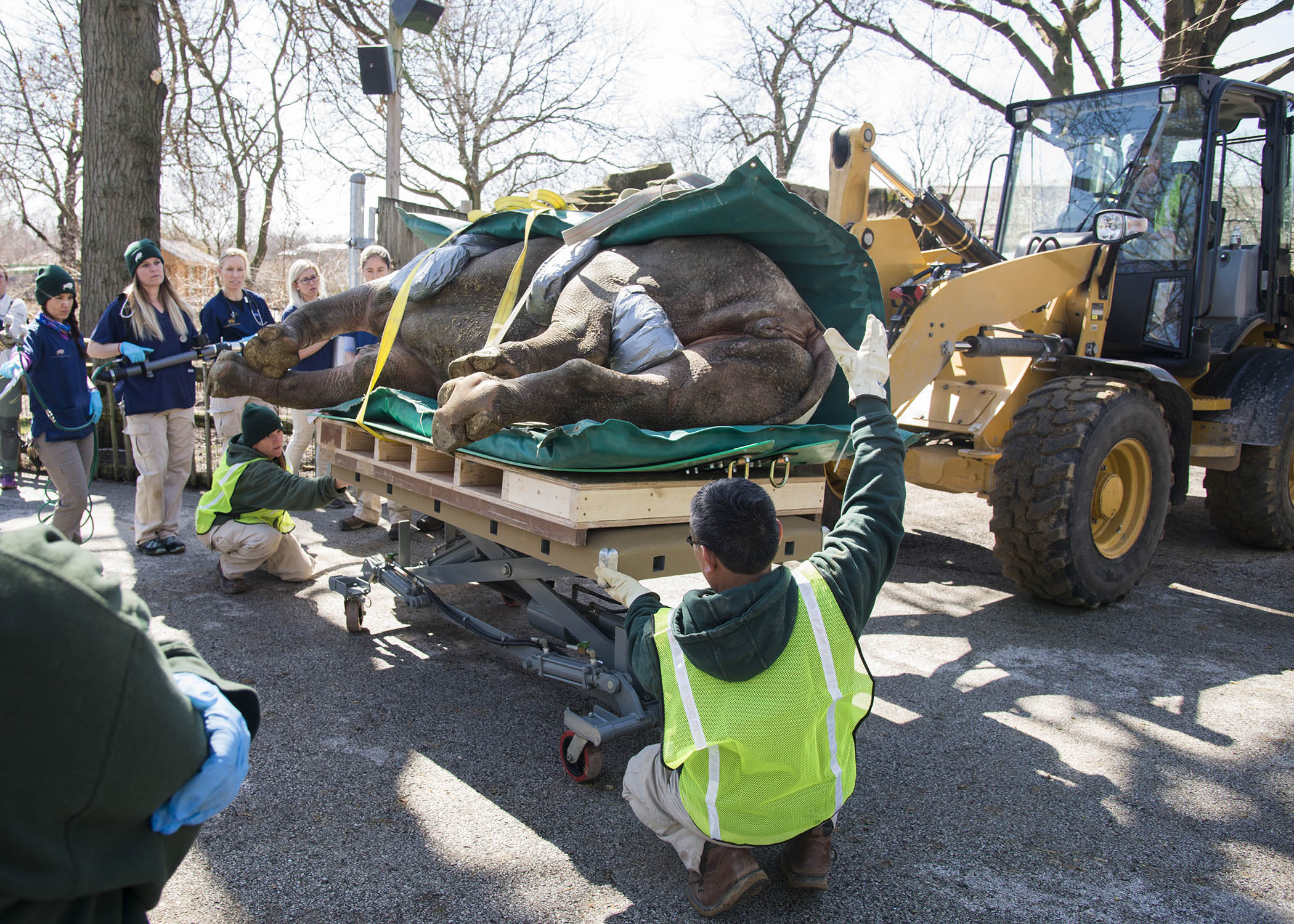 Image courtesy of Kelly Tone/Chicago Zoological Society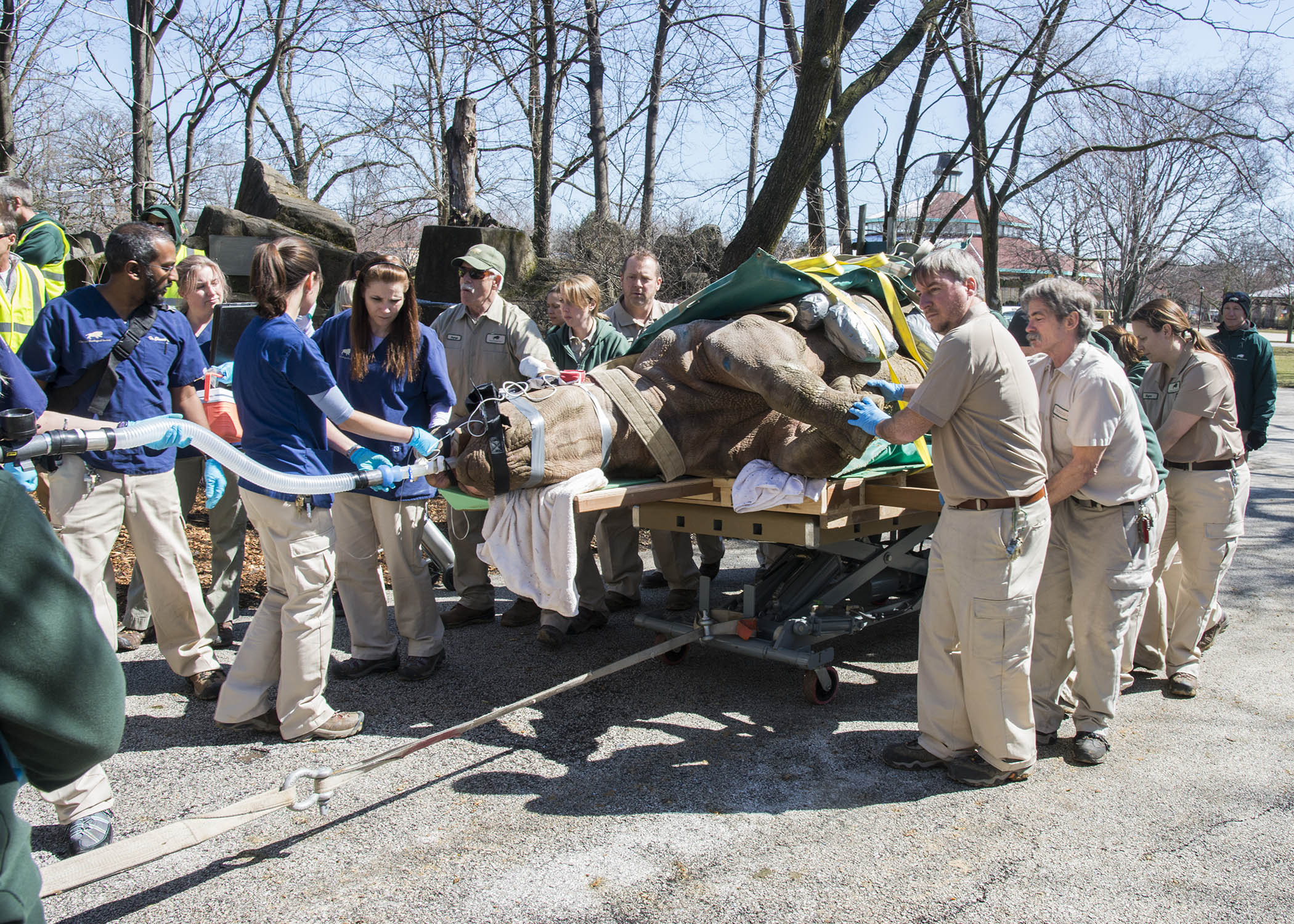 Image courtesy of Kelly Tone/Chicago Zoological Society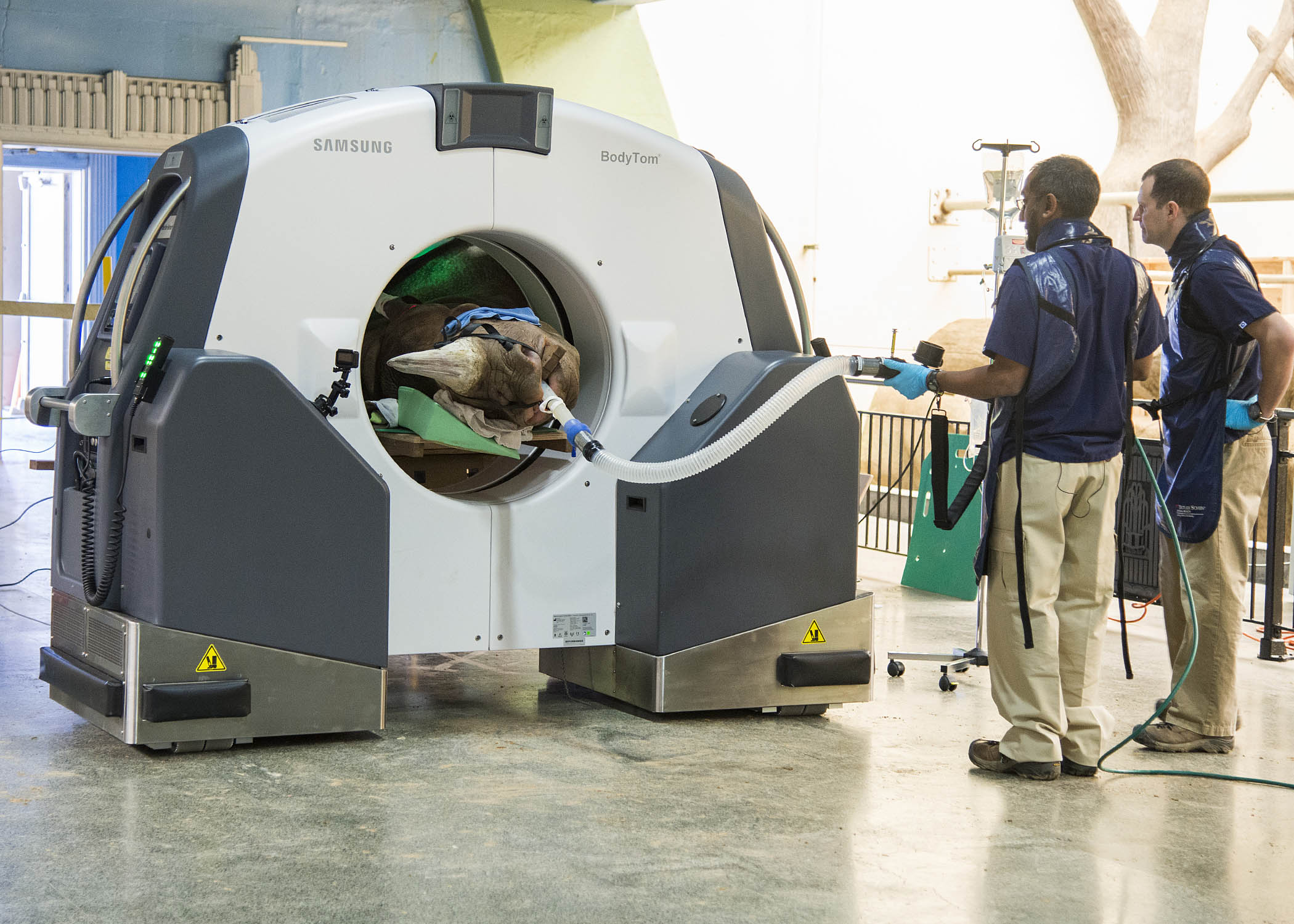 Image courtesy of Kelly Tone/Chicago Zoological Society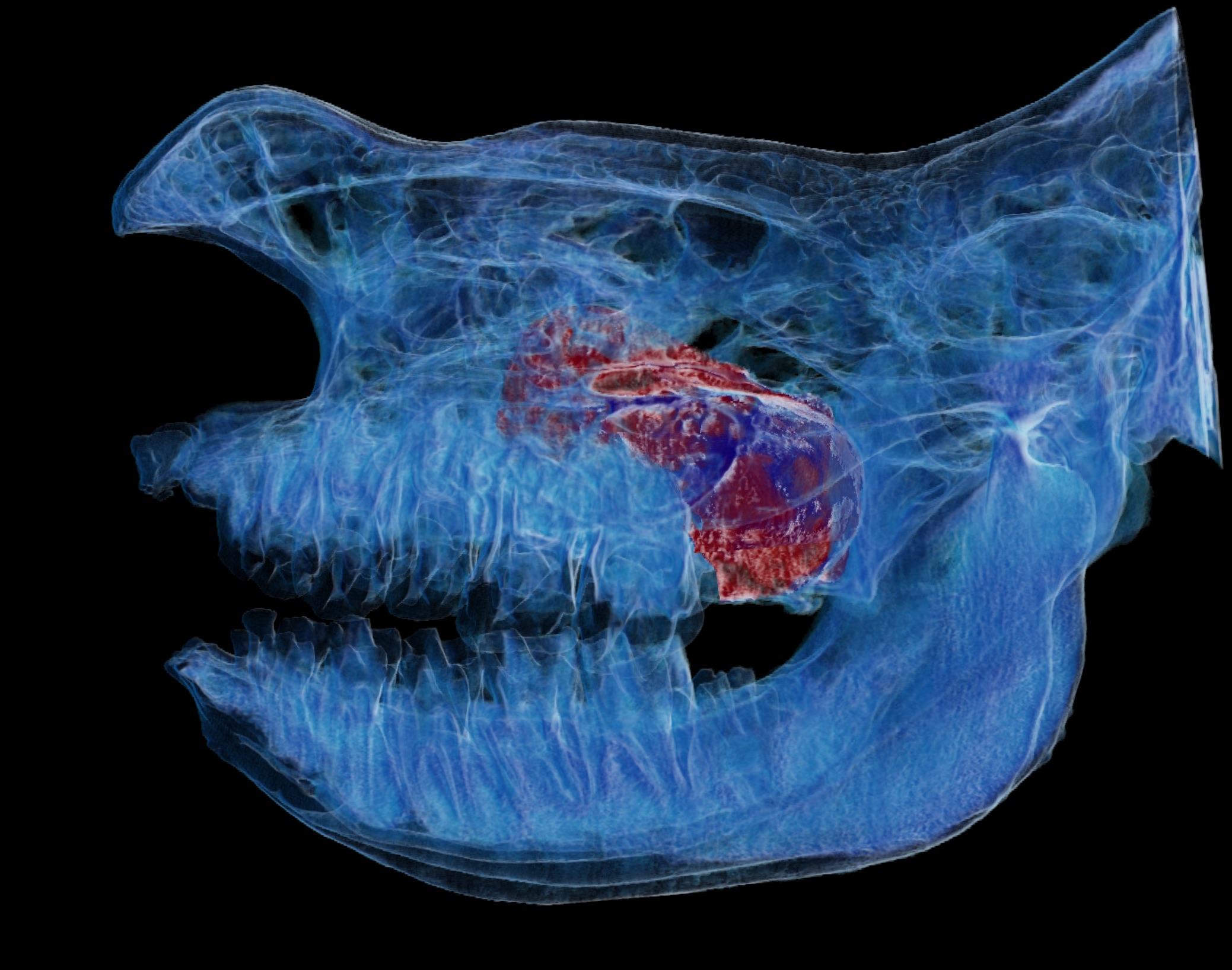 Image courtesy of Chicago Zoological Society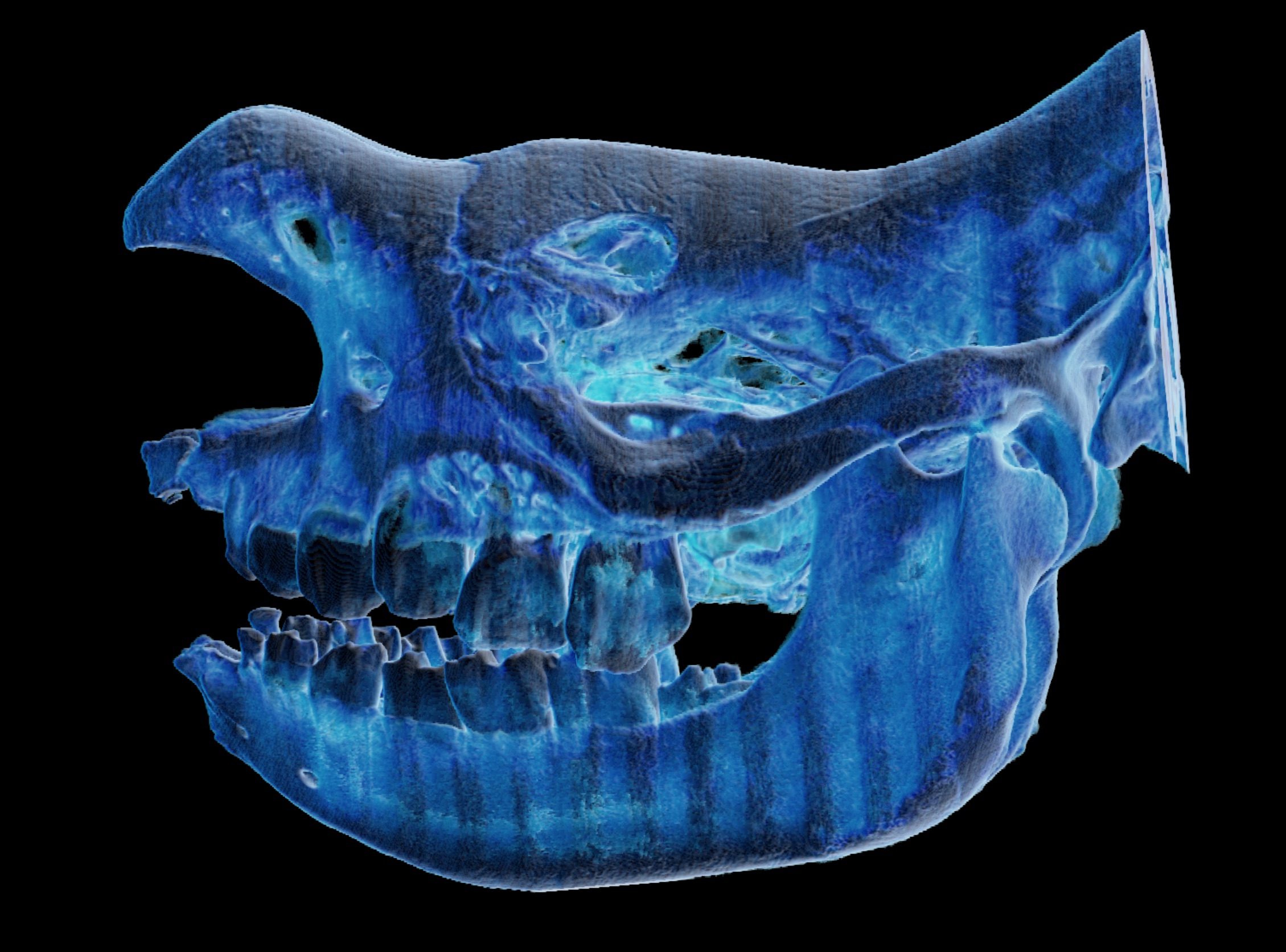 Image courtesy of Chicago Zoological Society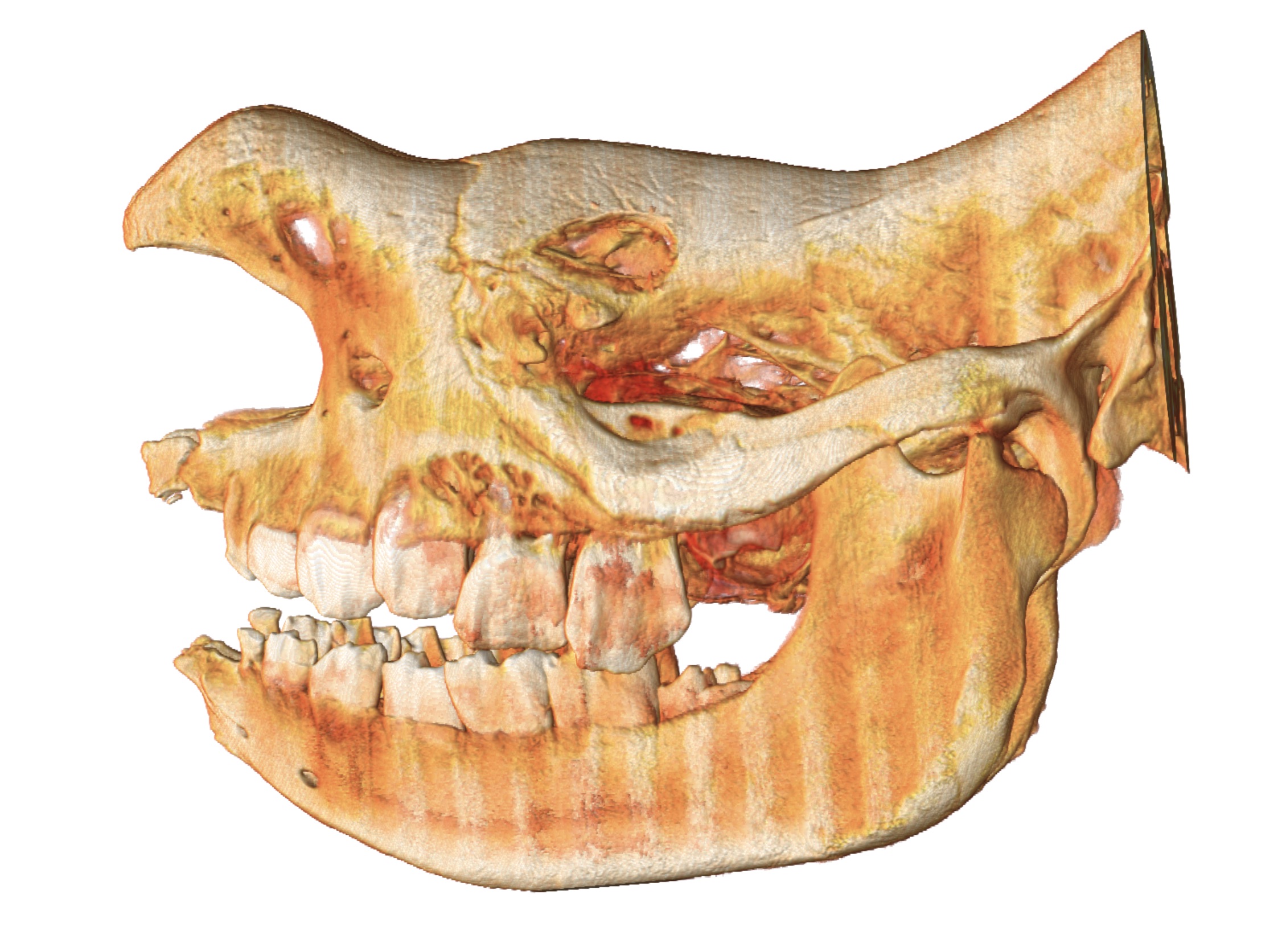 Image courtesy of Chicago Zoological Society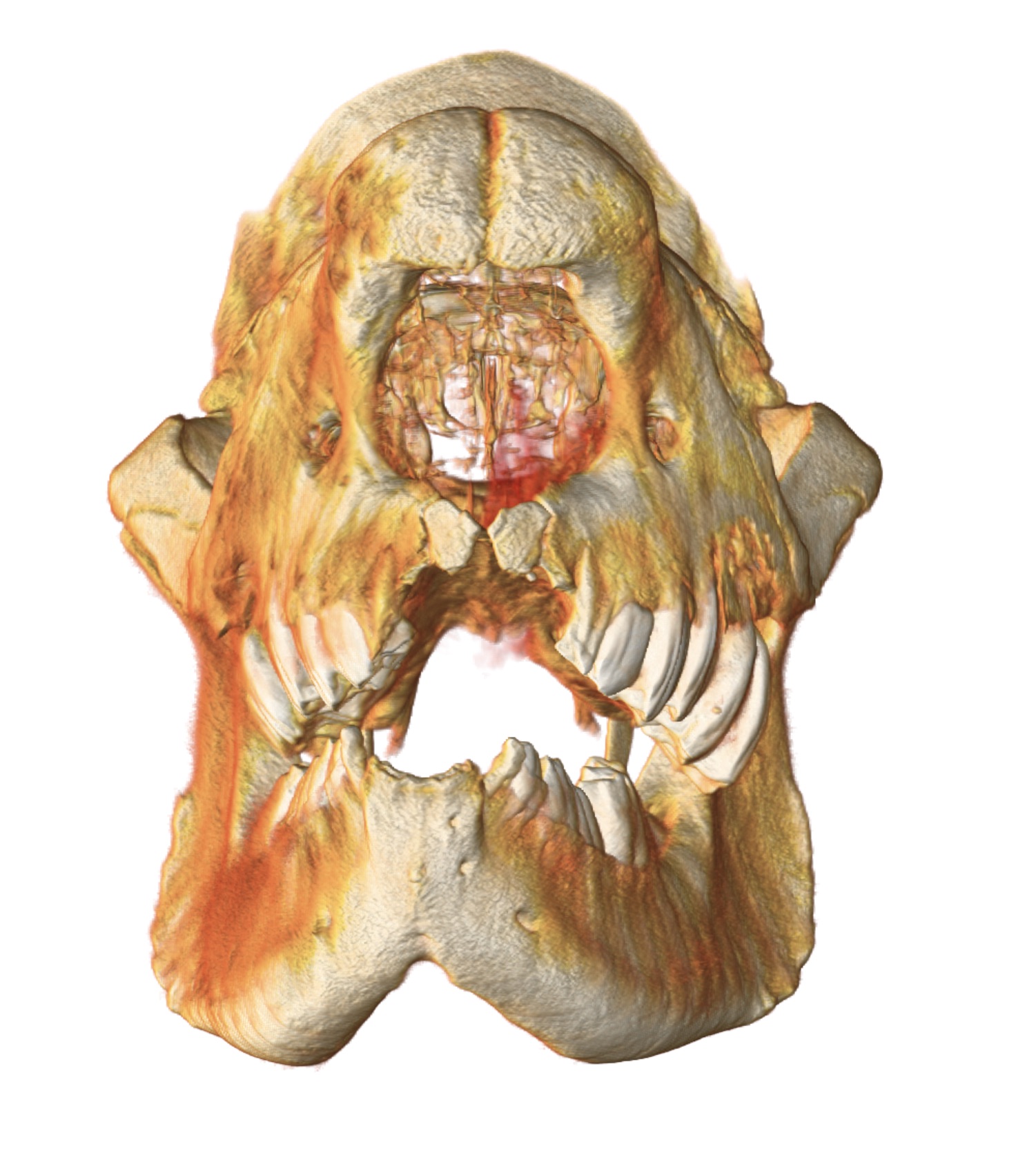 Image courtesy of Chicago Zoological Society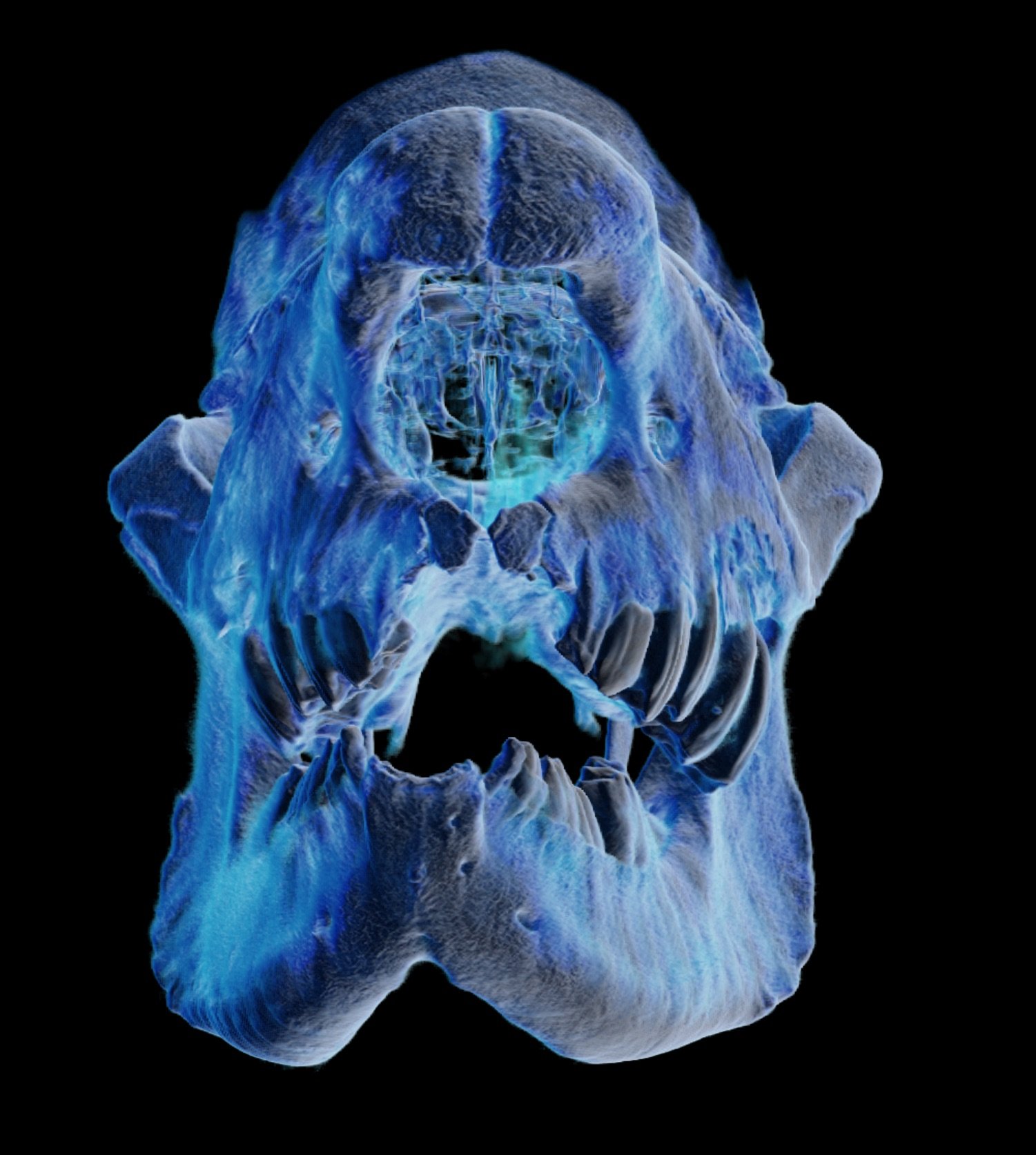 Image courtesy of Chicago Zoological Society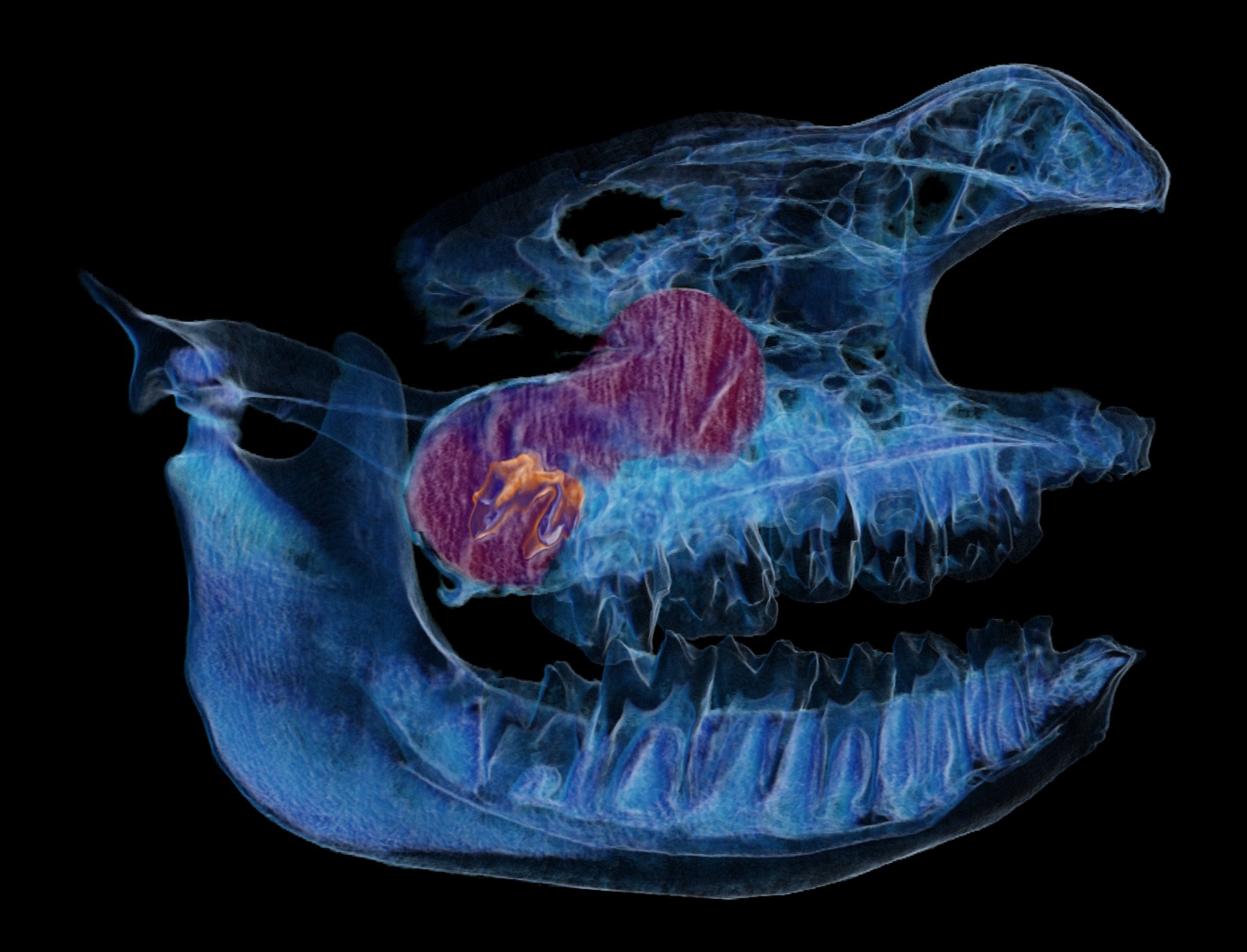 Image courtesy of Chicago Zoological Society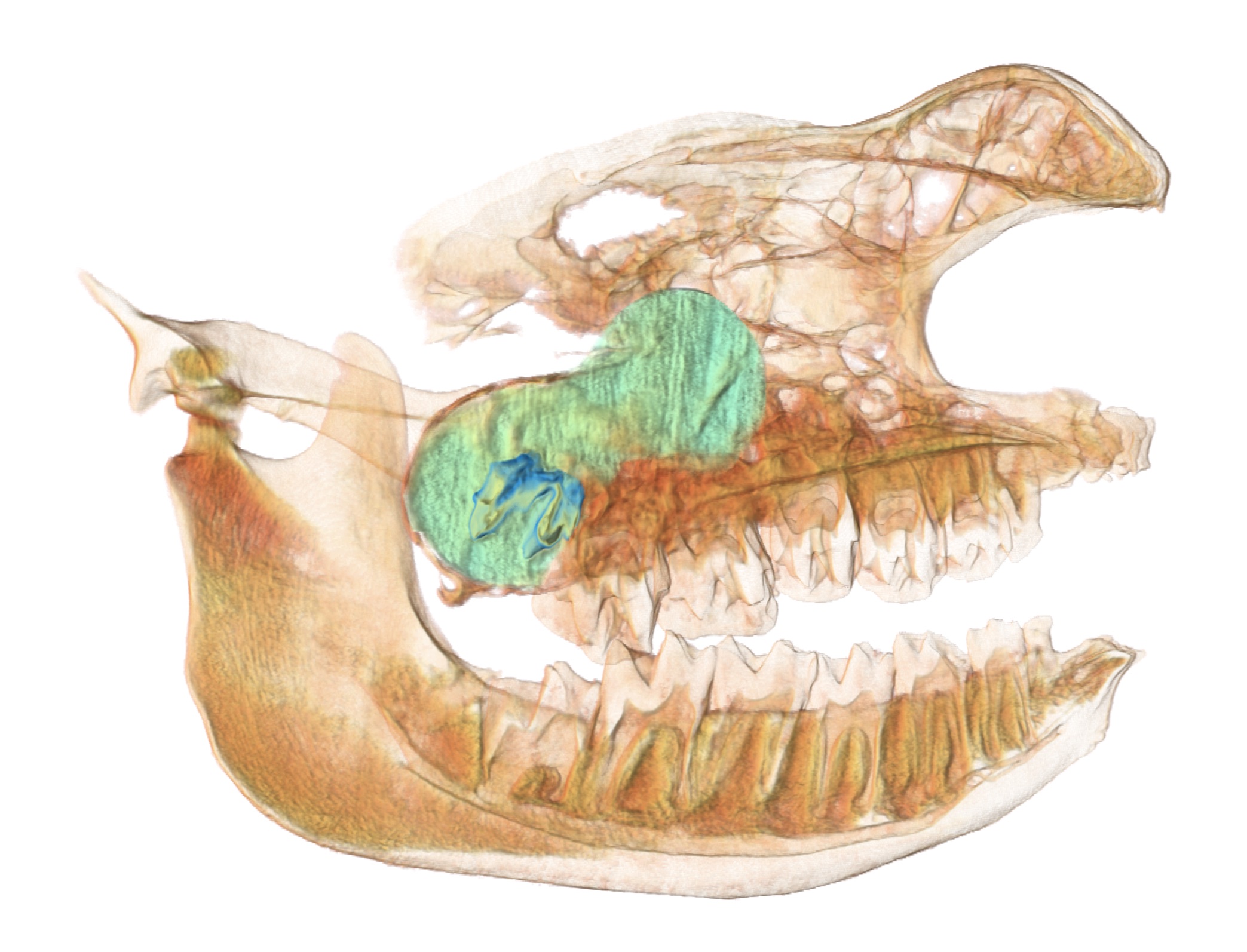 Image courtesy of Chicago Zoological Society
May 4, 2018 — On April 19, 2018, Layla, a 7½ -year-old, 2,300-pound eastern black rhinoceros who lives at Brookfield Zoo, underwent what is believed to be the first computed tomography (CT) scan ever performed on this species. The scan was necessary to help Chicago Zoological Society (CZS) veterinarians determine the next steps for treating a known obstruction in Layla's nasal passageway.
Layla was too large to move inside the zoo's animal hospital, where the zoo's CT scanner is located, so staff brought a CT scanner to Layla's habitat instead. NeuroLogica, a subsidiary of Samsung Electronics, donated the use of its BodyTom battery-powered, portable, 32-slice CT scanner, for the procedure. The process of moving Layla to and from the machine was extraordinarily delicate and required the presence and precision of a team of nearly 40 zoo staff. Technicians from NeuroLogica and Sound Technologies donated their services to set up and operate the CT machine.
"The CT scan provided diagnostic results that we could not have otherwise obtained," said Dr. Michael Adkesson, vice president of clinical medicine for CZS, which manages Brookfield Zoo. "This procedure is an example of our commitment to providing the animals in our care with the most advanced medical treatment available. More importantly, though, the CT scan on Layla has provided us an unparalleled look inside of her skull. The images we obtained will guide our future treatment plan."
Layla began experiencing difficulty breathing in December 2017 and was diagnosed with obstructive sinusitis. Rhinos are obligate nasal breathers, meaning it is difficult for them to breathe comfortably through their mouth for long periods. Any sort of nasal obstruction can therefore become dangerous, and after failing to respond to standard medical treatments, Layla underwent bilateral sinusotomy surgery at the zoo in Brookfield, Ill., on Jan. 29, 2018. Veterinarians were able to identify a bacterial infection in her nasal passageway.
For the surgery in January, CZS staff brought in Drs. Anthony Blikslager and Mathew Gerard, board-certified veterinary surgeons from North Carolina State University, College of Veterinary Medicine, to assist with the procedure. The two surgeons, who have extensive knowledge related to rhinoceroses' skull and sinuses, have been working on developing surgical methods to help treat rhinos in Africa that have had their horns cut off by poachers. This surgery significantly improved Layla's comfort levels and allowed staff to begin treating her infection. Over the past two months, Layla has been anesthetized on a weekly basis for intravenous antibiotic therapy and to continue debulking, or removing, infected tissue through two surgical holes created to access her sinuses.
However, despite her progress, the initial surgery was unable to identify the source or extent of the problem, and it was determined advanced imaging was needed to complete treatment. On April 19, staff got their answers — the images obtained on the CT scan have revealed abnormal tissue associated with the root of one of Layla's upper molars. The growth of this tissue is causing the obstruction in her nasal passages and sinuses.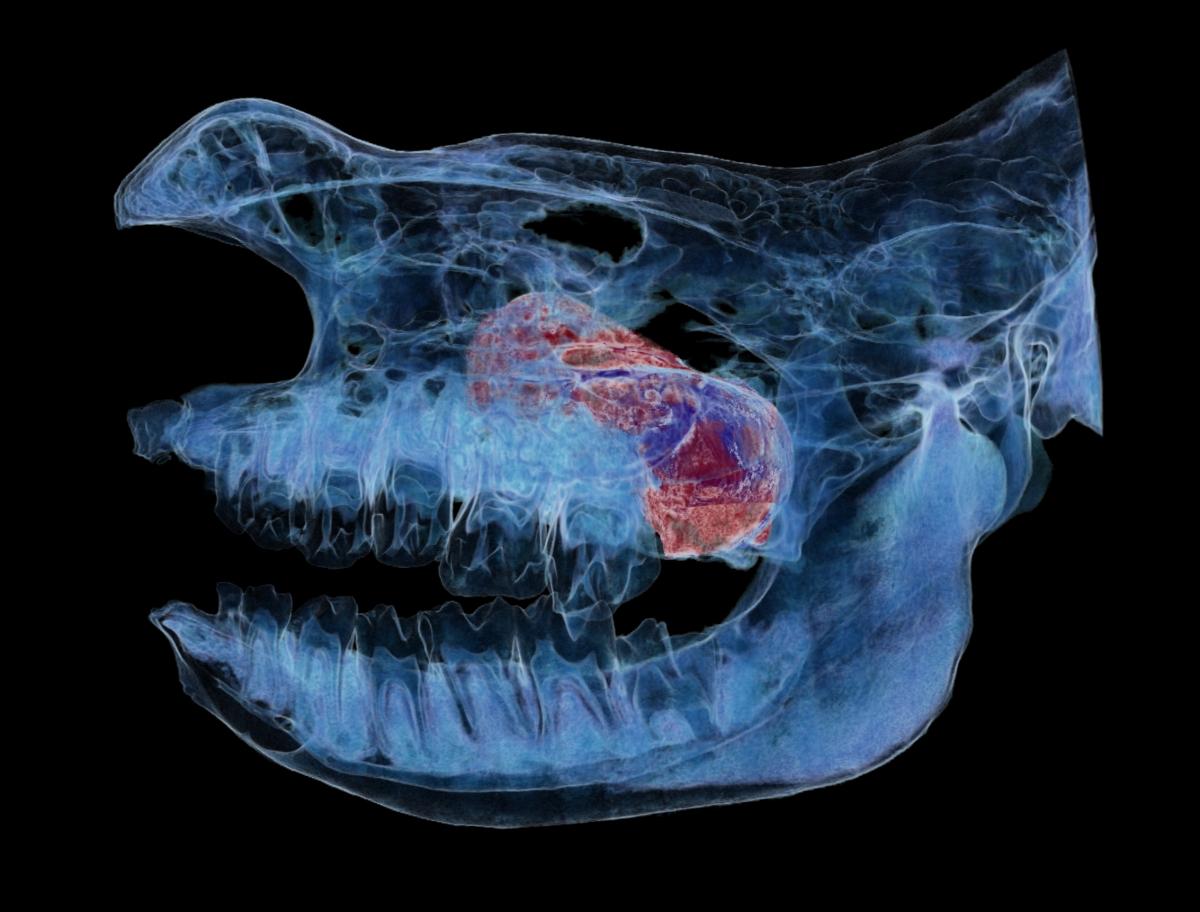 Image courtesy of Chicago Zoological Society
To prepare for the CT scan procedure, the Chicago Zoological Society's carpenters constructed a custom-made platform. After being anesthetized and stabilized, Layla was carefully slid onto the platform and a front-end loader was used to gently move her onto the zoo's large surgical table. Animal care specialists and grounds staff then carefully moved the table to the portable CT scanner set up in the Pachyderm House. The flawless procedure was possible, in part, due to several practice runs staff had performed using 2,300 pounds of concrete to simulate Layla's weight.
Animal care staff monitored Layla closely following the procedure. She currently is comfortable in an area behind the scenes, while veterinarians are developing a plan to surgically remove the remaining abnormal tissue and to provide subsequent treatment for Layla.
For more information: www.brookfieldzoo.org