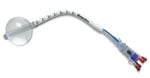 A recent development in breast radiation oncology targets specific tumor regions and delivers the necessary radiation in a shorter time period. Accelerated partial breast irradiation (APBI), an alternative radiation treatment to traditional whole breast radiation therapy, reduces the treated area to tissue immediately around the lumpectomy. It can shorten the treatment period from six to seven weeks down to one to five days. Martin Keisch, a board-certified radiation oncologist, M.D., president of Cancer HealthCare Associates and medical director of radiation oncology at University of Miami Hospital and Aventura Hospital, practices APBI exclusively and is a fervent supporter of the new technology. "I almost never do whole breast irradiation," said Keisch. "I believe there will be a dichotomy between those who ought to be considered for partial breast irradiation and those who ought to be considered for mastectomy."
Methods of Brachytherapy
There are two methods of APBI brachytherapy. The first is the interstitial brachytherapy, which consists of placing multiple catheters in the areas surrounding the tumor. The second method is intracavity brachytherapy, or balloon catheter radiation, which places a single thick catheter into the breast cavity. The catheter has a balloon with radioactive pellets that goes into the tumor cavity. Current products available are the Mammosite single- and multi-lumen balloon catheter, Contura multi-lumen balloon catheter and Axxent electronic brachytherapy. Another intracavity device is the strut-adjusted volume implant (SAVI) breast brachytherapy, which uses multiple radiation sources mounted on one catheter that is expanded. A new method in development uses external radiation beams. This allows treatment with radiation without physical contact. Like internal beam radiation, external beams are targeted to the specific region to avoid damaging healthy tissue. Radiation oncologists use linear accelerators or cobalt machines to target the beam after patient positioning. The painless procedure takes 10 to 30 minutes, with patient positioning taking the most time. Daily treatments last two to nine weeks.
Improving Comfort, Treatment Efficacy
Keisch said the predominant advantage in APBI is the reduction of radiation, which means fewer side effects and a shorter treatment period. A patient suffers more side effects when radiation is given quickly and more healthy tissue is exposed to it. To avoid this, traditional radiation therapy is spread over weeks. Because the radiation dose now can be targeted to a very specific region with APBI, the same dose needed for whole breast irradiation can be given to a smaller volume of tissues over a short amount of time. "When you are treating a smaller volume of tissue, the same dose of radiation can be given over a shorter amount of time without increasing the side effects," Keisch said. Localized therapy rates of toxicity from radiation have proven to be equivalent with APBI, said Greg Amante, a marketing manager for a popular radiation applicator. APBI allows for greater convenience for the patient, with its limited exposure to the targeted area and drastically reduced treatment time, he added. By targeting the radiation therapy, the treatment minimizes skin damage, such as telangiectasia, hyperpigmentation, fibrosis and fat necrosis. Not only do studies point to its comparable effectiveness to whole breast irradiation, they also point to the lower occurrence rates of skin discoloration and scarring, burning, fatigue and damage to surrounding organs.
The Multi-Lumen System
One major development in the intracavity method is the multi-lumen balloon catheter, which provides physicians with more flexibility than the single-lumen balloon catheter and provides patients with more options. The MammoSite ML multi-lumen radiation therapy system, first cleared by the U.S. Food and Drug Administration (FDA) in 2002, was recently improved with the flexibility to shape the radiation dose to treat more patients. Amante, who markets MammoSite, said the new multi-lumen design, launched in March 2010, opens partial breast irradiation to women who were previously ineligible for single-lumen treatment. With the single-lumen device, the balloon must be 5 to 7 mm away from the skin surface to avoid scarring and causing cosmetic damage. However, the multi-lumen device allows distribution of the radiation among many catheters and can get closer to the skin's surface, or while maintaining a clinically acceptable level of radiation without damage. "The multi-lumen balloon catheter allows for the radiation oncologist to pull and shift radiation doses from the skin surface," Amante said. "This allows the oncologist greater flexibility to get closer to the skin's surface."
APBI, It's Not For Everyone
APBI is not for every patient, however. Patients with multiple lesions, nodal involvement or in later stages of cancer cannot be effectively treated with APBI. On the other hand, it is ideal for older women with small tumors, especially if they already had exposure to radiation and want to limit further exposure or are affected by immuno-suppression. APBI is still in the early stages of adoption. Keisch estimated out of 100,000 candidates for APBI, only about 15 to 20 percent receive it. He attributes this to surgeons and radiologists who are waiting for more trial data to confirm its efficacy and reliability. "Oncologists in general are resistant to change. Some of them will only change when mature randomized data comes in," Keisch said. "However, some of us are ready to accept the available data." Four months after the newest version of the MammoSite ML launched, its manufacturer, Hologic Inc., is looking forward to making this technology more streamlined, time-efficient and patient-friendly for physicians, Amante said. "Shorter treatment time is something that is wanted by patients," he said. "A period from five days to two days, for example, and the ability to increase patient comfort are certainly desirable. The five-year American Society of Breast Surgeons study highlighting 1,440 patients who used the MammoSite shows promising results."
A Hand-Held Device for One-Day Treatment
Since 2008, a product that delivers the full radiation therapy in just one day also has been available. Xoft intraoperative radiation therapy (IORT) uses a hand-held device to deliver extremely targeted X-ray radiation to leftover cancerous tissue. The Xoft Axxent places a balloon into the breast tumor cavity and precisely conforms to the tissues to deliver X-ray through the tube of the balloon. "With APBI, what we're really discussing here is hypofractionation," said Michael Klein, president and CEO of Xoft Inc. "We've moved from six-to-seven weeks to five days and now to a couple of hours." According to Klein, patients can come to the hospital at 7:30 a.m. and be done before noon. The radiation can be delivered in 15 to 20 minutes because it has one-third the dosage of the six- to seven-week traditional treatment. The dosage is also applied directly to the cancerous tissue in a very conformal way. While IORT has data to support its effectiveness, it does have its skeptics. This includes Keisch, who said he does not believe the field of oncology has developed a one-day treatment that's as reliable and efficient as the five-day treatment. "I do think we'll get to a one-day intraoperative treatment," Keisch said. "Maybe in the next five years I would be talking about it, but not tomorrow." Klein concurs that for surgeons and patients to fully embrace IORT's one-day treatment, definitive data proving its effectiveness is needed. "More data is needed to begin the shift of the focus of breast surgeons and radiation oncologists to one-day IORT treatment," he said. Klein added surgeons and patients must trust in the effectiveness of the new product, and the trust will be built by successful studies and trials. APBI has been in successful trials, performed on selected patients, for 10 years. Most recently, in June 2010, the TARGIT-A trial of 2,200 patients was completed. Half the patients were treated with whole breast radiation therapy and the other half received intraoperative radiation therapy. At the follow-up point, data showed the results of recurrence rates were equivalent and the rates of side effects were lower for IORT. With studies such as the five-year American Society of Breast Surgeons MammoSite Breast Brachytherapy Registry showing similar recurrence rates between whole breast radiation therapy and APBI, many patients are opting for APBI treatment.
Minutes, Not Months
APBI is a landmark in the progression of medical technology towards faster, less-invasive and more-efficient treatment. "I truly believe this in my heart of hearts. I don't see why women would choose whole breast irradiation, given a partial breast irradiation option," Keisch said. "Of those who were treated with whole breast irradiation decades ago, everyone, if given a do-over, would choose partial breast irradiation." Klein sums up the scope of this achievement by quoting a surgeon he worked with, "What used to be done in months can now be done in minutes."