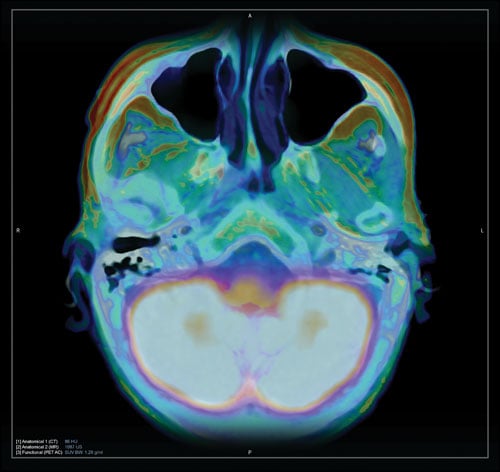 There is a growing focus on early diagnosis and prevention. Here, PET/CT imaging is used to look inside the stress center of the brain.
Advanced imaging and hybrid modalities, such as computed tomography (CT), magnetic resonance imaging (MRI), positron emission tomography (PET)/CT and single-photon emission computed tomography (SPECT)/CT are showing significant growth and will continue to do so, despite some slowdown in overall imaging volume due to the changing reimbursement landscape. There are ongoing studies and data that demonstrate the value of molecular imaging and nuclear medicine solutions in both traditional and new use cases. Today, the value in these innovations and the added confidence they provide in informing better patient care is more widely recognized. As a result, PET/CT volume in particular is expected to rise steadily over the next 10 years, driven by new indications, novel tracers obtaining regulatory approval and expanded insurance coverage.
Nuclear medicine and molecular imaging have come a long way and continue to evolve, advancing their impact on diagnosis and treatment. There are a number of factors driving the evolution of the nuclear medicine and molecular imaging market, which include a rise in chronic disease, the significant growth of aging population and increasingly limited global resources. 
Data Integration and Analytics 
No solution alone can address a growing, aging population and increase in chronic and lifestyle diseases, among other pain points in our global healthcare system. This requires an integrated approach that accesses and analyzes data drawn from a multitude of sources, making critical information available to patients and caregivers where, how and when they need it. Molecular imaging is evolving to fulfill these needs, and providing better access to more integrated diagnostic imaging technology will continue to be critical in improving patient care. 
As the healthcare industry shifts toward value-based care, clinician workflow has become more demanding, but it is not only about integrating data for primary care physicians. Healthcare institutions want and need imaging solutions that provide integrated patient information, automated processes and increased diagnostic confidence on repeat tests. Molecular imaging and nuclear medicine innovations that are primed for today and tomorrow should be able to address three key areas.
Integrated patient data. As clinicians look to implement more pre-emptive and definitive treatment programs, they require access to integrated, comprehensive data on the patient's diagnostic history and not just an image. Through the technologies available, physicians will begin to see these molecular imaging technologies as more than a scanner, but as a whole solution that helps to integrate quality, quantification and analytics. 
Improved workflow and automation. Clinicians need imaging solutions that provide integrated patient information and automated processes. The latest patient-centered imaging can improve workflow efficiencies via fast scans, and high image quality at a low dose that in turn can help better manage patient care.
Enabling personalized medicine. Molecular imaging's role in disease management is becoming increasingly important. It is critical for clinicians to be able to identify a disease in an early stage, and assess their patient's response to therapeutic intervention. Access to more data enables clinicians to customize treatment based on their patient's anatomy, and specific molecular and cellular patterns of disease. Data coupled with digitally advanced imaging tools can help clinicians make faster and more confident disease detection, leading to more patient-specific therapy guided by molecular imaging. 
Three Trends Driving Innovation 
In addition to the aforementioned drivers that are spurring industry growth, three key trends have emerged and are informing the next generation of solutions, innovations and breakthroughs.
Trend No. 1: Increased patient engagement is driving demand for data. As the industry continues to move toward more patient-centric care and patients become increasingly more aware and involved in their health, there is a growing focus on early diagnosis and prevention. 
Nuclear medicine and molecular imaging are responding by refocusing on digital technologies as well as actionable data and analytics. Clinicians need access to clearer, sharper images and more cost-effective technology that provides quantitative and qualitative measurements. Being able to extract quantified, meaningful data allows physicians to better assess the severity of a condition or disease and measure the degree of change over the course of treatment. Rich data can be turned into actionable insights that help to shape, drive and inform patient care and treatment, earlier and throughout the cycle of care.
Trend No. 2: Making personalized medicine a reality. As personalized medicine continues to influence how we deliver care, advances in nuclear medicine and molecular imaging technologies are making it more and more critical in the care continuum. For example, new radiotracers represent a major development that will take nuclear medicine beyond the standard FDG (fluorodeoxyglucose), which will enable greater specificity to target individual tumor types or disease processes. 
Advances in imaging equipment in digital technology, such as digital PET/CT, have demonstrated that they can provide approximately twice the volumetric resolution, sensitivity gain and quantitative accuracy when compared to analog systems, enhancing patient care. Lastly, in order for physicians to deliver personalized treatment, they need quantitative data that has driven the delivery of advances that give providers more access to actionable information and analytics.
Trend No. 3: Integrated solutions for a 360-degree view of the patient. In healthcare, there is no one-size-fits all approach — each patient carries unique characteristics and insights that create a one-of-a-kind care journey. Clinicians (and patients) are looking for solutions that help deliver treatment earlier along that care path, with the aim of providing more preventative, personalized solutions. To do that, clinicians are seeking more pre-emptive and definitive treatment programs, and are demanding access to integrated, comprehensive data on the patient's diagnostic history. 
Since radiology and nuclear medicine continue to remain at the heart of diagnosis, access to more integrated diagnostic imaging technology will continue to be critical for improving patient care. With this, we are seeing the advent of more integrated, patient-focused solutions that deliver enhanced image quality through real-time tools tailored to help elevate clinical performance throughout the cycle of care. 
As our population continues to age and see a rise in multiple complex, chronic diseases such as cancer, dementia and cardiac disease, physicians will find they need more than just scanners to help provide accurate treatment and diagnosis. Nuclear medicine and molecular imaging will continue to advance and develop as an integral part of radiology and diagnostic imaging. Features and capabilities will continue to be innovated to fit the needs of the physicians in need of better quality imaging solutions to provide, which will be critical to improving patient care. 
Kirill Shalyaev Ph.D., is vice president and general manager of advanced molecular imaging, Philips Healthcare.
---
If you enjoy this content, please share it with a colleague