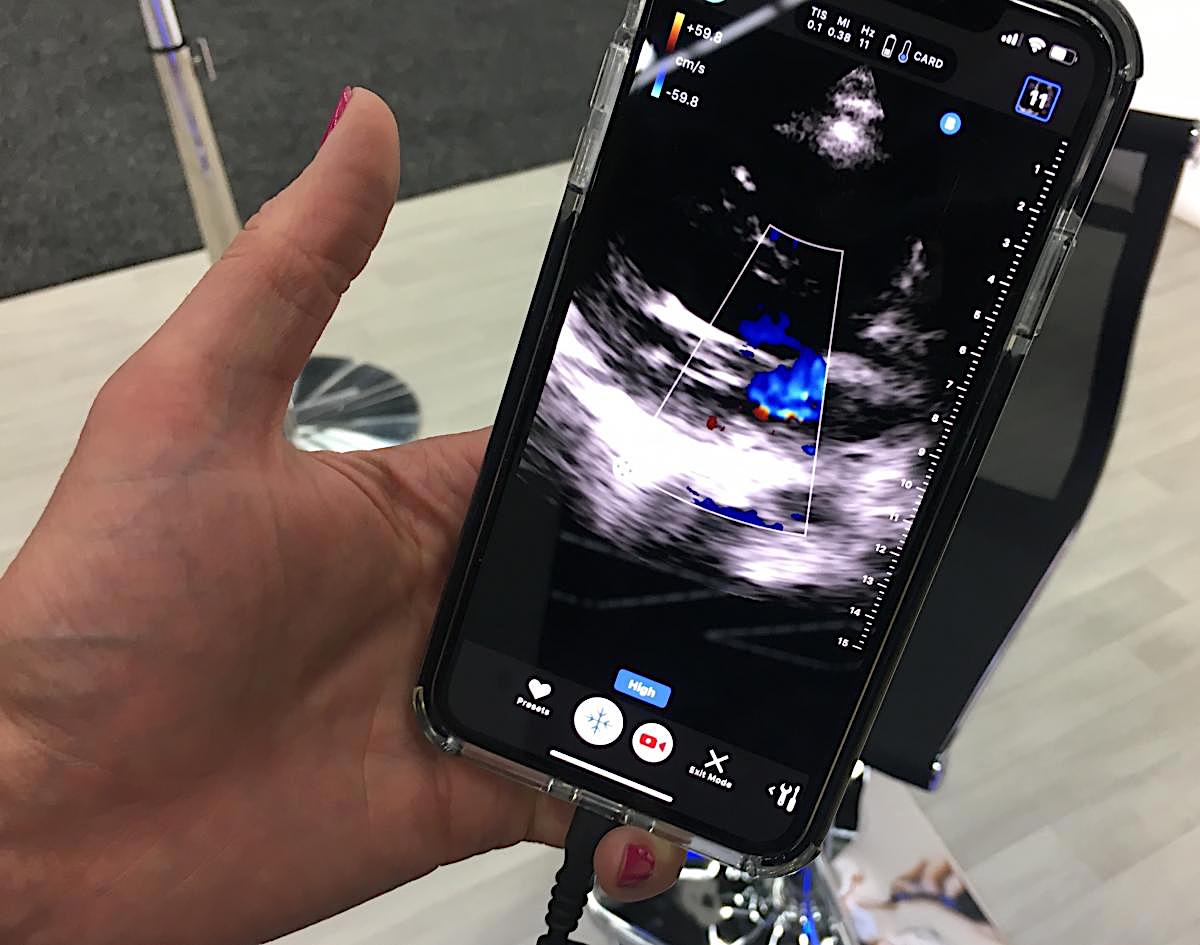 There is a lot of talk about health disparities between the insured vs. uninsured, low-income vs. higher-income, rural vs. urban residents, and developed vs. developing world. In developed countries there also is growing tsunami of elderly patients that is growing as baby boomers retire and require more medical care. In some developing countries, there is large population growth and not enough doctors or care infrastructure for everyone. These issues are expected to be magnified further by the end of the decade.
New miniaturized point of care devices, wearable sensors, smartphone apps and connections via the internet are now enabling new technology solutions that may go a long way to address these health disparities issues.
"It began to dawn on me that the power of digital health tools like this could actually democratize imaging, and app-based device technology could be used for diagnosis of atrial fibrillation and heart failure," explained Jacques Kpodonu, M.D., FACC, cardiac surgeon, Beth Israel Deaconess Medical Center, and professor at Harvard Medical School, who is in evolved in outreach programs in Africa. "I am originally from Ghana, half French, half Ghanaian, but working at a big center in Boston, it dawned on me we have all this great technology here, but we are not able to make much progress in addressing conditions like heart failure, atrial fibrillation and stroke. It also dawned on me that places in Africa like Ghana, where they do not have as much access to the technology, they are able to use their mobile phones as a bridge to leapfrog some of the deficiencies in access and delivery of healthcare."
This view is increasingly being embraced by other thought leaders.
"This has been an unbelievable transformation with tools that we never thought would be available, and this would not have been possible without the revolution in digital technology," said Khaldoun Tarakji, M.D., MPH, staff physician in the Section of Electrophysiology and Pacing at the Cleveland Clinic. "Everyone has access to a smartphone or tablet. This simple idea of patients being able to purchase these devices directly from the market and being able to record their heart rhythm on their own was science fiction up until recently, but now it is widely available. People are now very comfortable in recording their pulse, their temperature, their blood pressure."
1. Artificial Intelligence Will Help Make Up for Shortage of Doctors
By far, artificial intelligence (AI) in medicine has been a leading topic of discussion. These AI solutions are now gaining regulatory approval in increasing numbers. The technology is being integrated into all facets of healthcare to improve workflow, speed diagnoses, and make medical devices more intelligent. The goal of AI is to allow clinicians to do more with less by augmenting their abilities and allowing them to see more patients while at the same time delivering improved care. 
"There has been a lot of interest in artificial intelligence lately as a decision-making tool," explained Partho Sengupta, M.D., MBBS, chief of cardiology, West Virginia Heart and Vascular Institute. "It is not designed to replace the physician, but meant to augment their work at the point of care. AI should enhance the ability for you to take care of your patients. It should give you the ability to free up more time so you can connect with your patients, which is a very important part of the doctor-patient relationship and the care of that patient."
2. Wearables and Smartphone Apps Are Helping Democratize Access to Doctors and Basic Healthcare
There has been an explosion of new smartphone-based apps and wearable medical technologies in recent years to enable real-time home, office or clinic testing. These devices now allow patients to monitor their own blood pressure, blood glucose levels, oxygen saturation, ECG, and other physiological parameters. The devices and apps also automatically record the data, explains what it means to the patient and how they can improve, it graphs the data to identify trends, and AI algorithms can now alert the patient, or their doctor, to any problems.
An example of how these types of mobile health and wearable technologies are being used to manage patients outside the hospital can be found at Sheba Medical Center in Israel. Its cardiology program has adopted an app that interfaces with various wearables and Bluetooth-enabled patient monitoring devices to create remote cardiac rehabilitation and heart failure programs. It now remotely monitors hundreds of patients and does not require them to come to the hospital for sessions. This type of monitoring has become much more important in the era of the COVID-19 pandemic. Its use has helped increase patient satisfaction and aided in increasing physical activity compliance because the apps show what the patient is doing. The app is able to transfer device data to an electronic medical record (EMR) so progress and tasks assigned to patients can be monitored remotely.
3. Smartphone Enabled Point-of-Care Ultrasound and Smart Stethoscopes Speeding Clinical Evaluations
There also are clinical-grade smartphone devices, such as ultrasound transducers and apps that covert a smartphone or tablet into a diagnostic ultrasound system. Again, AI integrated into these devices can help guide users to get the best possible images for specific types of exam, automates features like ejection fractions, and offers measurements and tools for specific anatomical imaging.
Kpodonu has a specific interest in diagnosing and treating structural heart disease. In the developing world, he said access to imaging is a major barrier, but smartphone, app-based technologies now are able to turn cell phones and tablets computers into low-cost diagnostic ultrasound systems for use at the point-of-care. He uses the Philips Lumify ultrasound system, which uses a probe and an app to turn his smartphone into an imaging system to quickly triage patients with an echo exam. 
A study of more than 1,000 patients who underwent cardiac ultrasound with the Butterfly POCUS system, which turns smartphones into echo systems, was presented with positive results at the 2019 ASE meeting. 
"This system has an integrated AI component, that in the future will allow even a novice ultrasound technician or physician to acquire the images," Sengupta explained. The enabling of echo exams with a cell phone and integration of AI helps rapidly interpret the exam and offer clinical decision support that can greatly empower a rural clinician, he said.
These technologies are now empowering clinicians in their office or other point-of-care locations to have increased diagnostic capability at their fingertips.
4. The Web and 5G Networks Increase Access to Healthcare
The fourth major technology innovation that will reduce healthcare disparities is increasing access to the internet in rural areas, and increasing the pipelines for data with the spread of 5G and higher wireless networks. Telehealth saw a massive adoption rate during the current COVID-19 pandemic, mainly due to Medicare allowing providers to bill for telehealth visits. This has proven to be very successful, especially with regular checkups or quick visits for simple things. Telehealth will likely be here to stay moving forward and has taught clinicians how to be efficient using face to face virtual meetings over a phone or computer screen. It also means patients who are hundreds of miles away can easily do a consultation virtually, rather than needing to travel, which will greatly speed access to care if they are in rural areas. 
Teleradiology has also been around for a decade or more, enabled by high-speed internet connections able to carry large amounts of imaging data. This access will become even faster with 5G and higher speed wireless networks that are coming. The pandemic here too has emphasized the use of teleradiology so radiologists can work from home with a good web connection.
Finally, as hospitals have rapidly converted to EMR systems in the past two decades, most of these systems now operate over internet connections, so clinicians can gain access to patient information from anywhere with web access. Most radiology systems now offer remote image viewing systems to pull up patient imaging and reports from anywhere. Lab results are also now widely available online at well wired hospitals and health systems. 
While this access to patient information is mainly being used around hospitals to speed workflows and become more efficient, combined with telehealth, the potential opens up new approaches to healthcare in lower-income urban areas, rural residents who live 50 or more miles from a larger hospital with advanced care, and for developing countries.
5. Cellphone Payment Systems May Help Build New Healthcare Business Models to Address Disparities
The use of telemedicine centered around smartphones and the internet may help address many disparities but there still needs to be a way to pay for that care and technology. 
"We have to start looking at different business models moving forward," Kpodonu said. "As we look at new ways to be able to manage diseases outside of the hospital setting, we are going to have to figure out new strategies, new business models and new tools to do that."
He explained that in many developing nations, different business models have emerged. For example, many places in Africa use smartphones for direct digital payments rather than cash or credit cards. A new model could be created to set up healthcare accounts with these users from their mobile phones with automated payment for care they access and receive. Kpodonu said 40-50 percent of payments made in Kenya are now cashless using this type of cell phone payment system for goods and services. He said this type of business model for healthcare is already in use in east Africa, where many patients are receiving care via telemedicine with physicians in India at Narayana Health.
This type of less expensive care has helped fuel the trend for medical tourism outside of the U.S., where some high-volume medical centers in other countries offer lower costs because of the economy of scale. Additionally, Kpodonu said these centers often have data showing their performance is similar to some of the top centers in the U.S. and Europe.
Kpodonu said lessons like this can be applicable back in developed nations like the U.S. "The things we have learned from these types of health disparity communities are learnings that can be brought back to us. Even in our local communities, we have challenged populations. We have a lot of Latinos and African-Americans in our own local networks, and many of them are not able to receive the same level of care as others because of financial, social and transportation issues. These are what we call social determinants of healthcare that we must begin to address."
He reiterated that mobile health technologies can be leveraged in these types of urban communities, or in developing countries, to help level the playing field and start to address major health disparities.
Related content:
Health Disparities Affect Millions in Rural U.S. Communities
Critical condition: The crisis of rural medical care
BLOG: Rural Imaging Requires Affordable And Versatile Equipment
---
If you enjoy this content, please share it with a colleague