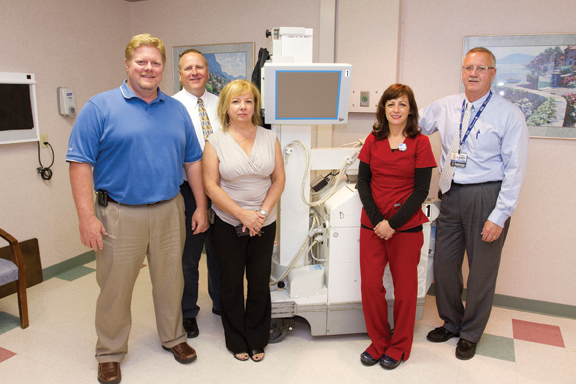 Rockford Health System has had a strategic partnership with Konica Minolta since 2004.
As digital radiography (DR) technology matures and the cost of implementing direct digital flat panels decreases, hospitals are considering replacing older computed radiography (CR) units with DR. Another technology innovation – the emergence of wireless DR systems – is further lowering the cost of a flat panel DR solution.
For institutions like Rockford Health System/Rockford Memorial Hospital, DR became a viable, economical solution to replace its aging CR systems. According to Larry Griesman, radiology administrator at Rockford Health System, the hospital and satellite clinics were originally outfitted with CR systems in 2004. 
The hospital decided to pursue implementing wireless DR in the radiology department, emergency department (ED) and in the portable X-ray units. Remote facilities with a diagnostic imaging suite would continue to utilize CR.
Image quality, price, manufacturer reputation and service were all key factors in evaluating the different wireless DR solutions, says Connie Bolthouse, picture archiving and communication system/radiology information system (PACS/RIS) administrator at Rockford Health System. Selecting Konica Minolta and the Aero DR was a logical decision, she adds. 
"Konica Minolta has been a strategic partner with Rockford Health System since 2004. Its service is second-to-none, with highly attentive sales executives and field service engineers," she said.
In the spring of 2012, Rockford Health System implemented four wireless DR panels, including one 17- by 17-inch upright wall unit in the ED, one 14- by 17-inch table unit in the ED and two portable units. 
Other features of the Aero DR made it an appealing choice for the radiology team at Rockford Health System. Bolthouse was impressed by the durability testing and the design of the flat panel. 
"All the components are hermetically sealed, protecting the hardware and the battery," says Bolthouse, "and Konica Minolta also demonstrated panel drop tests that substantiated durability." Griesman also notes the panel is lighter than others currently on the market.
For Lori Bradley, radiology supervisor, having the same user-interface for the Aero DR as the installed Konica Minolta CR systems was particularly important.  
"Our techs didn't have to learn a new GUI and that removed one step of the training for us," she says.
Impacting patient care
Rockford Health System has taken an active role in reducing dose to patients receiving studies with ionizing radiation. Bradley reports that the hospital has reduced patient exposure with the Aero DR across all DR studies by 35 percent from the already lower radiation dose exposure levels they achieved on the existing Konica Minolta CR equipment. 
Griesman also sees key benefits for trauma patients. "We are using the portables to image trauma patients — it's important for our trauma team not to move a patient [for an imaging study]," he said.
The Aero DR panel was easily retrofitted onto the hospital's analog portable units, enabling RHS to control costs and enhance patient care with mobile, digital imaging in the intensive care unit (ICU) and pediatric ICU (PICU). The Aero DR portable solution helps reduce repeat studies and enhance patient care and comfort, Bradley adds. "We aren't taking the nursing staff away from the other rooms while we image the baby."
Konica Minolta will soon be releasing a new, smaller-sized 10- by 12-inch DR panel that will further benefit pediatric departments.
In the surgery suites, Bradley says, "The surgeons love it; they can walk over, see the image immediately and continue with the procedure." This is due to the large 17-inch touch panel monitor for the portable system.
That quick image turnaround time — an image is ready for preview on the console in less than three seconds — is also having an impact in the ED. Additionally, with the 17- by 17-inch wireless panel stationary in the ED X-ray wall unit, technologists can capture both chest views simultaneously. The larger-size, wireless DR panel enables a wider coverage area, thus providing better throughput in busy departments. 
"They don't have to swap out a panel; they position the patient, capture the image and proceed with their workflow, which is significantly more efficient," says Bolthouse.  
Plus, the technologists are achieving overall greater efficiency with the fast image preview, portable units and larger-sized flat panel detector. 
"Our techs no longer have that unproductive time of walking cassettes to the radiology department for processing," Bradley adds. The images are wirelessly transmitted to the hospital's PACS for radiology reading and reporting.
Patients are also visibly impressed by the new Aero DR wireless solution, Bradley says. "It does lend a good feeling about where they are at, to see the image come up right there in the patient room," she explains. 
Adds Bolthouse, "Most important, the technologists and physicians are very happy, and the patients are receiving less radiation dose." For the radiology staff at Rockford Health System, what matters most is that their new wireless Aero DR technology is helping to improve patient care. 
Case study supplied by Konica Minolta
---
If you enjoy this content, please share it with a colleague