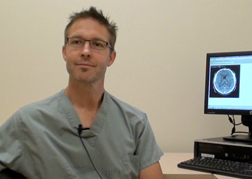 Dr. Schemmer, Lead Clinic Radiologist, GRC
Watch the interviews with Georgian Radiology Consultants
Ontario-based Georgian Radiology Consultants chooses IntelePACS as the cornerstone of a major digital conversion, capitalizing on Intelerad's picture archiving and communication system (PACS) solution to dramatically increase efficiencies, enhance patient care and create new opportunities for growth.
About Georgian Radiology Consultants
Georgian Radiology Consultants (GRC) has been providing medical imaging services in Simcoe County, Ontario, for more than 40 years. With six imaging clinics and 11 board-certified radiologists, GRC serves a population of 300,000 in and around Barrie, Ontario, one of the fastest growing communities in Canada.
Identifying the Right PACS Critical to Successful Digital Conversion
GRC completed a major initiative in 2012, converting the group's entire operation from an analog film- and paper-based one to a completely digital system.
Selecting and implementing a robust, high-performing, enterprise-level PACS solution that would support all imaging modalities and provide an intuitive, easy-to-use interface was a critical prerequisite of the digital conversion project. For GRC, identifying a reliable PACS vendor with a proven track record and an excellent support infrastructure was just as important as selecting the right product and functionality.
Intelerad Stability and Experience Essential Qualities for GRC Vendor Selection
"We were looking for a company that was stable," says Raymond Frank, GRC director and business manager. After researching numerous PACS vendors and products in the radiology market, Frank says there was no debate. "It was clear to us that for functionality, stability, experience and support, the Intelerad solution was the best choice."
In March 2012, GRC's new digital radiology system went live, with IntelePACS providing the integral PACS component. Frank is thrilled with the outcome. "I am blown away by Intelerad's solutions and performance," he says. "We've gone from film to digital, virtually overnight, with absolutely zero hiccups."
Ease of Use Enhances Radiologist Productivity
The deployment of IntelePACS has been an unconditional success for GRC. IntelePACS' integrated worklist and viewer makes navigation quick and easy, increasing productivity and earning rave reviews from the radiologists in the practice.
"It's very easy, very intuitive," says Drew Schemmer, M.D., lead clinic radiologist at GRC. "There hasn't been a single complaint from any of the radiologists in our practice."
By enabling seamless and secure electronic sharing of images and reports, IntelePACS has also eliminated previous obstacles and inefficiencies created by the geographic distance between GRC clinics.
Turnaround Time Drops Dramatically from Days to Hours
The robust reporting features of IntelePACS have facilitated new levels of speed and efficiency for GRC, drastically reducing report turnaround times. Frank cites examples of wait times being reduced "from two days to literally hours." Improvements in turnaround time – and thus, in overall patient care – have contributed directly to significant increases in morale at GRC. "The turnaround is key," Frank says.
The new reporting processes are also generating much positive feedback from GRC's referring physicians. "With IntelePACS, our reports are easier to read and very consistent in their layout," says Schemmer.
Intelerad Technology Enables Efficient Growth
In addition to obvious benefits for patients and referring physicians, GRC's adoption of Intelerad technology provides a critical business benefit. "Intelerad's technology creates capacity within the organization so that we can see more patients," Frank says. This is key to the group's plans for future growth.
100% Satisfaction with Intelerad
GRC couldn't be happier with the success of its IntelePACS deployment. "I have lost exactly zero sleep over the performance of Intelerad's system," says Frank. "I can focus on other parts of our business."
---
If you enjoy this content, please share it with a colleague